Most Hoosiers have seen "Hoosiers," the heartwarming movie about a small-town Indiana high school basketball team that wins the state championship.
But most haven't watched the actual 1954 games that the film was based on. That could change, thanks to the efforts of Indianapolis-based archivist Eric Grayson and Indiana University.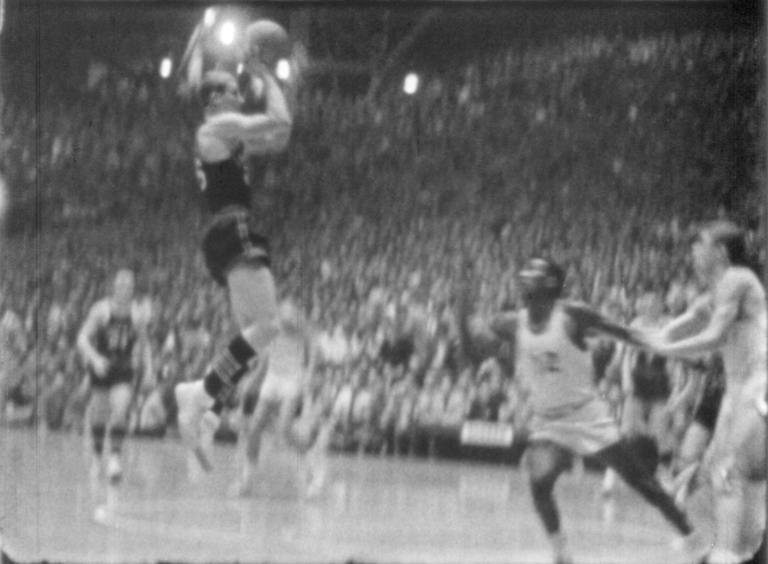 Contacted several years ago by a reporter who'd discovered deteriorating copies of game films in a locker in the Milan High School gymnasium, Grayson obtained a grant from the National Film Preservation Foundation to restore the Milan vs. Muncie Central game that clinched the state title for the tiny underdog school. He sought donations on his own to preserve the Milan vs. Terre Haute game.
"I'm not a huge basketball fan, but I know the historical significance of these games, and when somebody shows me a deteriorating film like this, what are you going to do?" Grayson said. "When somebody says to me, 'Can you save this?' I step up and say yes."
One of Grayson's first calls was to IU Libraries Moving Image Archive. The Milan vs. Muncie Central game was actually shot by filmmakers for what was then known as IU's Audio-Visual Center, a lending library of film operated by the university. When the center ceased its rental services in 2006, those films and videocassettes formed the bulk of the archive.
Watch the restored films
"AV Services actually filmed the games for the Indiana High School Athletic Association, so this is an IU production of sorts," IU archivist Andy Uhrich said. "We have a copy of this game film, but it was pretty deteriorated. That type of film is particularly susceptible to acetic acid decay and, while restoring this game was already on our priority list, it's always wonderful to work with a partner for this important media preservation work."
While both games were shot without sound and were preserved that way for historical accuracy, a Blu-Ray that Grayson created adds audio from an old radio broadcast to help viewers get into the spirit of the game.
IU will keep both of the preserved films carefully stored in the Auxiliary Library Facility under the care of the Moving Image Archive, where they will be accessible to the public and researchers.