Description of the following video:
[MUSIC]
[Jazz vocalist Tierney Sutton sings]

[Tierney speaks: It's such an honor to be approached by the Jacobs School with its history.]

[Tierney speaks: It's really been one of the top school of music in the world, really, for such a long time.]

[Video: A student sings while Tierney watches. Tierney claps]
[Tierney speaks: I knew the reputation and I knew the legend of David Baker and the history here.]
[Video: Tierney directs a student]
[Student speaks: Studying under Tierney has been amazing. I mean, she's just unlike any voice teacher I've ever had.]

[Student April Varner speaks: I really enjoy what we study and what we get to sing and the variety of genres we get to explore]
[Video: April sings]

[Tierney speaks: What I'm hoping to do here at IU is create a program where singers learn to be band leaders, learn to be arrangers…]
[Video: Tierney directs students]

[Tierney speaks: …and learn to integrate with the instrumentalists and with the music in a way that really is in the finest traditions of jazz.]
[Video: Students play instruments]

[Tierney speaks: There's really not traditionally been a focus on the solo jazz singer.]
[Video: A student sings]
[Tierney speaks: We have an opportunity to do something that really no other school has in the same way.]
[Video: Tierney sings]

[MUSIC PLAYS]
It's hard to believe there was a time when jazz was not an integral part of Indiana University's Jacobs School of Music.
"There were many of us who were not really at liberty to discuss our jazz activities with our so-called classical teachers," said adjunct professor of jazz Todd Coolman, who graduated as a bass performance major in 1975 and went on to a distinguished career performing with the likes of Lionel Hampton, Ahmad Jamal, Stan Getz and Gerry Mulligan. "It just wasn't the sort of thing that was encouraged by many of the classical faculty."
Today, of course, that has all changed. The Jacobs School's jazz program is one of the most highly regarded in the world. It has a rich curriculum, an inspired faculty and a breadth of student performing activities that is unsurpassed.
IU's Department of Jazz Studies offers more than a rigorous study of the past; it is a program determined to shape the future. Jazz isn't a destination; it's a process, an ever-evolving musical arena. That unpredictability is what made those long-ago faculty members so uncomfortable with the new major.
The goals here couldn't be more clear. In fact, they are posted at the top of the program's website: "Honor the Past. Shape the Present. Imagine the Future."
The program is now at a fascinating crossroads. David Baker, the illustrious and charismatic musician/educator who launched the jazz studies program in 1968, died in 2016. His loss is a profound one. But one of his greatest gifts was to build a program that was strong and progressive enough to survive his passing.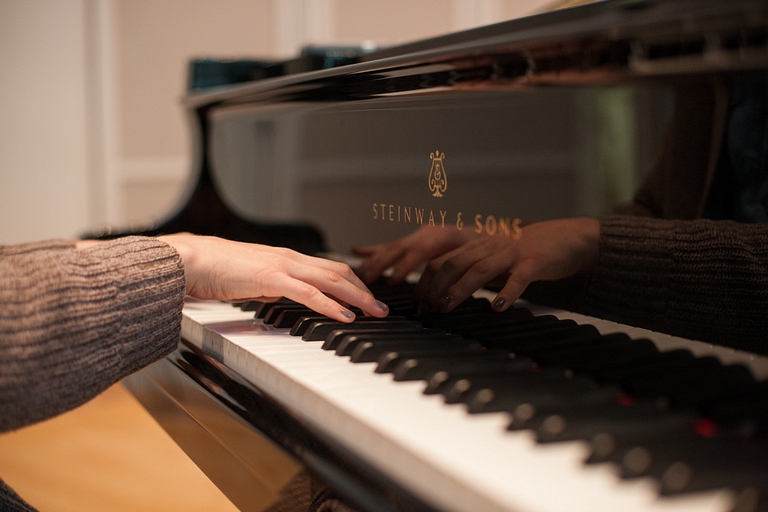 Several new faculty members have been added. Some are jazz veterans at the peak of their distinguished careers. Others are earlier in their careers, said Thomas Walsh, professor of music and chair of the Department of Jazz Studies.
"I'm talking about people like Walter Smith III and John Raymond, who are a couple of the most outstanding young jazz musicians today," Walsh said. "And they bring with them a deep understanding of the current styles of jazz that are just emerging now."
Also new is vocalist Tierney Sutton, the department's first female full-time jazz faculty member.
In the past, vocal music has been taught in the form of vocal groups. But the reality is that the vast majority of jazz vocalists make their living as soloists, not as members of ensembles.
"I think having a music program that prepares both the instrumentalists and the singers to work together is a service to both," said Sutton, who continues to have an active career both in New York and Los Angeles.
She'd spent a dozen years teaching at the University of Southern California and developed a curriculum for vocalists at the L.A. College of Music.
"But none of that was necessarily for jazz singers," she said. "I thought it was exciting that there was a university that was willing to focus on the solo jazz singer. That just didn't exist anywhere else. It's why I'm here."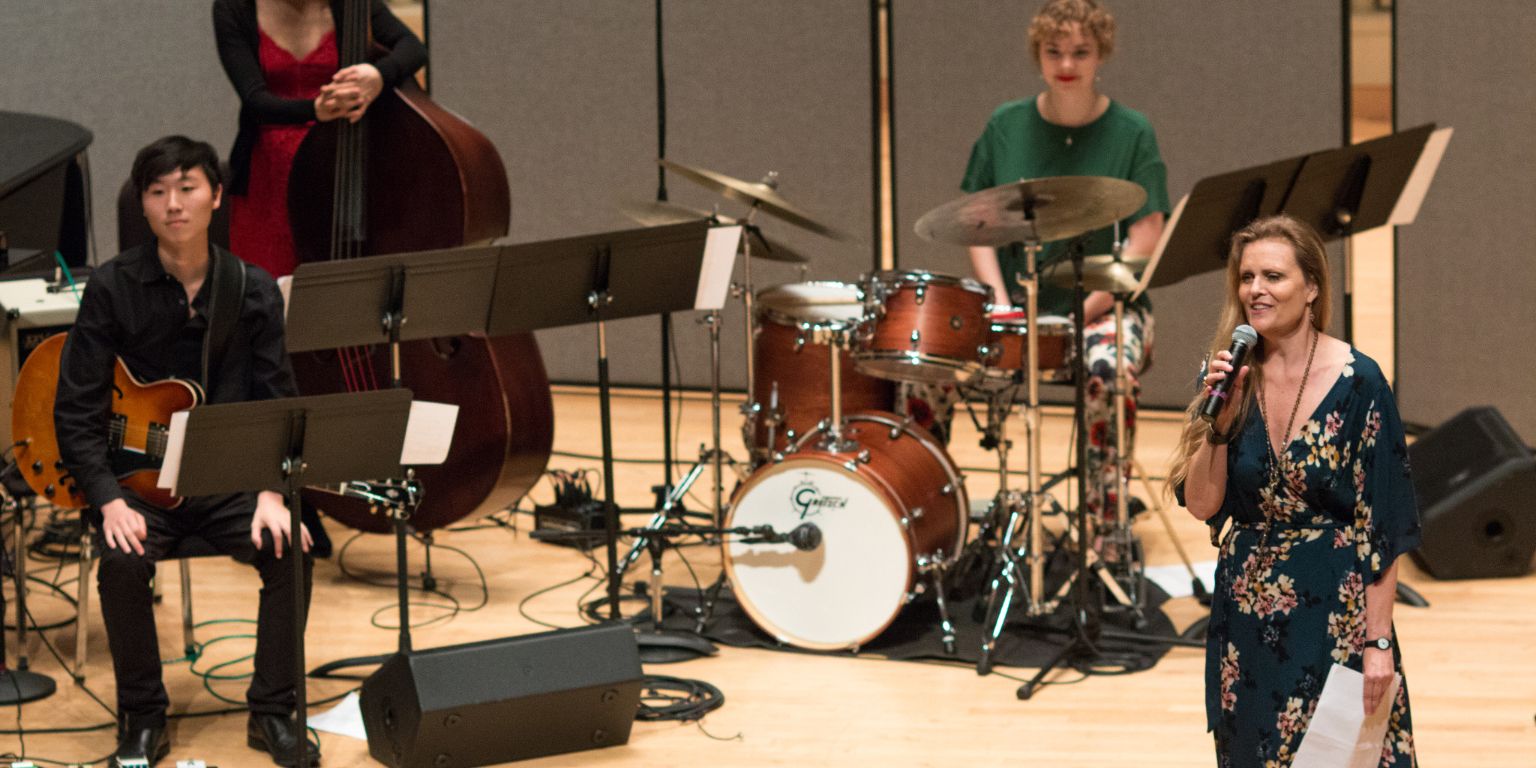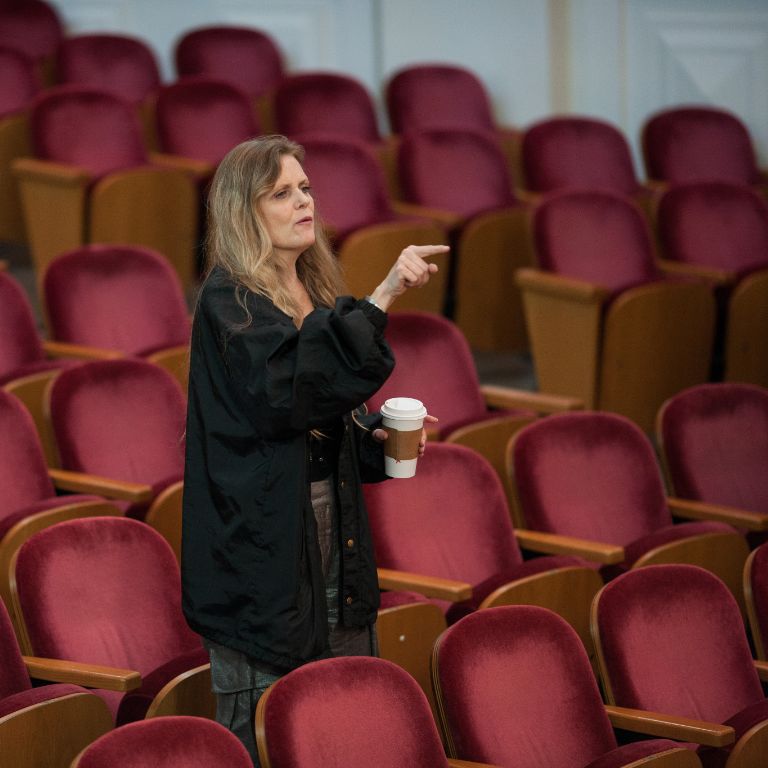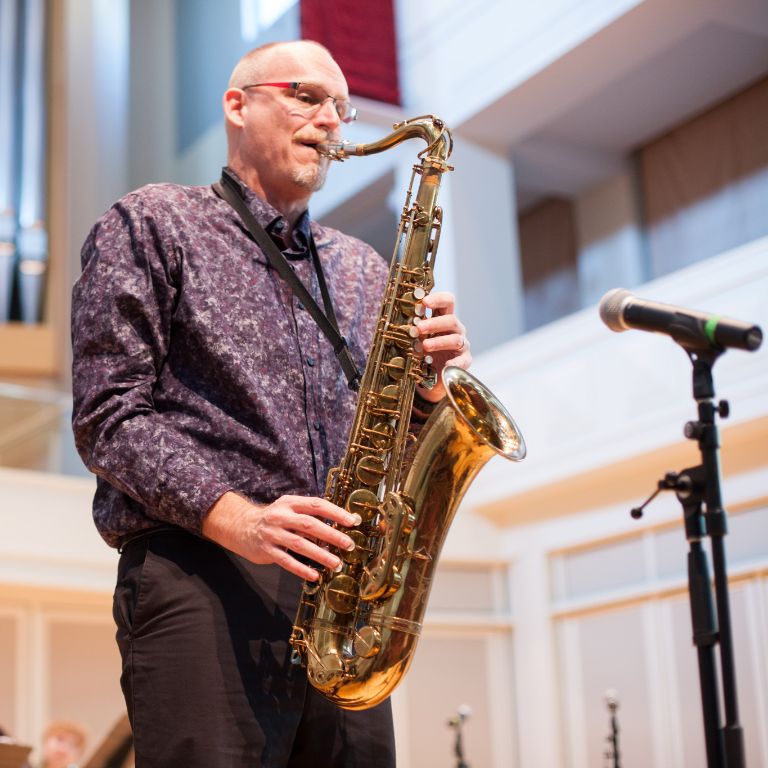 Photos by Chris Meyer, IU Communications
While the faculty has grown, so too have the facilities. A state-of-the-art recording studio opened in the fall. That's on top of new rehearsal halls to accommodate the ever-changing array of student ensembles.
"The beauty of being in a large school of music is the diversity of activities," Walsh said. "So not only do you have a steel pan ensemble, but if you want to hear an opera, you can do that, too. You can hear an orchestra, a string quartet, a jazz combo, a Latin jazz ensemble. We have an Afro-Cuban combo, a Brazilian combo – it's a hothouse."
For some, one of the greatest strengths of the program – and for jazz, overall – is that it demands a level of collaboration seen few places in the world of education.
"We're so disconnected from one another in so many ways today," professor of practice Wayne Wallace said. "But jazz, by its very nature, doesn't allow you to be disconnected. You have to listen. You have to respond. You have to pay attention and respect what is going on around you."
And for Wallace, that sort of constant focus has brought personal benefits as well.
"Joining the faculty here has exceeded my expectations on every level. I've helped my students, of course. But I've become a better musician as a result of my involvement here. I've become a better producer, too, and a better arranger."
Jazz is still something of an anomaly in the academic world. There are jazz history courses, of course, and rigorous studies into the whys and wheres of the jazz of the past. But the future of the music is perhaps even more important.
"It's impossible to know what jazz will be like in 20 years," said associate professor of music Brent Wallarab, who found himself playing alongside some of the giants of the jazz world when he joined the Smithsonian Jazz Masterworks Orchestra in 1991 at the age of 27. For years, he'd been transcribing and resurrecting the music of the big bands of the '30s and '40s. Suddenly, he found himself a member of a band devoted to preserving that same music.
"My goal is to help our students become versatile in a lot of different ways," said Wallarab, who directs the Jazz Ensemble I, the department's leading large ensemble. "They need to learn how to adapt. For a lot of them – maybe most of them – the musical life they think they're going to have is probably not going to be the musical life they will have. Our work is to be sure they're ready to embrace all those different styles that will come their way. Our work is to give them the tools to succeed."
David Lyman is a freelance writer for the IU Jacobs School of Music.