Meet T. Kelly Wilson, associate professor in Indiana University Bloomington's newly formed School of Art, Architecture + Design,who is an exhibiting artist with an architectural degree from Harvard University.
Wilson's unique background led to his seminal role in the creation of IU's new Master of Architecture degree program. The program is enrolling students now, and the first cohort is expected to begin classes in the fall.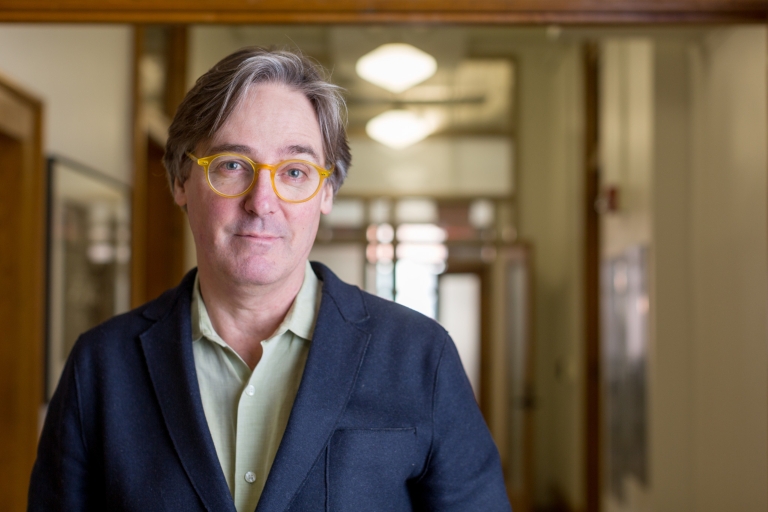 Wilson, who came to IU six years ago from the Harvard Graduate School of Design, said he loved being able to draw on his knowledge from more than three decades of work in the worlds of higher education, art and architecture to help mold a program that is both groundbreaking and deeply rooted in career-building principles.
"It's incredibly exciting," Wilson said. "To have a university and a city – the city of Columbus, Indiana, an internationally recognized center for architecture – both possess a spirit of experimentation and willingness to work together is such a wonderful opportunity."
The American Institute of Architects rates Columbus as the sixth most architecturally significant city in the United States, and city and IU leaders worked side by side to develop the new program.
"We have created a Master of Architecture program in the School of Art, Architecture + Design and in collaboration with the community of Columbus that reimagines the links between art, architecture and the city, and encourages students to become innovative, civic-minded and imaginative world thinkers," said Peg Faimon, founding dean of the School of Art, Architecture + Design.
What makes IU's new architectural program distinctive? First of all, Wilson said, the coursework is built in separate yet parallel tracks that address fine art and architecture.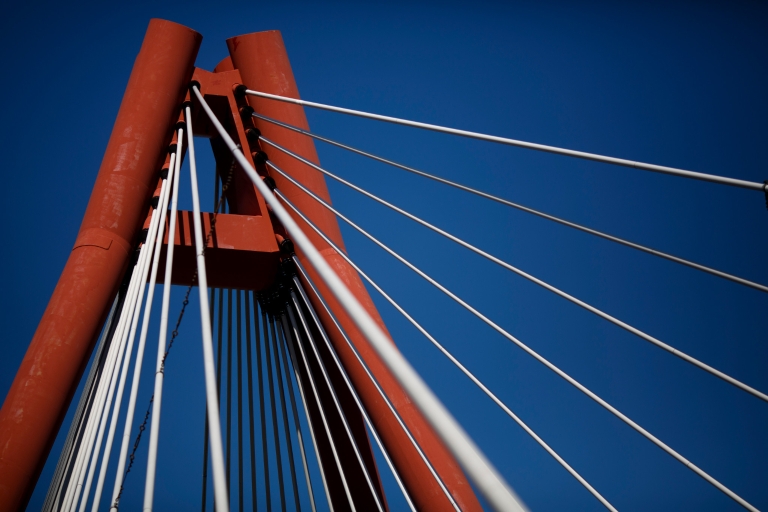 "We're requiring our students in the master's program to spend the same credit hours of every semester learning to see, feel and think like an artist as much as they are an architect," he said. "The idea is that if you do these two things simultaneously for three years in a parallel track, students will create these links between the two by their talent, labor and creativity. I believe this will give our students the opportunity to find their own voice and originality."
At the same time, he said, the academically rigorous program will turn out fully trained architects able to walk into any office across the globe and compete on an international scale.
Another distinguishing aspect of the new program is something known as the "Nomadic Studio," a learning adventure that will take third-year students on a tour of architecturally significant cities around the world. They'll learn to analyze and interpret space and buildings filtered through the lenses of time and culture, Wilson said, while developing collegial networks across the globe, including utilizing IU's Global Gateway Network offices in China, Europe and India.
A third aspect will further tighten the bonds between the city of Columbus and the new program: Students in IU's program will collaborate with leaders to design and execute new building projects for the city.
And finally, in keeping with IU's nationally recognized financial literacy efforts such as the MoneySmarts program, the new architecture program will offer a 50 percent fellowship for the entire three-year program for the first cohort.
A complete list of curriculum and description of the "Nomadic Studio" is available online.
IU's new Master of Architecture degree program was approved in March 2017 by the Indiana Commission for Higher Education.
It is part of the university's new School of Art, Architecture + Design, which launched in 2016. Part of the College of Arts and Sciences, it combined programs of study from the Department of Studio Art and the Department of Apparel Merchandising and Interior Design.