For Paul Macklin, the word "math" means more than numbers and equations. Instead, he sees it as a bridge to improve cancer research and treatment.
Marking his one-year anniversary at Indiana University in January, Macklin arrived at the forefront of the newly established Department of Intelligent Systems Engineering in the IU School of Informatics, Computing and Engineering.
"It's exciting to be a part of a new department as we build it," said Macklin, an associate professor in the school. "One of the first things I helped with was developing the degree map for the bioengineering students by working closely with other faculty members. We wrote a ton of course proposals and a degree map, and now it's time to start executing the plan."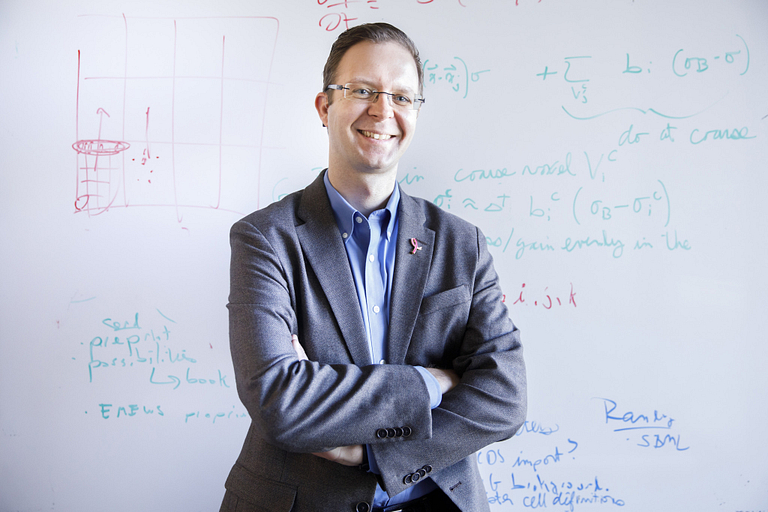 A Nebraska native, Macklin joins IU from the University of Southern California, where he served as an assistant professor of research medicine. He also previously held a position in health informatics at the University of Texas.
Macklin didn't start out studying mathematics to land a career in bioengineering. "Honestly, I didn't know exactly where I expected to end up," he said, "but it wasn't cancer." Yet over time, his work at medical research institutions led to research on the use of math to chart how this disease spreads in the body.
The goal of his research on breast cancer, supported by the Breast Cancer Research Foundation and the Jayne Koskinas Ted Giovanis Foundation for Health and Policy, is to guide the development of new therapies that prevent metastasis in breast cancer survivors.
His other work involves using computational expertise and mathematical modeling to simulate the behavior of cells. The ultimate goal is to move from simulations to actually engineering cells to behave in a certain way. In cancer cells, that means engineering them to stop proliferating and invading other tissues.
This includes design of "biorobots," or programmable cells, that could one day interact with cancer cells to reprogram them to act like normal cells.
"The math part lets you screen ideas and imagine new things long before you can actually try them," said Macklin, who is also a member of the IU Simon Cancer Center. "So when it comes time to build them, you'll be ready to go instead of just blindly trying things."
After gaining experience in biology, pathology and clinical oncology, Macklin said he decided IU was the perfect place to "get back to his roots" in information systems and engineering.
Macklin said the most rewarding part of this past year was building the groundwork for a flourishing department and helping train the next generation of students as early as freshman year.
"I was attracted to all these great information sciences things that are very uniquely strong and focused here," he said. "I wanted to bridge that out and apply it to biological and clinical problems."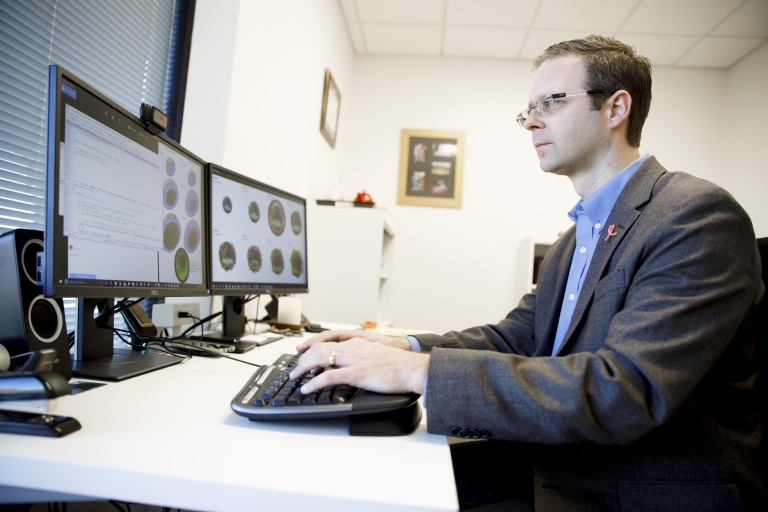 The spring semester will be his first time teaching his core area in the newly constructed Luddy Hall. The new course, Simulating Cancer as an Intelligent System, consists of both undergraduate and graduate students. Macklin said the goal is to get students to think about treating cancer in a new way by moving his research into the educational domain.
"One cool thing about systems engineering, this department and what we're trying to do is to look at cancer as not just too many cells that divide, but as a complex system," he said. "We're trying to get that into this new class."
Macklin said he developed the class as a cross-disciplinary course in which teams of students work together to combine their skills in biology, math, physics, programming and engineering. Participants will hail both from the IU School of Informatics, Computing and Engineering and from the IU Bloomington College of Arts and Sciences.
"Instead of traditional pockets of engineering, I like that there's this common theme," he said. "There's different ways we're approaching the same problem, but all under one roof. I think that is what's really unique about this department."
Macklin is also one of several lead people on the National Science Foundation's recent $4 million grant to IU. The grant established the Engineered nanoBIO Hub within the IU School of Computing, Informatics and Engineering to advance nanoscale devices to improve human health. Macklin's part of the project is related to his expertise on the development of software to design cancer-fighting nanoparticles.
"The accumulation of resources, expertise and the right people and place are making this all possible," he said. "I sense a place that wants to try new things, and that makes it a great place to be. I can really feel what we're building here."
Macklin holds a doctorate in computational and applied mathematics from the University of California at Irvine and a master's degree in industrial and applied mathematics from the University of Minnesota. He earned his undergraduate degree in mathematics and German at the University of Nebraska at Lincoln.