BLOOMINGTON, Ind. – For the seventh straight year, the Indiana University Kelley School of Business is hosting 140 undergraduate students from 35 business schools who are competing in the National Diversity Case Competition on Jan. 12 and 13.
The competition, held annually the weekend before Martin Luther King Jr. Day, brings together some of the best and most diverse talent in undergraduate education from across the nation.
Students are challenged to solve diversity-related business issues and share ideas while benefiting from workshops and networking with companies that value inclusion.
They include teams from eight Big Ten schools and more than two dozen other top schools from Vermont to Arizona. Participants from historically black colleges and universities include Southern University and A&M College, Florida A&M University and Xavier University of Louisiana.
Each four-student team must include two members from an underrepresented population. Many students find that participating in the event leads to leadership opportunities, internships and jobs after graduation. They will compete for $20,000 in prize money.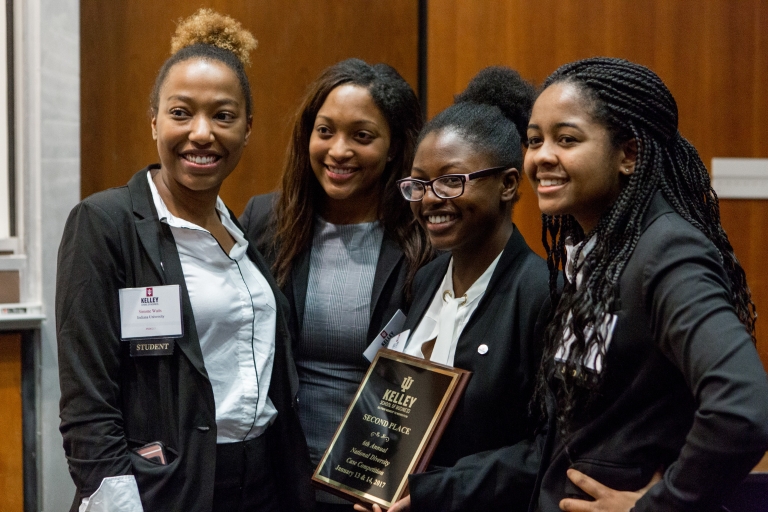 "Diversity in business benefits everyone," said Idalene "Idie" Kesner, dean of the Kelley School and the Frank P. Popoff Chair of Strategic Management. "Educators know it, and companies know it. Kelley has long been a leader in establishing programs to increase diversity in the classroom and to contribute to a diverse workforce. We're very proud to bring together these talented students from all over the country with companies who value diversity."
Events begin Friday, Jan. 12, with a networking session and dinner. Workshops on the following day are designed to support career opportunities for diverse students in Fortune 500 companies.
Competition begins early Saturday, Jan. 13, with the schools divided into seven brackets. The winners in each bracket continue on to the finals. Prizes are awarded to the winner, the finalists and the runners-up in each bracket.
IU alumna Laysha Ward, executive vice president and chief external engagement officer for Target Corp. and a member of the company's executive leadership team, will be this year's keynote speaker. She earned a bachelor's degree in journalism from IU and a master's degree in social services administration from the University of Chicago.
Target Corp., a platinum supporter, also is providing the case that students will use. It addresses a real-world issue for many companies: building on a culture where authentic differences in backgrounds, experiences, cultures and thoughts are appreciated. Judges will be looking for creative solutions that leverage the students' diverse backgrounds.
Corporate partners provide substantial financial support for the event, which includes travel reimbursement and lodging and meals for students to eliminate barriers to their participation.
"I've had the opportunity to attend and judge the National Diversity Case Competition, and I can tell you with absolute certainty that this event shows why diversity and inclusion are so critical," said Ken Bouyer, inclusiveness recruiting leader for EY Americas. "Seeing the diversity of thought, perspective and background of the students driving very different and innovative solutions is exactly why study after study shows that diverse teams that work inclusively perform better in solving complex problems."
Last year, a team of four freshmen representing the Kelley School came in second. Once again, the school will field an all-freshman team. It won the event two years ago.
Other corporate, diamond supporters are EY, P&G, GE and Cummins; gold supporters are Abbvie, Abercrombie & Fitch, Altria, BofA Merrill Lynch, Charles Schwab, Crowe Horwath, Dick's, Discover, Ford, PWC, TekSystems and Whirlpool.
Schools sending teams are Boston College, Boston University, Delaware State University, Drexel University, Elon University, A&M University, Georgia State University, Louisiana State University, Miami University, Minnesota State University-Mankato, Pennsylvania State University, Purdue University, Rutgers Business School, Southern University and A&M College, George Washington University, Ohio State University, the University of Iowa, the University of Tennessee, the University of Vermont, University of Buffalo, University of Arizona, University of Cincinnati, University of Georgia, University of Massachusetts-Amherst, University of Michigan, University of Pennsylvania, University of Pittsburgh, University of Texas at Austin, University of Virginia, University of Washington, Washington University in St. Louis, Western Michigan University and Xavier University of Louisiana.