BLOOMINGTON, Ind. – Beginning in February, IU Bloomington will host the largest Indian arts and culture festival ever mounted in the Midwest when it kicks off its second Global Arts and Humanities Festival.
The 2018 festival, "India Remixed: A Global Arts and Humanities Festival," is sponsored by the IU Bloomington Arts and Humanities Council with support from various units and departments across campus. Most of the more than 30 events – which include exhibits, performances and films – are free and open to the public.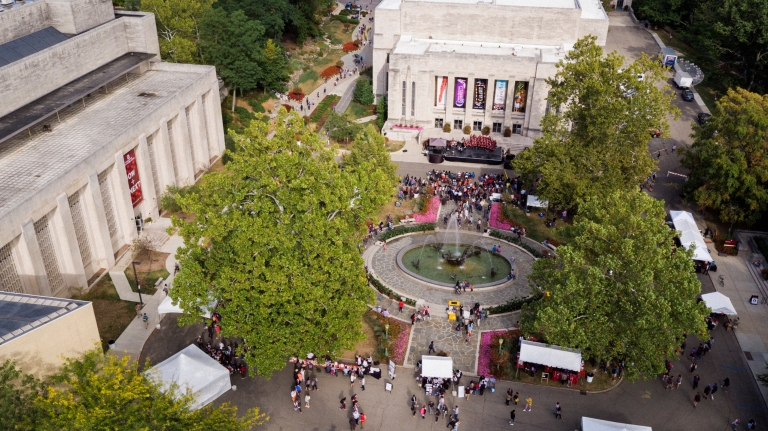 "Indiana University has a rich history of friendship and partnership with individuals and universities in India," said IU Bloomington Provost and Executive Vice President Lauren Robel. "We have a thriving gateway office in India, and many of our faculty and students come to us from India. 'India Remixed' invites the Bloomington campus and community to celebrate India's contemporary cultural and humanistic contributions in areas including film, literature, music and comedy."
The festival offers a range of programming from February to April, with events featuring acclaimed author Sir Salman Rushdie; award-winning filmmaker Mira Nair; globally renowned artist Bharti Kher; iconic feminist rapper Madame Gandhi; breakout comedian Vir Das; and many others. Featured alumni include Raju Narisetti, the CEO of Gizmodo Media Group, and celebrated restaurateur Rakshay Dhariwal, who will be visiting with celebrity chef Rahul Gomes Pereira.
"India Remixed" will highlight IU's many arts and cultural assets as they pertain to India and Indian studies. The program includes a Mira Nair film series at IU Cinema, as well as exhibits at the Grunwald Gallery, the Mathers Museum of World Cultures and the Herman B Wells Library. An extensive scholarly speakers' series in coordination with the Dhar India Studies Program will feature speakers at the School of Global and International Studies, Maurer School of Law, School of Public and Environmental Affairs, and School of Informatics, Computing and Engineering.
The Global Arts and Humanities Festival was created to celebrate the international ties of IU Bloomington's campus and the central role arts and humanities play in its international offerings and cultural exchanges. The festival is an annual event highlighting the art and culture of a different country or region each spring semester. The inaugural year in 2017 highlighted China.
The festival will emphasize contemporary and modern cultural activities from all regions of India. In addition to cutting-edge arts and culture, its speaker series emphasizes original ideas and approaches. Guests for the speaker series include journalist Aman Sethi discussing the technology of grassroots political movements in contemporary India, feminist scholar Charu Gupta on religious love taboos and recent moral panics, and postcolonial theorist Leela Gandhi on the modern ethics of nonviolence.
"This festival has been a delight to plan; IU has many rich and dynamic ties to India and Indian culture," said Ed Comentale, professor of English, associate vice provost for arts and humanities, and chair of the IU Bloomington Arts and Humanities Council. "Indian students and Indian faculty are integral to IU's history and success. They have opened rich dialogues in law, business and politics, as well as philosophy, literature, religious studies and many other fields in the arts and humanities."
"India Remixed" is designed to build new bridges between students from India and America. IU has more than 1,700 Indian students enrolled and nearly 5,000 affiliated alumni from India, with nearly 150 outstanding faculty members of Indian descent. A number of Indian and Indian-American students, faculty and alumni helped organize and plan "India Remixed."
The program includes many opportunities for students to collaborate with guests. Students from FLAME University in Maharashtra will visit Bloomington and collaborate with students in multiple IU arts and humanities departments, while Delhi-based artist Bharti Kher will lead students in the Fine Arts Program in the installation of her work, and filmmaker Mira Nair will conduct master classes with students from The Media School and the IU Department of Theatre, Drama and Contemporary Dance. Funding from the Office of the Vice Provost for Research and the Vice Provost for Undergraduate Education will support original undergraduate research and creative projects, which will be presented at a conference in the Wells Library at the end of the festival.
Highlights of this year's festival include:
Feb. 22: Double-bill comedy set at the Buskirk-Chumley Theater featuring Vir Das, whose stand-up act has been featured on Netflix, and Asif Ali, a regular on Comedy Central.
Feb. 23: Grunwald Gallery opens an exhibition of sculptures and paintings by Bharti Kher. The show highlights her use of the bindi as artistic medium, reflecting its multi-faceted meanings.
March 1: The Holi/First Thursday Festival at Alumni Hall will include Indian food, music and dancing, featuring Red Baraat, a Brooklyn-based octet that NPR has dubbed "the best party band in years"; as well as presentations by IU student groups Raas Royalty, Hoosher Bhangra, the India Student Association, Beta Theta Chi and Sigma Rho. The Holi celebration will culminate in an outdoor color toss in Dunn Meadow.
March 2: Celebrity cooking challenge featuring new mixes of traditional ingredients.
March 29: Lecture and honorary degree ceremony at IU Auditorium for Sir Salman Rushdie, whose breakout novel, "Midnight's Children," won the Booker Prize in 1981 and whose most recent novel, "The Golden House," was published in 2017. Rushdie will also be presented with an honorary degree.
April 10 and 11: Lecture (April 10) and performance (April 11) at The Bishop by rapper/percussionist Madame Gandhi, whose music has been featured at Bonnaroo and SXSW.
April 12: Lecture and screening at IU Cinema by Mira Nair, whose debut feature film, "Salaam Bombay!," was nominated for an Academy Award for Best Foreign Language Film in 1988.
The Global Arts and Humanities Festival was envisioned as part of the Bicentennial Strategic Plan for IU Bloomington, which includes among its primary objectives fostering diverse and global experiences for students, as well as emphasizing IU Bloomington's historic strengths in the arts and humanities. The festival is sponsored by the Office of the Provost and Executive Vice President and the Office of the Vice Provost for Research, with additional support from the Office of the President, the Office of the Vice President for International Affairs and The Media School.