BLOOMINGTON, Ind. – Orange County will be the next community to partner with Indiana University through the Center for Rural Engagement's Sustaining Hoosier Communities initiative, now in its second year.
Selected from several proposals, Orange County participated in an application process open to communities in southwest central Indiana. Submissions included a community narrative and project proposals based on the community's goals. IU Bloomington Provost and Executive Vice President Lauren Robel announced the newest collaboration today at the Bloomington Economic Development Corp.'s annual meeting.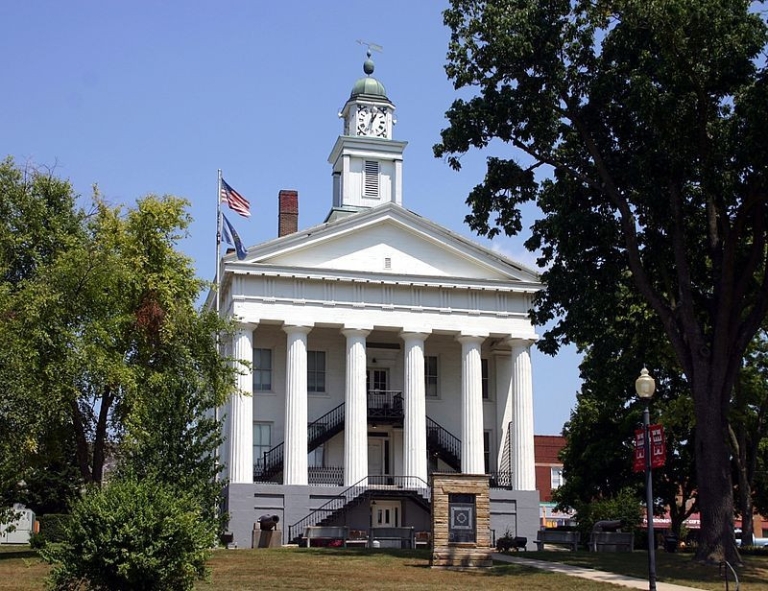 "We are thrilled to partner with Orange County for the next phase of Sustaining Hoosier Communities," Robel said. "The county is home to the exquisite natural beauty of Hoosier National Forest and thriving communities such as Paoli and French Lick, which have large populations of IU alums. This initiative opens up exciting opportunities to build upon existing partnerships and expand the ways we interact with our neighbors in Orange County. We look forward to the many successes we'll share together."
Communities who participate in Sustaining Hoosier Communities lead the formation of the projects, allowing for their unique, local character to shine through. A project steering committee in Orange County identified several opportunities, including a social services advocacy center, a bike path using an old railroad corridor, a community wellness initiative, a prenatal health and education study, an incubator kitchen for burgeoning local food commerce and a youth artisan apprenticeship program. The committee will work with IU faculty and staff to create the final project list for IU Bloomington students and instructors to address during the 2018-19 year.
"Orange County was a natural location to be chosen because of the dynamic collaboration already happening here," said Debbie Turner, Lost River Market and Deli Co-Op management team leader. "We have new projects to do and new things to tackle that will create community wealth and well-being. IU resources and partnership will help all of our efforts come to fruition in a bigger, better, more sustainable way.  It is a perfect collaboration with homegrown ideas and energy teaming up with a large amount of expertise, background and research."
Sustaining Hoosier Communities launched its inaugural year in partnership with Lawrence County in 2017. The community and IU have worked together to address 15 economic, environmental and social sustainability projects that Lawrence County leaders identified as priorities.
Lawrence County's projects include an active living plan for the city of Mitchell; a study of the Avoca Fish Hatchery and its possible uses; the adoption of the Complete Streets model for infrastructure planning in Bedford; a dark sky designation in Hoosier National Forest; and a study of community addiction issues.
Once Orange County projects and IU Bloomington courses are finalized, the program anticipates that more than 500 students in more than 15 courses will be involved in work across the academic year.
"I am very excited that Orange County has been chosen as the next partner in Sustaining Hoosier Communities," said Misty G. Weisensteiner, executive director of the Orange County Economic Development Partnership. "The opportunity this will create within our county and among one another is invaluable. I envision the end result will lead to further develop the sense of community within our wonderful area, opening even more doors for continued collaboration and growth to create sustainable places to live and a greater quality of life."
Orange County is a rural community in south central Indiana with a population of 19,605. It includes four incorporated towns: the county seat of Paoli, Orleans, French Lick and West Baden. Unincorporated communities include Chambersburg, Leipsic, Prospect, Orangeville and Valeene. Home to a local food cooperative, a countywide community garden, agricultural youth programs, an artist-in-residence program and a restored, historic resort, the county is in a unique position to progress through a tourism economy, relying on its historical, agricultural and recreational roots.
The IU Sustaining Hoosier Communities initiative forges partnerships with local communities and leaders and Indiana University's faculty, students and staff to improve and enrich the health, prosperity and vitality of our region. Partnering communities nurture a diversity of individuals, identities and perspectives, and enjoy the benefits of a strong social fabric and civic engagement. These communities demonstrate a long-term commitment to their people, economic opportunities and places.