BLOOMINGTON, Ind. – Noah Bendix-Balgley, first concertmaster of the Berlin Philharmonic and an Indiana University alumnus, is visiting IU Bloomington as the Class of 1941 Wells Scholars Program Professor through Feb. 14. His visit will include a Feb. 7 performance of his klezmer violin concerto, Fidl-Fantazye, with the IU Philharmonic Orchestra.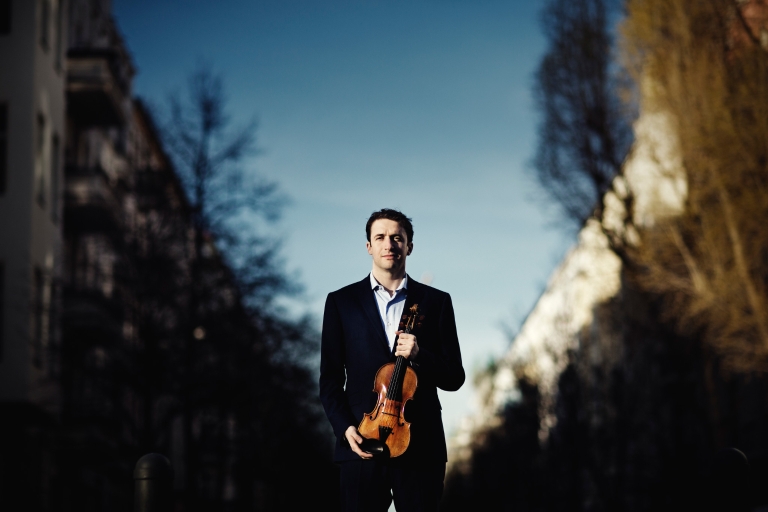 Bendix-Balgley joined the Berlin Philharmonic in 2015 after four years as concertmaster of the Pittsburgh Symphony Orchestra. He was named Laureate of the 2009 Queen Elisabeth Competition in Brussels, and he has appeared as a soloist with the Pittsburgh Symphony Orchestra, the Orchestre Philharmonique de Radio France, the Orchestre National de Belgique, the Utah Symphony, the Auckland Philharmonia Orchestra and the Nagoya Philharmonic Orchestra.
As the Wells Scholars Program professor, Bendix-Balgley will lead an honors interdisciplinary colloquium for undergraduate students on "Art Music in the Contemporary World: An Exploration of Emerging Models" in partnership with Alain Barker, Jacobs School of Music director of entrepreneurship and career development.
"We are so proud of what our alumnus Noah Bendix-Balgley has accomplished," Wells Scholars Program director Christoph Irmscher said. "He is one of the world's foremost violinists and an inspiration to our current scholars, and we are delighted that he has come back to IU to share his music and his expertise with us."
During his visit, Bendix-Balgley will hold masterclasses with Jacobs School of Music students, conduct a masterclass for children in the IU Strings Academy and speak at a student luncheon and evening reception.
"I'm thrilled to return to Indiana University to teach and perform," Bendix-Balgley said. "My student years at IU were formative and prepared me for my current musical career. I look forward to working with current Wells Scholars and students at the Jacobs School of Music, sharing insights and ideas about music and the classical music business."
Bendix-Balgley's IU Philharmonic Orchestra performance will begin at 8 p.m. Feb. 7 at the Musical Arts Center, 101 N. Jordan Ave. The event is free and open to the public.
"It's wonderful to have Noah back in Bloomington," said Gwyn Richards, the David Henry Jacobs Bicentennial Dean of the IU Jacobs School of Music. "It's thrilling to know that yet another member of our alumni has made an indelible mark on our profession. We have been looking forward to his visit, and we are excited that he is here and able to share his insight and experiences with our students, as well as students of the IU String Academy."
Born in Asheville, North Carolina, Bendix-Balgley began playing violin at age 4. At age 9, he played for Lord Yehudi Menuhin in Switzerland. Bendix-Balgley attended IU as a Wells Scholar and graduated from the Jacobs School of Music and the Munich Hochschule. His principal teachers were Mauricio Fuks, Christoph Poppen and Ana Chumachenco.
In his spare time, he enjoys playing klezmer music. He has played with world-renowned klezmer groups such as Brave Old World and has taught klezmer violin at workshops in Europe and in the United States. Bendix-Balgley performs on a Cremonese violin made in 1732 by Carlo Bergonzi.
Named in honor of Herman B Wells, IU's beloved 11th president, the Wells Scholarship pays the full cost of attendance for four years of undergraduate study on IU's Bloomington campus. The program invites an accomplished alumnus each spring to teach as a Wells Scholars Program professor, providing extended opportunities for current students to study in a small-class setting and interact with these professionals through special programs and events.