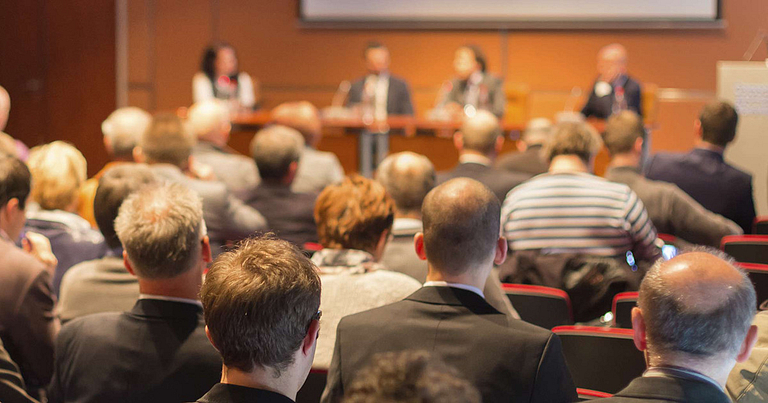 Male professors at prestigious U.S. institutions are more than twice as likely to speak at colloquia than their female counterparts. A new study found that this disparity can't be explained by academic rank or differential interest in giving talks.
The study, published last month in Proceedings of the National Academy of Sciences, found there were 3,652 colloquium speakers in 2013-14 in six disciplines at the top 50 U.S. universities and colleges, as defined by U.S. News & World Report.
Men gave 69 percent of the talks at the colloquia, events to which academics are invited to discuss their research.
The study raises awareness of a gender disparity issue that may be costly for women, said Leslie Ashburn-Nardo, an associate professor of psychology in the School of Science at IUPUI and one of the researchers who conducted the study.
"Colloquia offer opportunities that help enhance a researcher's reputation, networks and research collaborations, and they sometimes result in job offers," Ashburn-Nardo said.
Overall, those opportunities are predominantly extended to men, she added.
The top 50 universities and colleges were selected as a way to isolate a sample that was manageable. Researchers have no reason to believe there is anything special about the circumstances at those universities and colleges versus anywhere else, Ashburn-Nardo said.
The researchers also looked at the gender composition of those in decision-making roles for choosing colloquium speakers to determine if that influenced the outcome.
They found that those who invite and schedule speakers serve as gender gatekeepers, with power to create or reduce gender differences. The data showed that the presence of women as colloquium chairs, and potentially on colloquium committees, increased the likelihood of women appearing as colloquium speakers.
Ashburn-Nardo said that finding offers a possible solution for reducing the gender gap – adding more women as colloquium chairs and to colloquium committees and promoting more deliberate efforts among committees to ensure gender parity in colloquium talk invitations.
"I don't think the gender gap is an intentional slighting of women," Ashburn-Nardo said. "If there is gender bias involved, it's probably the subtle, non-conscious kind that we see evidence of in other kinds of studies."
"We tend to think about and be more familiar with people who are similar to us," she said. "As a woman, I am probably more inclined to think about my network of women colleagues in the field than about my male colleagues, and vice versa. It just speaks to the overall importance of having as diverse a decision-making committee as one can have."