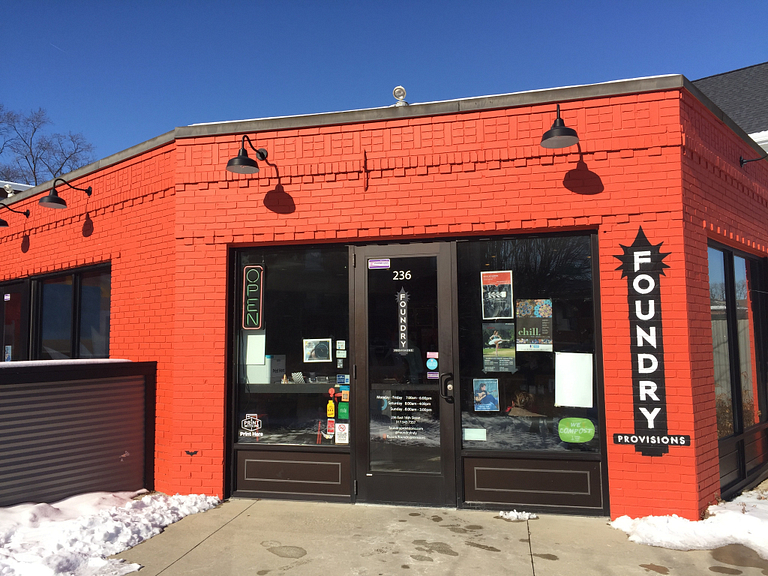 It's not just the coffee that impresses at Foundry Provisions, a cozy downtown Indianapolis café.
Hot, pressed sandwiches are the lunch stars at this popular space in the Herron-Morton Place neighborhood. The paninis are light yet substantial, able to satisfy vegetarians and carnivores alike. For $7.50 each, the sandwiches take grilled cheese to the next level with the Tarkington (turkey, romaine, tomato, whole-grain mustard and provolone) and the Montgomery (Smoking Goose bacon, kimchi, cheddar and tamari mayonnaise). The Kurt V pays tribute to renowned author and Indianapolis' most legendary denizen, Kurt Vonnegut. The meat-free sandwich bypasses the Slaughterhouse(-Five), featuring portobello mushroom, roasted red pepper, spinach, provolone and garlic aioli. Daily soup and salad specials are available as well. 
If you prefer, you can go for a "Breakfast of Champions." Foundry Provisions boasts sweet and savory morning presses: The Daily Hot Breakfast panini contains sliced egg, bacon, provolone and Sriracha sauce, while the Nutella Breakfast sandwich showcases the famous hazelnut spread with bananas and powdered sugar. Granola, oatmeal, bagels from Shapiro's and pastries from Circle City Sweets are also in the mix.
Foundry Provisions is a CrimsonCard supporter. Users get a 15 percent discount on Wednesdays. 
The restaurant is located at 236 E. 16th St. Hours are 7 a.m.-6 p.m. Monday-Friday, 8 a.m.-6 p.m. Saturday and 8 a.m.-3 p.m. Sunday. The lunch menu kicks in at 11 a.m.