According to the Centers for Disease Control, influenza is widespread in the U.S. right now.
"This is a season that has a lot more steam than we thought," said Dr. Dan Jernigan of the U.S. Centers for Disease Control and Prevention in a WISH-TV story on how Indiana has been affected by the flu. As of Jan. 19, a total of 79 Hoosiers had died this season due to the flu.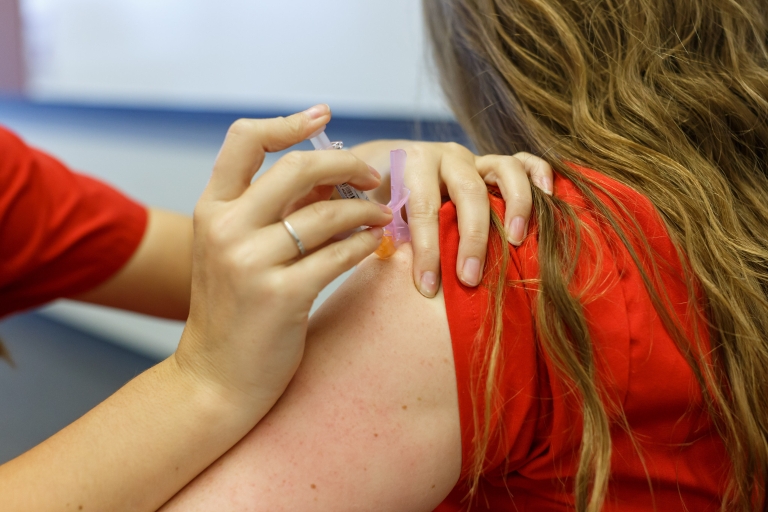 IUPUI's Dr. Stephen Wintermeyer, director of IUPUI Campus Health, has some tips for flu prevention.
Flu shots are the single best way to protect oneself against the flu, or influenza. The flu infects millions of Americans each year, resulting in over 200,000 hospitalizations and an average of 24,000 deaths.
Getting a flu shot protects you but also those around you who may be particularly vulnerable to the flu. Groups that are at highest risk from the flu include the elderly, infants and those with chronic medical conditions. If you regularly interact with such people, you can help protect them by getting a flu shot.
The Centers for Disease Control and Prevention recommends that all Americans older than 6 months get a flu vaccine each year unless they have had a severe allergic reaction to the flu vaccine or one of its components in the past. Please note that some types of flu vaccine are produced now without the use of eggs, so there is no reason for those with an egg allergy not to get a flu shot.
IUPUI students can go to Campus Health locations in Campus Center Room 213 or Coleman Hall Room 100. IUPUI employees can get a flu shot in the Coleman Hall location. An IUPUI ID is required to receive a free vaccine. Students should bring their insurance card. Appointments for flu shots are not necessary.
Many retail clinics and pharmacies like CVS also offer the flu shot for free with proof of insurance.
What can you do to protect yourself besides getting vaccinated? The CDC provides recommendations on workplace precautions for the flu:
Promote influenza vaccination among workers.
Educate workers on influenza signs and symptoms.
Inform workers on what to do if they get sick.
For more information, see the CDC's page on influenza.