Description of the following video:
[Video: A shot of a poster reveals an exterior of a building. The IUPUI Presents graphic appears Dean John N. Williams is in the new Dr. James Fritts Clinical Care Center.]
[Words appear: John N. Williams, Dean, School of Dentistry]
[Williams speaks: So, we're in the James J. Fritts Clinical Care Center on the third floor, and this is an example which is replicated on the other two floors, of a space containing about 35 dental treatment facilities. We're on the public side of the area. So, the public will flow into this area, complete with a full glass wall to the east.
And you see a very contemporary, clean, high-tech series of dental treatment areas that will be available for our patients. We're currently viewing the dispensing area that will be set up to provide all of the disposable supplies that are needed on an ongoing basis, and this again, is replicated on the other two floors, so we have vertical distribution of supplies and materials.
Laboratory area. This is pretty dramatic. Back into this space. This is the north connector on the third level bringing the Fritts Clinical Care Center into the existing dental school footprint. And we're overlooking the courtyard, which is a very dramatic view, which will be teaming with students, I'm sure, and faculty during warmer months. That will let them enjoy their lunch and social opportunities. We hope to eventually enclose this area in some form of fashion, to expand the amount of social space we have available. Down we go. A behind the scenes at Disney World, so to speak. This is an example of one of ten dental treatment areas that will be available in our up to a 24 hour, 7 day a week opportunity, based upon staffing needs and patient needs in a broader community.
This is a fully self-contained clinic that will have its own extra equipment, patient rest rooms. The treatment complete the comprehensive treatment facilities, and then for those patients who require more extensive care. We have the opportunity to refer to our oral surgery clinical staff and they are on call 24/7 as well.
So, it really redefines the role the School of Dentistry can play in expanding access to care on a continual basis, for the greater Indianapolis community.
[Words appear: IUPUI Fulfilling the Promise, iupui.edu]
[End of transcript]
Hard hats are off. Tours have begun, and, most importantly, more than 100 new dental chairs have been installed in the new Indiana University School of Dentistry addition on the IUPUI campus. 
Now known as the James Fritts, DDS Clinical Care Center, the addition on the east side of the dental school building will be dedicated next month, ready for future dentists to continue their training in a high-tech, state-of-the-art environment.
The new facility is connected to the original School of Dentistry building. Built in 1933, it is one of the oldest buildings on the IUPUI campus, with extensions built in 1961 and 1972. The new space stands three stories tall, with 45,000 square feet and a $21.6 million price tag paid for primarily by alumni donations, with a lead gift from the generosity of Dr. James Fritts of Rochester, Indiana, a 1965 graduate of the dental school.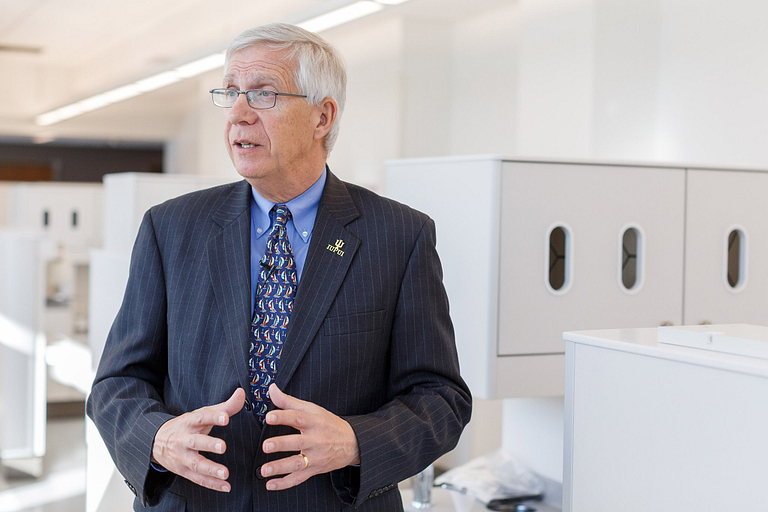 A recent tour found School of Dentistry Dean John N. Williams checking in on the status of the building. 
"People really rose to the occasion and came through," Williams said about the last few years of the Fritts Clinical Care Center's development. "I cannot be more appreciative of the tremendous support they've provided. This is a 21st-century dental clinic designed for a 21st-century dental education."
Between now and the March 2 building dedication, more furniture, digital imaging equipment and clinical computer systems will be installed. 
On March 5, the third floor will be the first space to open to students and the public. All of the clinics will be fully operational by July 1, the start of the School of Dentistry's 2018-19 academic year. Students and supervising faculty treat more than 19,000 people each year in the dental school's clinics.
Williams believes one of the Fritts Clinical Care Center's most unique clinical features is its "24/7/365" clinic. A glass wall creates a separate check-in area so patients can have after-hours dental emergencies, such as a broken tooth, taken care of any time of the day or night. Many dental emergency patients end up at area hospital emergency rooms, and this clinical innovation can address that community need.
"The separate entrance leads into a small clinical space," Williams said. "Ten dental treatment areas might be available up to 24 hours, seven days a week. They will have their own X-ray equipment, and we will be available for referrals to oral surgeons who are on call 24/7." 
Bradley Metz, the School of Dentistry's equipment service and supply technician, knows every inch of the Fritts Clinical Care Center. He is thrilled that each floor will have its own supply dispensary, enabling students and faculty to get what they need with more convenience than ever.
"It keeps the supplies out of the operatories for a cleaner flow," Metz said. "Each floor has its own labs, too."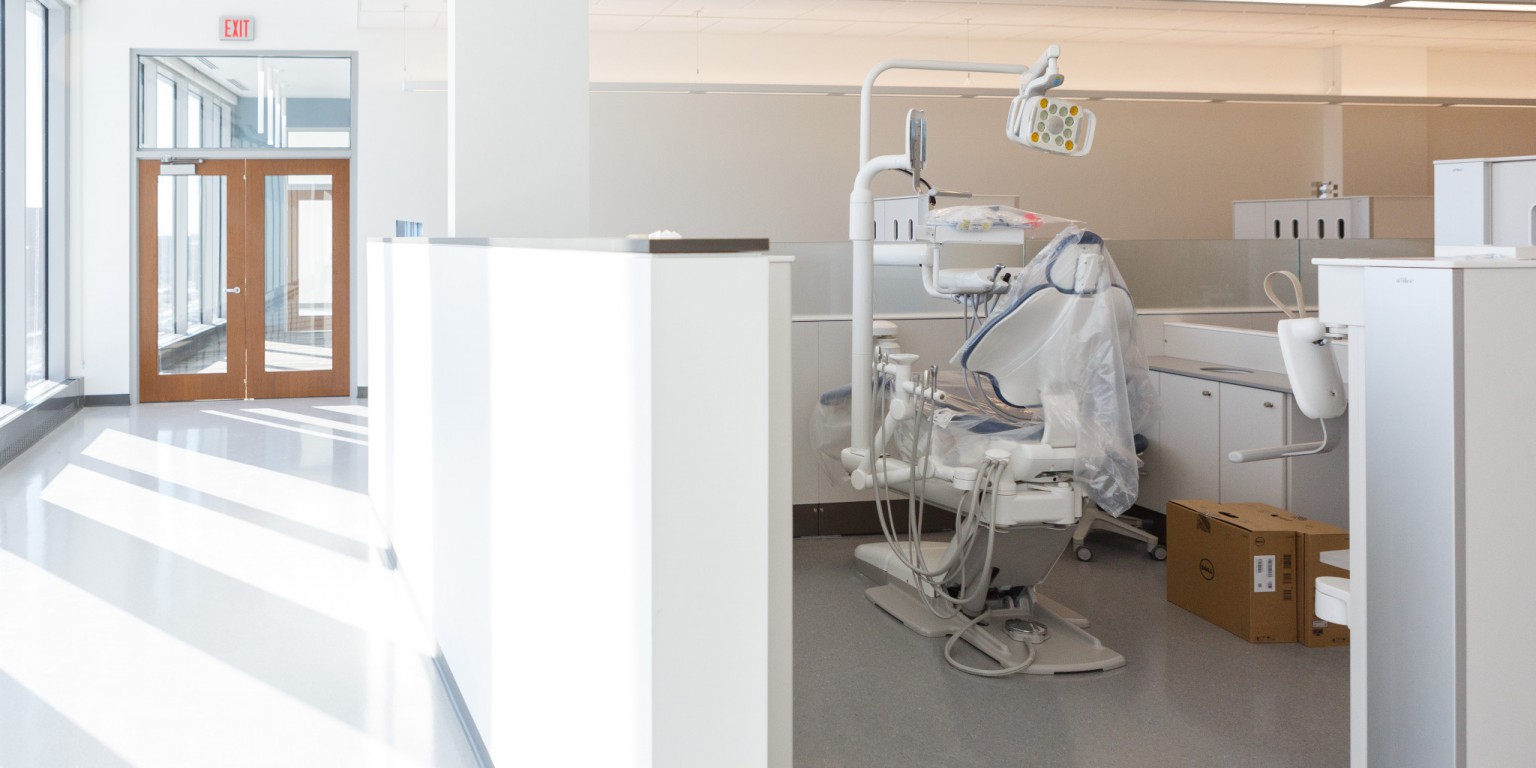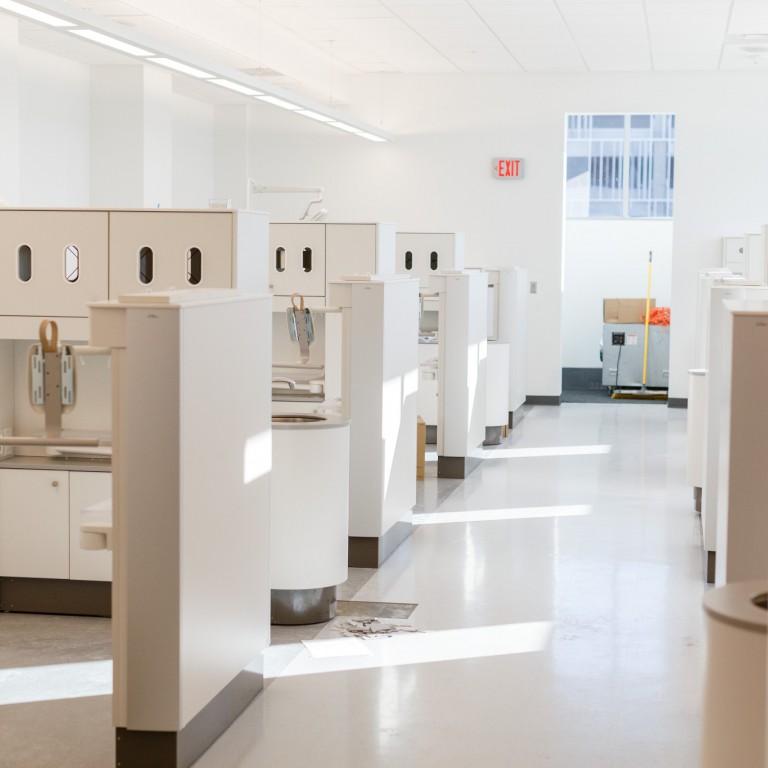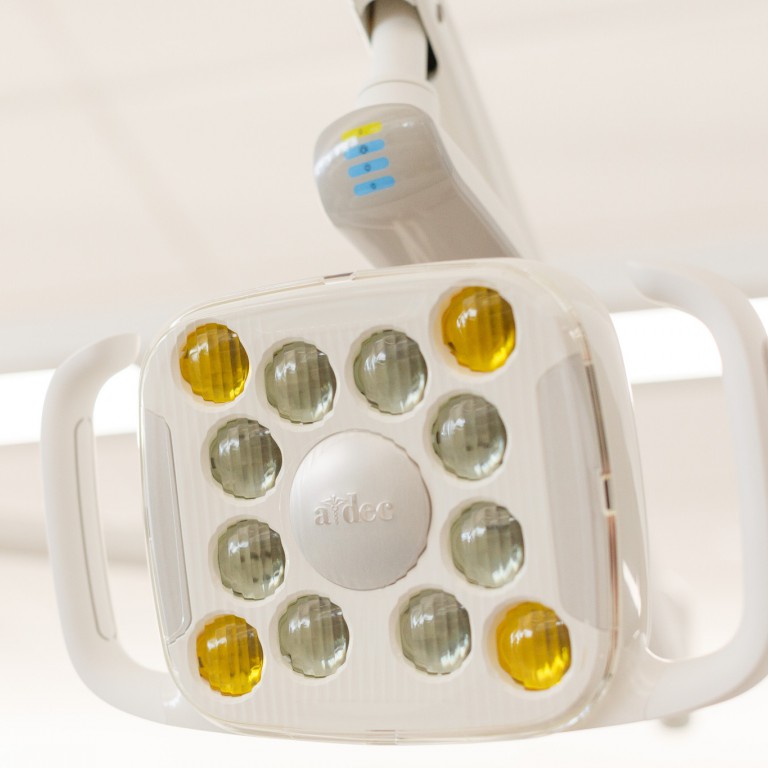 Photos by Liz Kaye, IU Communications
The chairs, cabinetry and other large pieces used to populate the many clinical spaces were brought in a 22-semi caravan from Portland, Oregon, in December. It looked like an NFL team was moving into the School of Dentistry.
The Fritts Clinical Care Center features large windows and a stunning light display on sunny mornings on the east side of the structure. The third-floor waiting area for endodontic procedures gives a nice view of downtown Indianapolis. 
"It's very clean, very bright, new," Metz said while basking in the morning sunlight pouring in through the windows. "In my eyes, it's exactly what the dental school needed."
Active alumni 
The School of Dentistry has about 8,500 living alumni. All were contacted, andan array of current and retired dentists and dental hygienists as well as staff members and friends showed their support for a new clinical building.Williams and Assistant  Dean John Hoffman garnered  tremendous interest. They worked diligently to rally the funding and support of the Fritts Clinical Center.
"It's incredible. It's more than what we anticipated," Hoffman said. "I'm just so pleased that donors are a huge part of it for the right reason: They value their profession and appreciate their education at the IU School of Dentistry. 
"It wasn't a hard sell at all. They came out of the woodwork to help us."
Dr. R. Stephen Lehman is an example of an alumnus who has stayed close to the Fritts Clinical Care Center evolution. He will be donating about 15 large-scale landscape photographs from his world travels to line the center's hallways.
"The artwork he's picked out is absolutely striking," Hoffman said.
A new reason to smile
The center's design, by Ratio Architects and SmithGroupJJR, was unveiled in December 2015, with expected completion in summer 2018. It looks like that deadline will be easily met, and the Fritts Clinical Care Center will still have that new-building smell when IUPUI's 50th anniversary rolls around in 2019.
Hoffman said there is still a lot to be done by the March 2 building dedication, but the fact that new equipment is already installed, just waiting to serve patients and future dentists, is a major feat. He can't wait to see the alumni's reaction to the Fritts Clinical Care Center.
"To actually look out the window and see this happen is really rewarding," Hofffman said. "There will be a lot of back-slapping and hugging happening on March 2. We're very proud of what we've been able to accomplish with the support of the IU dental community."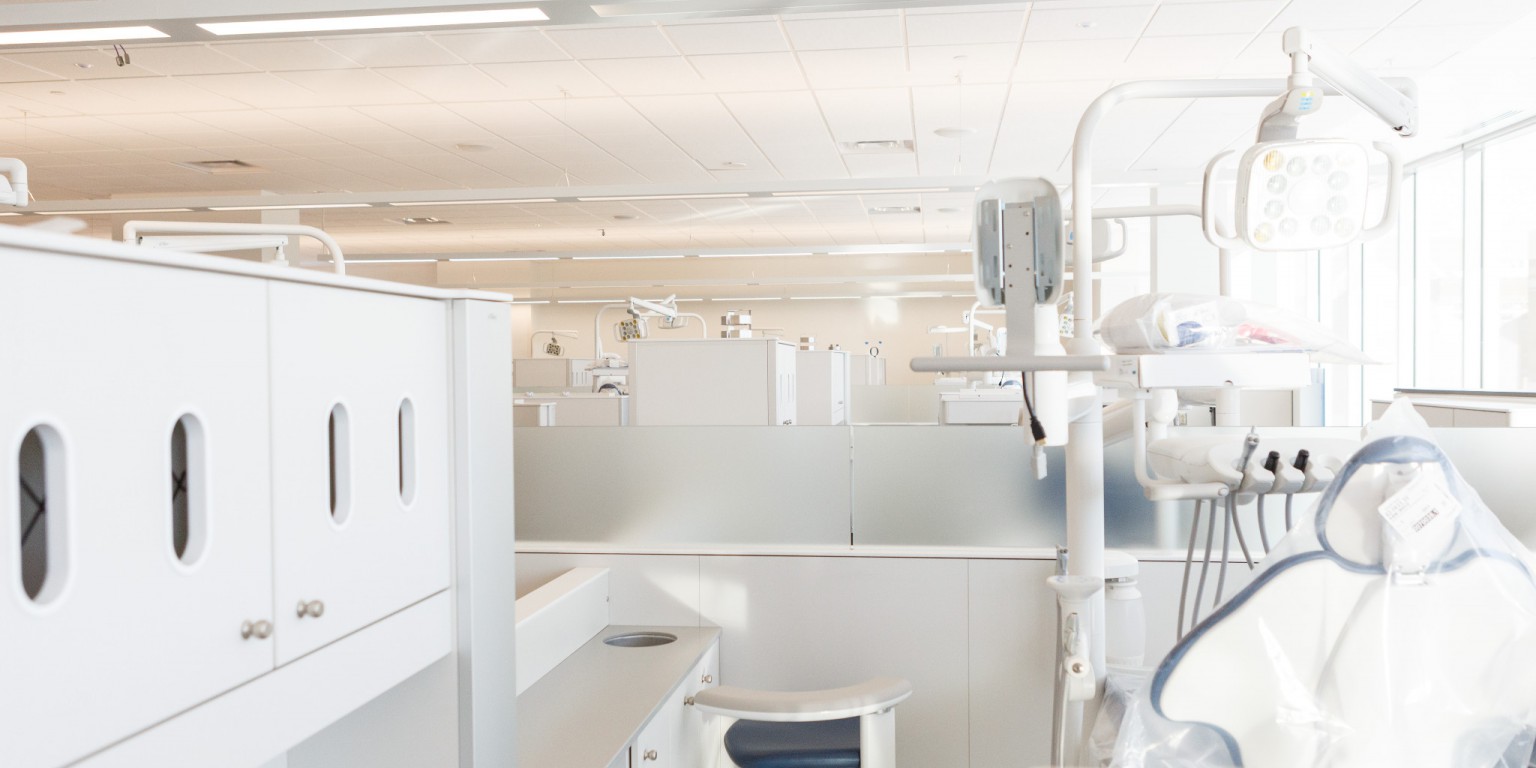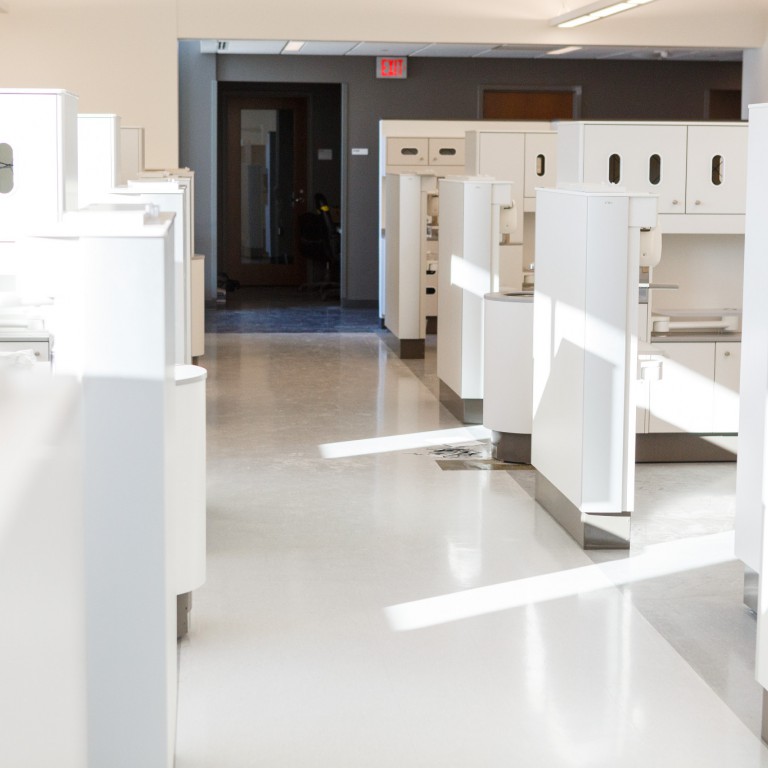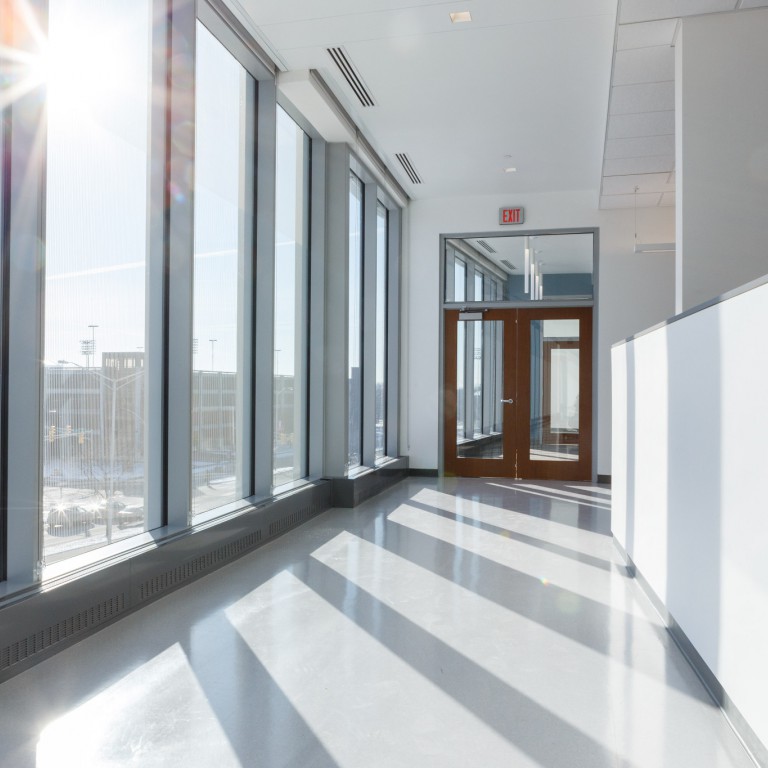 Photos by Liz Kaye, IU Communications