IUPUI Chancellor Nasser H. Paydar sketched the remarkable scope and scale of the campus's progress during its first 50 years as he presented his 2018 Report to the Community on Jan. 23.
Speaking before community members, faculty and staff at the IUPUI Campus Center, Paydar said, "We have come a long way. We have made a great deal of progress."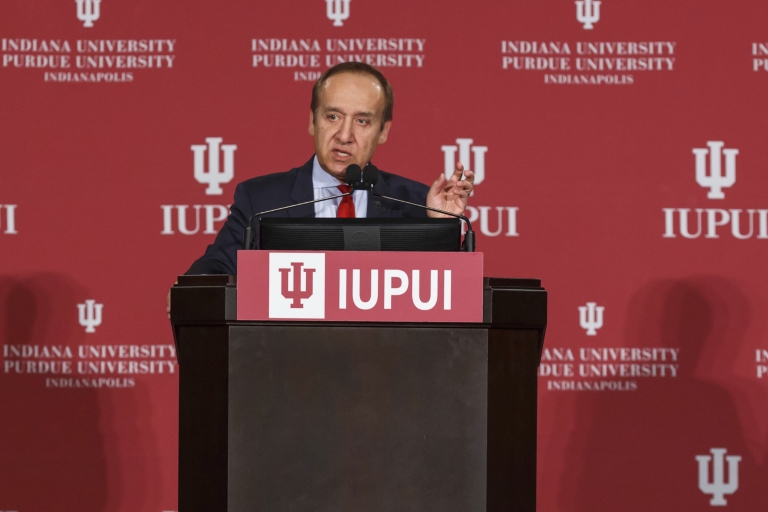 With the campus set to begin celebrating its 50th anniversary beginning this summer, Paydar said, there's no better time to share the milestones it has passed.
The chancellor illustrated the campus's journey with a personal story about his first day teaching a class in 1985 at an IUPUI building located across the street from the Indiana State Fairgrounds.
Paydar walked into the classroom and immediately turned around and left. He told an administrative secretary that his classroom number assignment was incorrect. She checked the number and said no, it was correct. Paydar said it couldn't be because there appeared to be a faculty meeting in progress in that room.
"Remember, I was 28 years old at that time," he said. "The average age of the students in the classroom was around 45. And this was freshman engineering."
This year, the chancellor said, 99 percent of incoming freshmen were teenagers. "We have come a long way to be the campus of choice, not just for Indianapolis but for all around the globe."
The evolution of the campus is evident in any number of ways, including its schools and academic programs, Paydar said.
"At some schools, if you want to live forever, you should come back in your next life as an academic program, but not at IUPUI," he said. Over the past five years, IUPUI has added 61 new degree programs, three-quarters of which are graduate programs.
"We are always adapting with new schools like the Lilly School of Philanthropy, the Fairbanks School of Public Health, an independent School of Education and the new School of Health & Human Sciences," Paydar said.
While 91 percent of beginning students at IUPUI are Hoosiers, coming from all 92 counties in Indiana, the campus has tripled the number of international students since 2000. Now, 2,087 international students from 145 countries and territories attend IUPUI.
Other campus highlights cited by Paydar included:
IUPUI is part of Indiana University Grand Challenges, which includes an initiative led by the dean of the IU School of Nursing at IUPUI that focuses on the opioid addiction crisis.
IUPUI joined the Horizon League last summer, and in its first season of Horizon League competition, the women's soccer team brought home a league championship and went on to compete in the NCAA tournament.
IUPUI, Indiana Sports Corp and the state are partners on a $3 million sports-district planning study aimed at strengthening Indianapolis' position as leader in sports industry.
IU School of Dentistry clinical facilities are expanding. Later this spring, 45,000 square feet of space will open at the dental school that will be used to train the next generation of dentists.
Construction along Michigan and West streets is helping to strengthen the campus partnership with Indianapolis by giving vehicles, cyclists and pedestrians more options for entering and exiting campus.
The IUPUI Welcoming Campus Initiative is working to strengthen campus connections to the community and transforming IUPUI into a more inspiring destination for faculty, staff, students and visitors.
A partnership with the Madam Walker Theatre Center has been announced to refurbish and modernize one of Indianapolis' most beloved landmarks.
IUPUI has become the leading urban research university campus in the state of Indiana and one of the most innovative campuses in the country, Paydar said, facts that will be celebrated during its 50th anniversary.