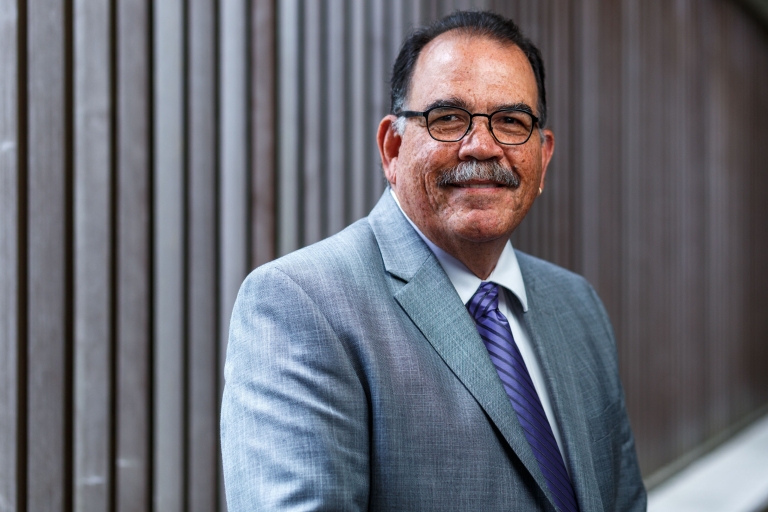 INDIANAPOLIS – IUPUI Chancellor Nasser H. Paydar has announced the appointment of Rafael Bahamonde as acting dean of the School of Health & Human Sciences, effective July 1 when the school officially opens.
Bahamonde is currently interim dean of the School of Physical Education and Tourism Management. The new School of Health & Human Sciences realigns PETM and the School of Health and Rehabilitation Sciences. A search for a permanent dean will begin in the fall.
"Dr. Bahamonde's history of engagement and leadership with faculty and staff who will comprise the new school, as well as his deep involvement in the exploration and planning processes that have occurred since last May, make him a perfect fit for this position," Paydar said.
Six weeks ago, the Indiana University Board of Trustees approved the restructuring, which will create a larger, more robust academic entity that will fill many needs for students while also giving faculty more opportunities to excel in teaching, research/scholarship and service. Staff can capitalize on synergies to collaborate and grow opportunities that will better serve students.
"It's something that's going to be great for IUPUI," Bahamonde said. "The faculty and staff are very excited, and students think it's a great idea – they feel it makes sense. The schools had been collaborating for several years, and programs that had complemented one another will now all be housed within one school."
The School of Health and Rehabilitation Sciences is a leader in graduate health and rehabilitation sciences, preparing students for practice in those fields while impacting countless lives through its community-engagement initiatives and research. Its many studies include examining the effects of exercise on health conditions affecting millions of Americans.
The School of Physical Education and Tourism Management is the oldest academic unit at IUPUI. It has an expansive focus on wellness, which includes exercise science, physical education, fitness management and personal training in addition to sports management and tourism, conventions and events management. The school also has administrative oversight of IUPUI's Army ROTC program and IU's Camp Brosius.
Faculty and staff from the two schools came together in early 2017 on a task force to explore the possibility of realignment, and when a report was shared at a joint meeting of both schools in August, there was wide support for the conversations to continue.
In early November, faculty and staff from each school voted on the proposal to become one school. It passed by a wide margin.
Departments from PETM and the School of Health and Rehabilitation Sciences will remain within the new School of Health & Human Sciences, and currently enrolled students will find that courses, curricula, degree requirements and degree names will remain the same. There are also no immediate plans for relocation of personnel or programs.
Instead, among the first orders of business for the new school will be to align policies and procedures and create committees and bylaws while continuing to come together as one unit.
"What this does is enlarge the scope of the schools," Bahamonde said. "The new school will improve the quality of life for people.
"It's a great honor to serve as the first acting dean and have the opportunity to bring the two schools together into one."