If you're making a list of top emerging men and women in the Indianapolis business community and beyond, good luck doing it without a heavy Indiana University presence.
The Indianapolis Business Journal released its 26th annual "Forty Under 40" list earlier this month, highlighting young professionals around the city. Twenty-two of the 40 are either IU faculty, staff, alumni or, in one case, a current student.
The group of 15 alumni hold an undergraduate, graduate or doctoral degree, or some combination thereof, from schools at IU Bloomington, IUPUI or Indiana University-Purdue University Fort Wayne.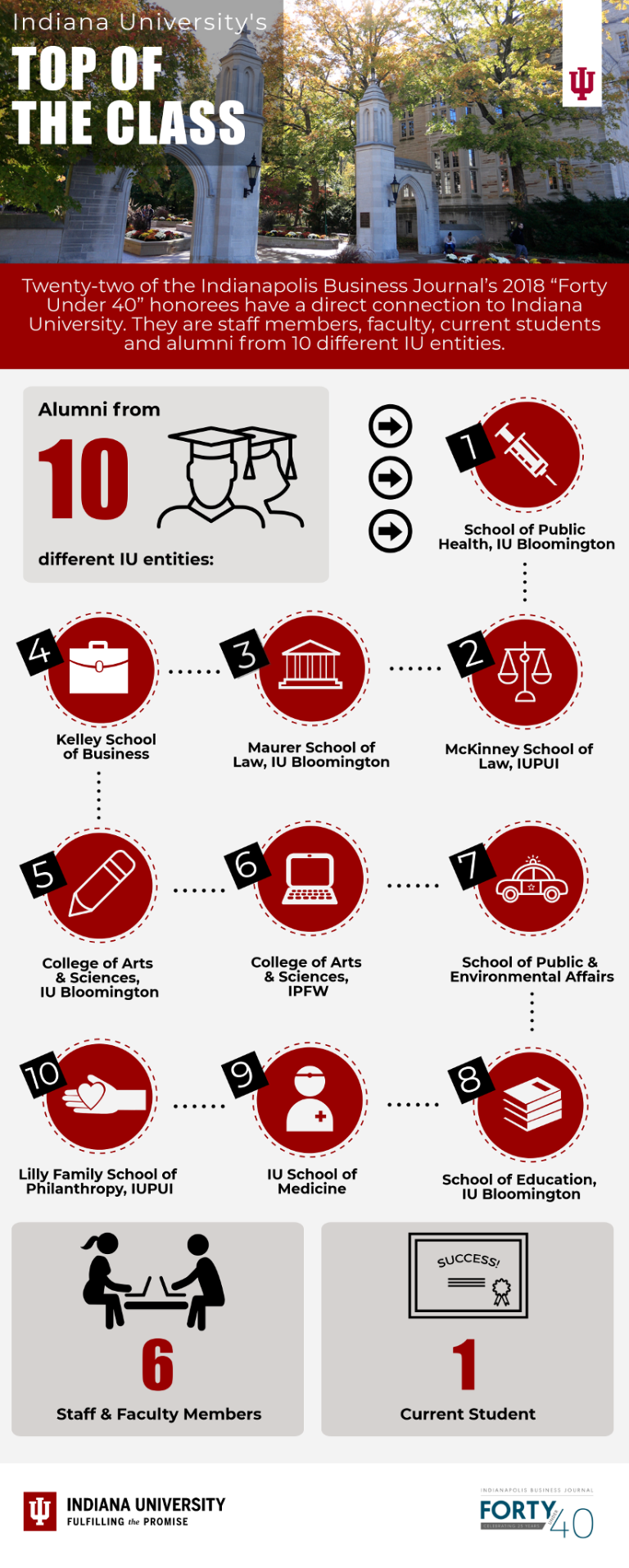 Six IU faculty and staff are on the list, all working in Indianapolis at either IUPUI, IU Health or the IU School of Medicine. One of the "Forty Under 40," Indianapolis Star investigative reporter Marisa Kwiatkowski, is working on an MBA in entrepreneurship at the Kelley School of Business at IUPUI.
Since 2012, at least two IU staff members have been included on the list each year, in addition to scores of alumni.
Here's the IU-related 2018 list with their IU connections: 
IU faculty and staff
Kevin Berkopes, founder and CEO, Crossroads Education; director of mathematics and statistics learning centers and academic specialist, IUPUI
Adairius J. Gardner, director of government affairs, Indiana University Health
Chris Harle, associate professor of health policy and management, IU Richard M. Fairbanks School of Public Health
David P. King, Karen Lake Buttrey Director, Lake Institute on Faith and Giving; assistant professor of philanthropic studies, IU Lilly Family School of Philanthropy
Dan O'Donnell, associate clinical professor of emergency medicine, IU School of Medicine
Lahny Silva, professor of law, IU Robert H. McKinney School of Law
Current IU student
Marisa Kwiatkowski, investigative reporter, The Indianapolis Star (working on MBA in entrepreneurship, Kelley School of Business, IUPUI)
IU alums
Kyle D. Bach, president and CEO, The Annex Group (B.A. in kinesiology, IU Bloomington)
Travis E. Barnes, CEO, Hotel Tango Whiskey Corp. (B.A. in political science, IPFW; J.D., McKinney School of Law, IUPUI)
Jane Beaman, general manager of off-highway business for Cummins Emissions Solutions, Cummins Inc. (B.S. in business management and computer information systems, Kelley School of Business, IUPUI)
Tracy N. Betz, partner, co-chairwoman, gender advancement committee, Taft Stettinius & Hollister LLP (B.A. in political science and gender studies, IU Bloomington; J.D., Maurer School of Law, IU Bloomington)
Bryon Blohm, manager, PwC (B.S. in management, IU Bloomington)
Kiamesha-Sylvia G. Colom, partner, Benesch Friedlander Coplan & Aronoff LLP (J.D., McKinney School of Law, IUPUI)
Derrick Feldmann, president, Achieve (M.A. in philanthropic studies, IUPUI)
Allison A. Karns, legislative director, Office of Gov. Eric Holcomb (B.A. in journalism, IU Bloomington; J.D., McKinney School of Law, IUPUI)
Christopher Kirles, president of construction and principal, Flaherty & Collins Properties (B.S. in finance, Kelley School of Business, IU Bloomington)
Angela Carr Klitzsch, president and CEO, EmployIndy (M.A. in philanthropic studies and MPA, public administration, IUPUI)
Adam J. Krupp, commissioner, Indiana Department of Revenue (J.D., McKinney School of Law, IUPUI)
Terry J. Morris, director of information technology, global services, Eli Lilly and Co. (MPA, public affairs, IUPUI)
Darshan Shah, chief data officer, state of Indiana; executive director, Management Performance Hub (MBA, Kelley School of Business, IU Bloomington)
Dr. Jeff Wells, president and co-founder, OurHealth (B.S. in biology, B.S. and MBA, Kelley School of Business, IUPUI; M.D. and Ph.D., IU School of Medicine)
Ahmed Young, chief of staff and general counsel, Indianapolis Public Schools (B.S., secondary education, IU Bloomington; J.D., McKinney School of Law, IUPUI)