The Indiana University Office of the Bicentennial has approved a new round of grants as part of the Bicentennial Project Proposal Program and the Bicentennial Course Development Program.
The Office of International Services will receive $10,000 in support of its 75th Anniversary Big Tent Reception and World's Fare Luncheon, both of which will take place in fall 2018. IU was among the first institutions in the nation to have a full-time staff member devoted to the purpose of advising international students: Leo R. Dowling, appointed in 1943 by Herman B Wells.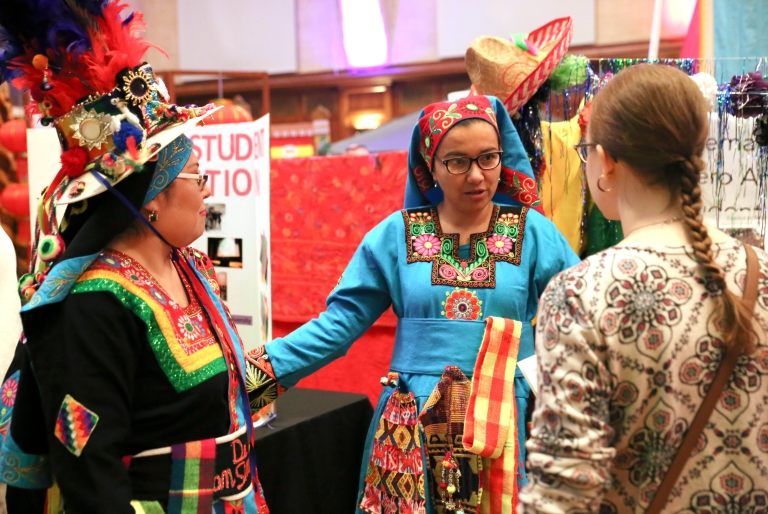 "The bicentennial celebration provides an ideal opportunity to further highlight this important commitment, and to emphasize the university's unwavering support for international education, dialogue and exchange during a particularly challenging time in our nation's history," said Christopher Viers, associate vice president for international services.
Dina Kellams and Meg Meiman of IU Libraries will host a Primary Sources Immersion Program to promote the exploration and teaching potential of the IU Bloomington campus collections, and to model some ways for faculty to engage their students with primary sources. A bicentennial project grant of $38,460 will support this program.
Likewise, the Office of the Bicentennial has granted the IU Alumni Association $25,000 for the IU China Bicentennial Alumni Conference and Reunion, a gathering of alumni from across the globe that will take place in in Beijing in September 2018. The event will include programs from IU faculty and regionally active senior alumni, networking and social elements, and a celebration of the developing alumni community in China. According to Fred Perry, executive director of international advancement, China hosts one of IU's largest alumni populations outside the United States and is home to several institutions with which IU has active and developing academic partnerships.
The IU Kokomo School of Nursing will receive a grant of $500 to support the keynote speaker address for their 50th anniversary celebration.
Course development grants will go to Andrea Quenette to develop a new course in the IU East Department of Communications that immerses students in the campus history as told through the lens of the student newspaper, and to Debby Herbenick, who will revise two courses in the School of Public Health-Bloomington to integrate primary sources about IU's history related to the 1867 transition to admitting women, early calls by students for sex education to be added to the curriculum, newsletters from the 1970s addressing sexual assault and rape, the founding of the LGBTQ+ Culture Center, and other important IU milestones related to sex research and education.
The next deadline for IU Bicentennial project grants and course development grants is March 2. Visit 200.iu.edu for more information.
Brittany Terwilliger is the communications and marketing manager for the IU Office of the Bicentennial.