Indiana is one of four states where the fatal drug overdose rate has more than quadrupled since 1999. Hoosiers are now more likely to die from a drug overdose than a car accident. According to the Indiana University Richard M. Fairbanks School of Public Health, the total cost of drug overdoses in Indiana tops $1 billion annually, measured in medical expenses and lifetime earnings losses.
Indiana is not alone in this crisis. In 2016, more people died from drug overdoses in the U.S. than the total number of Americans killed in the Vietnam War.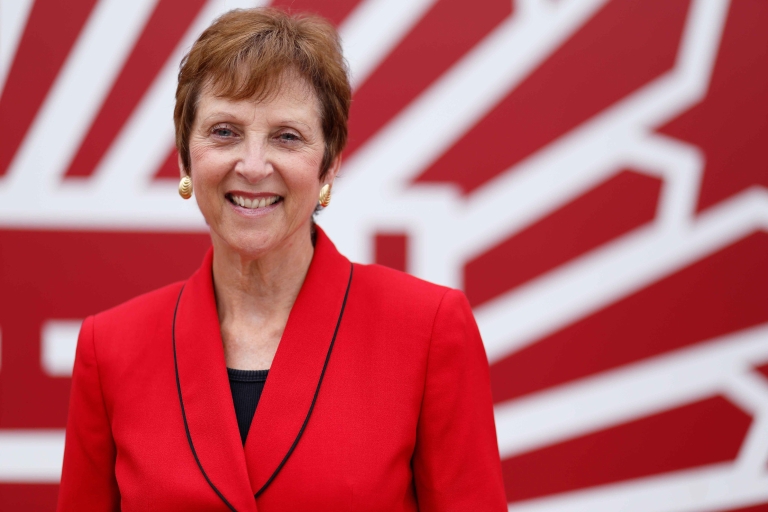 Just after taking office in January 2017, Gov. Eric Holcomb announced his vision for addressing the opioid crisis. "A Strategic Approach to Addressing Substance Abuse in Indiana" calls for a "data-driven system focused on substance abuse prevention, early intervention, treatment, recovery and enforcement" to reduce the prevalence of substance use disorder and help those with substance abuse disorder to recover. The message was clear: This is an urgent crisis that is taking a severe toll on far too many.
Indiana University President Michael A. McRobbie heard the call and quickly moved to action, focusing IU's third Grand Challenges initiative on addressing the addictions crisis.
This is the nation's largest and most comprehensive state-based response to the opioid addictions crisis, and the largest led by a university. It's a unique partnership that stretches across all sectors – a research university, state government, the health care industry, communities, nongovernmental organizations, other business, and nonprofits. With a problem as complex as this one, there needs to be a solution that addresses multiple levels and involves many different groups.
As the principal investigator for the project, I am pleased to work with an interdisciplinary steering committee, a scientific leadership team and a community advisory board to provide an integrated, coordinated and comprehensive approach to addressing the problem.
With an investment of $50 million over five years, the initiative will meet three goals:
Reduce the incidence of substance use disorders.
Decrease opioid deaths.
Decrease the number of babies born with neonatal abstinence syndrome.
The work will be focused in five key areas leveraging the university's greatest strengths:
Data sciences and analysis
Education, training and certification
Policy analysis, economics and law
Basic, applied and translational research
Community and workforce development
In the first phase of the initiative, we identified 16 projects that will be implemented over the next six months. These projects were ready to be executed because they leverage current work of IU investigators. The work will include:
Law and policy interventions.
Training for providers in under-resourced communities to better identify those with/at risk for opioid use disorders, prevent/treat addiction and diagnose its health complications.
Convening top scientific minds to exchange evidence-based practices, research and tools to address addiction and reduce harm.
Implementing a core data hub to inform the work we are doing and enable us to build upon our findings.
Training community health workers in screening, brief intervention and referral to treatment.
Better understand the mutable factors and services associated with improved health outcomes for opioid-addicted pregnant women and their infants with neonatal abstinence syndrome to improve interventions.
Programming for adolescents to build their skills in emotional regulation and stress management to reduce risk for substance abuse and development of substance use disorders.
Improve the substance use treatment and morbidity outcomes for vulnerable youth who are justice involved and have substance use disorders.
Phase II will advance a second round of projects to be implemented by mid-2018, and then Phase III, to begin in 2019, will contain projects that respond to changing needs and new evidence that emerges over the first two phases.
Everywhere I go, everyone I meet has stories to share about how the opioid crisis has affected them and their families. What they share is personal, painful and life changing. We have to understand the science of addiction and what it does to the brain, and empower health care professionals to better care for these patients and their families. We have to work together to halt the harm and progression of this terrible disease.
Robin Newhouse is dean of the School of Nursing, distinguished professor and leader of Responding to the Addictions Crisis, IU's third initiative in its Grand Challenges Program.