BLOOMINGTON, Ind. – Indiana University School of Nursing Dean and Distinguished Professor Robin Newhouse has announced the Phase One projects of the Responding to the Addictions Crisis Grand Challenges initiative.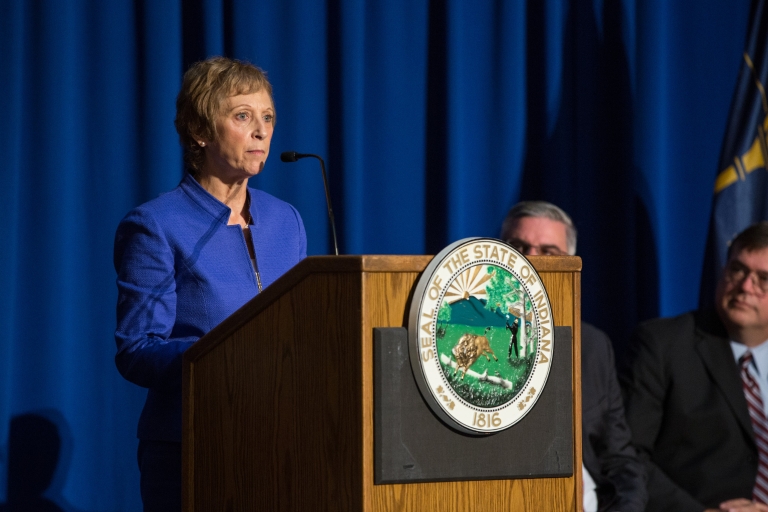 As part of IU's $50 million commitment to prevent, reduce and treat addictions in Indiana, initial pilot grants feature collaborative teams of faculty members, researchers, community organizations and cross-sector partners. Together, the projects will address all five focus areas of the statewide initiative: ground-level data collection and analysis; training and education; policy analysis and development; addictions science; and community and workforce development.
"These 16 projects collectively move us closer to achieving the goals of our overall, comprehensive plan, representing a critical first step in our statewide effort to battle this epidemic," Newhouse said. "From expanding the state's capacity to identify and treat addiction, to creating a much-needed statewide database on opioid use, or investigating the policy implications that shape this crisis, these projects will help us make meaningful progress on behalf of Hoosier families and communities across our state."
In partnership with community hospital systems, public health departments, workforce development organizations, health care research institutes and other collaborators, the Phase One projects include the development of preventive assessment tools, treatment center capacity building and the creation of online education centers for health care professionals. The scope of these pilot programs demonstrates the breadth and capacity of the five-year initiative, with efforts spanning scientific research, programmatic development and implementation, and community engagement.
Peter Embi, president and CEO of the Regenstrief Institute – an internationally recognized informatics and health care research organization affiliated with IU – will develop the Indiana Addictions Data Commons to ensure that health care systems, law enforcement and public health professionals have access to a single source of data about the opioid addictions crisis.
"We can't solve this crisis without having a constant and reliable finger on its pulse," Embi said. "By working with our partners to aggregate the relevant clinical and community-level data and enable access via a comprehensive research hub, the Indiana Addictions Data Commons will provide the critical insights we need to better understand and address this epidemic for all Hoosiers."
In partnership with Eskenazi Health, IU Health, the Marion County Health Department and other community health organizations, Indiana University School of Medicine associate professor Sarah Wiehe will focus her research on how to improve the health outcomes of mothers with opioid-use disorders and their infants with neonatal abstinence syndrome.
"We've seen a steady increase in NAS over the past five years, yet we don't know how effective we are at treating mothers and their babies with this condition," Wiehe said. "We need much better data on which medical or psychological treatment methods are most effective. Then we can help our health care practitioners adjust overall treatment to improve care for babies born with NAS."
Project summaries for Phase One pilot projects
The Family-Based Justice Improvement Project – Matthew Aalsma, professor of pediatrics and psychology at the IU School of Medicine: Determine best practices for implementing screening, intervention and substance use disorder treatment services to incarcerated juveniles in counties across Indiana.
Opioid Use, Substance Use Disorders and Opioid Overdose Outcomes After Traumatic Injury in Adolescents – Teresa Bell, assistant professor of surgery in the IU School of Medicine: Identify the predictors of sustained opioid use, opioid abuse and opioid overdose in order to reduce future substance use disorders in adolescents who experience a traumatic injury.
Modeling the impact of early life environmental (living) conditions on drug intake and related behavior – Stephen Boehm, professor of psychology in the School of Science at IUPUI: Identify unique risk factors in the development of alcohol, marijuana and opioid addiction, researching how external and environmental conditions contribute to addictions disparities in Indiana and beyond.
Computer Adaptive Testing – Brian D'Onofrio, professor of psychological and brain sciences in the IU Bloomington College of Arts and Sciences: Demonstrate the effectiveness of implementing an innovative, computerized assessment tool to identify and predict substance use disorders in multiple community settings.
2018 Indiana Public Health Conference – Joan Duwve, associate dean for practice and associate professor of health policy and management at the Fairbanks School of Public Health at IUPUI and chief medical officer for the Indiana State Department of Health: Engage a diverse set of statewide stakeholders to host a conference that advocates a comprehensive public health approach to harm reduction, with a focus on its life-saving and cost-saving impact and policy merits.
Echo Center – Joan Duwve: Implement a web-based learning hub that empowers local clinicians with expert medical education to help meet the need for diagnosis, treatment and extended care for patients throughout the state.
The Indiana Addictions Data Commons – Peter Embi, president and CEO of the Regenstrief Institute and the Sam Regenstrief Professor of Medicine at the IU School of Medicine: Develop a state-of-the-art "data commons" infrastructure that streamlines the standardization, integration and circulation of critical health data, including key environmental, behavioral, community and other valuable data that are not routinely collected by health care systems.
Can State Policy and Market Competition Affect Opioid Prescribing? The Role of Physician Behaviors in Rural vs. Urban Settings – Hsien-Chang Lin, associate professor in the School of Public Health-Bloomington: Investigate the policy implications of initiatives designed to decrease the availability of prescribed opioids in rural and urban communities to improve the impact of policy and law on Indiana's substance use crisis.
A Community-Based Addiction Reduction Plus Policy Innovations Program for Indiana – Debra Litzelman, the D. Craig Brater Professor of Medicine at the IU School of Medicine: Support and enable mothers and fathers with opioid addiction to engage in substance use and mental health treatment through the workforce development of community health workers.
PharmNet: Strengthening overdose and HIV/HCV prevention access – Beth Meyerson, associate professor of health policy and management and co-director of the Rural Center for AIDS/STD Prevention at the School of Public Health-Bloomington: Execute a statewide public health intervention that aims to increase the diagnosis of opioid addiction, reduce opioid overdose mortality, HIV and hepatitis C among people who inject drugs, and strengthen the system of prevention and treatment for people who use opioids.
Workforce and Capacity Assessment for People Referred to Treatment Post Hospital Discharge – Robin Newhouse, dean and distinguished professor at the IU School of Nursing: Evaluate the current treatment capacity landscape across the state, recommending strategies that build workforce and treatment capacity and create an action network of nurses throughout Indiana.
Leveraging interprofessional education to improve training for future health professionals in pain management, alternatives to opioids and better prescribing practices – Andrea Pfeifle, executive director of the Indiana University Interprofessional Practice and Education Center and associate dean of the IU School of Medicine: Increase and improve the training of health care professionals from Indiana University, emphasizing a systems-based approach that addresses opioid substance use disorder and overdose through screening, prevention, diagnosis, treatment and harm reduction, appropriate referral, and effective pain management.
Legal and Policy Best Practices in Response to the Opioid Epidemic – Ross D. Silverman, professor of health policy and management at the Fairbanks School of Public Health and professor of public health and law at the IU Robert H. McKinney School of Law at IUPUI and Nicolas P. Terry, the Hall Render Professor of Law and executive director of the Hall Center for Law and Health: Develop evidence-based law and policy recommendations that improve substance use health outcomes.
Education and Training in Addictions Counseling – Ellen Vaughan, associate professor at the IU Bloomington School of Education: Develop and implement an educational program for an Addictions Counseling Certificate and an Addictions Counseling Master's degree to increase the capacity and quality of addictions treatment to Indiana residents and their families.
Brief DBT Skills Program to Reduce Adolescent Drug Use in a School-Based Setting – Tamika Zapolski, assistant professor of psychology in the School of Science at IUPUI: Analyze the effectiveness of a school-based therapy that has proven effective in clinical settings to reach a broader population of youth at risk for substance abuse.
Optimizing health among opioid‐addicted women and their children – Wiehe, associate professor of pediatrics in the IU School of Medicine and director of Community Health Partnerships for the Indiana Clinical and Translational Sciences Institute: Identify the dynamic factors and health services that produce improved health outcomes for women with opioid addiction and their infants with neonatal abstinence syndrome.