Most people's first experience with an art museum happens in elementary school, and students in Monroe County are no exception. In fact, every second-grader in the Monroe County Community School Corp. is required to visit the Indiana University Eskenazi Museum of Art. But a three-year closure of the museum for a $30 million renovation posed a challenge to this requirement and forced museum education staff to do what artists do best: get creative.
Patsy Rahn, who is in her 11th year of coordinating tours at the museum, was charged with implementing a solution. She worked with museum docents to create a presentation that could bring the museum to elementary classrooms. By the end of February, IU docents will have visited every second-grade classroom in both Monroe County Community School Corp. and Richard-Bean Blossom Community School Corp.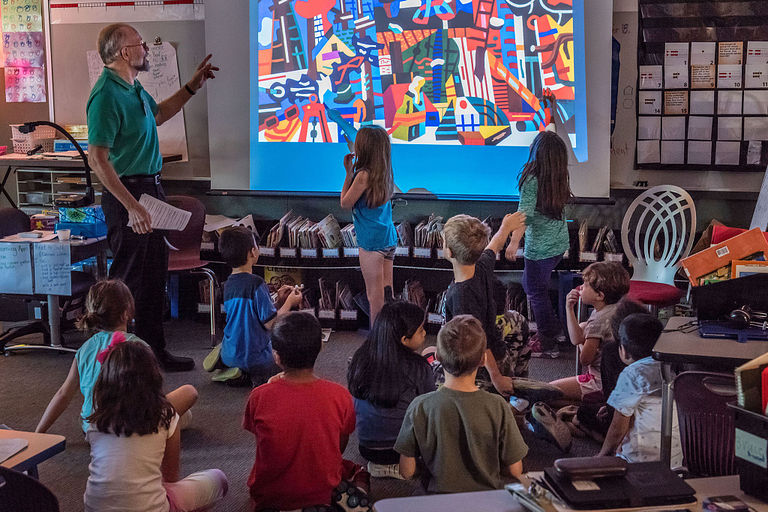 During the visit, docents engage students with question-and-answer conversations, with the goal of connecting a piece of art to the students' own lives. For example, while observing "Portrait of Mrs. Chinnery," a painting of a young woman holding a book, docents ask students what object they would hold if they were to have a portrait made.
"Exercises like the one with Mrs. Chinnery help children find their own way into the art," Rahn said. "We receive a wide range of responses from very moving to a lot of fun and silliness, but this type of conversation always makes students feel like they've really engaged with the piece."
While the classroom visits have been a great way to continue the art museum's education effort, second-grade teachers at Rogers Elementary School miss taking students to IU to learn about the campus. So Rahn worked with docents and teachers to create an outdoor tour for the students, which included spending time sketching at Showalter Fountain and visiting various sculptures around campus. The use of outdoor space was such a success that the teachers requested to continue including it in their visit, even after the museum reopens.
Expanding current programs like the second-grade visit and evolving educational opportunities at the art museum are top priorities for Heidi Davis-Soylu, the museum's new Lucienne M. Glaubinger Director of Education.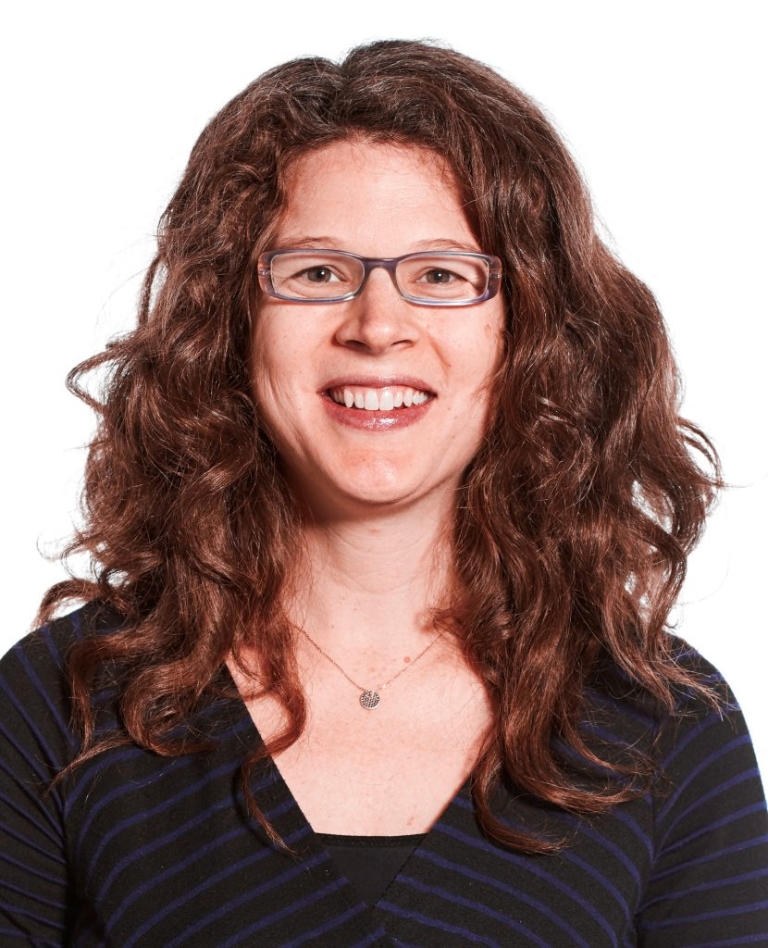 "Having the opportunity to go out into the community when the community can't come to us is a wonderful experiment," Davis-Soylu said. "Being open-minded and exploring new opportunities in a creative way are integral to our mission and core values."
Davis-Soylu, who holds a bachelor's degree from IU Southeast and a master's and Ph.D. from IU Bloomington, said the museum was instrumental in her personal and professional development as a student. After working as director of academic engagement and learning research at Newfields, formerly the Indianapolis Museum of Art, Davis-Soylu said that returning to Bloomington to work for her alma mater is "surreal" and "a dream."
As a former teacher, Davis-Soylu wants to create partnerships with not only the second-grade teachers in Monroe County but also teachers in surrounding rural areas and throughout the state. One way she hopes to expand the impact of the museum beyond Bloomington is to form stronger relationships with regional IU campuses. An upcoming partnership with the Speed Art Museum in Louisville, Kentucky, less than 20 miles from the IU Southeast campus, will hopefully serve as an archetype for regional engagement.
"Even though the museum is located here in Bloomington, we want it to be a resource for all IU campuses," Davis-Soylu said.
Crafting mission and vision statements for the museum's education department is also at the top of Davis-Soylu's to-do list. This will require considering how the finished museum's four new centers (one for art education, one for art conservation, one for works on paper and one for curatorial studies) will play a role in the way the museum is used as an educational resource. It will incorporate strategies for reaching audiences who may be new to the arts or members of underserved populations. 
"It's amazing to be here during this transitional time and getting to be a voice of what will be for the museum," Davis-Soylu said. "Being able to be at the table to think about how to utilize being located at a research institution and surrounded by intellectuals and creativity is so exciting."
Whether she's exploring how to get second-graders excited about art, reaching rural or marginalized populations across the state, or persuading IU professors to incorporate the museum into their coursework, Davis-Soylu plans to keep her passion for art education at the forefront of her work.
"The arts are a space desperately needed in everybody's life and learning," she said. "It's a space where you don't have right or wrong, you have to take risks and think for yourself, and you have to use creative problem-solving. It's a valuable experience for everyone at any stage of life."