Tampa Bay Rays second baseman Micah Johnson finds as much balance and perspective in his art studio as he does on the baseball field. The Indiana University alumnus and Indianapolis native's first love is baseball, but he nurtures his passion for painting when he's not playing.
"I love it just as much as baseball, just kind of the whole idea of seeing the progress of work as you mature in your career," Johnson said.
He's been playing baseball since he was a toddler.
"I started playing every day," he said. "That was a love that I didn't have to learn. It was instilled in me."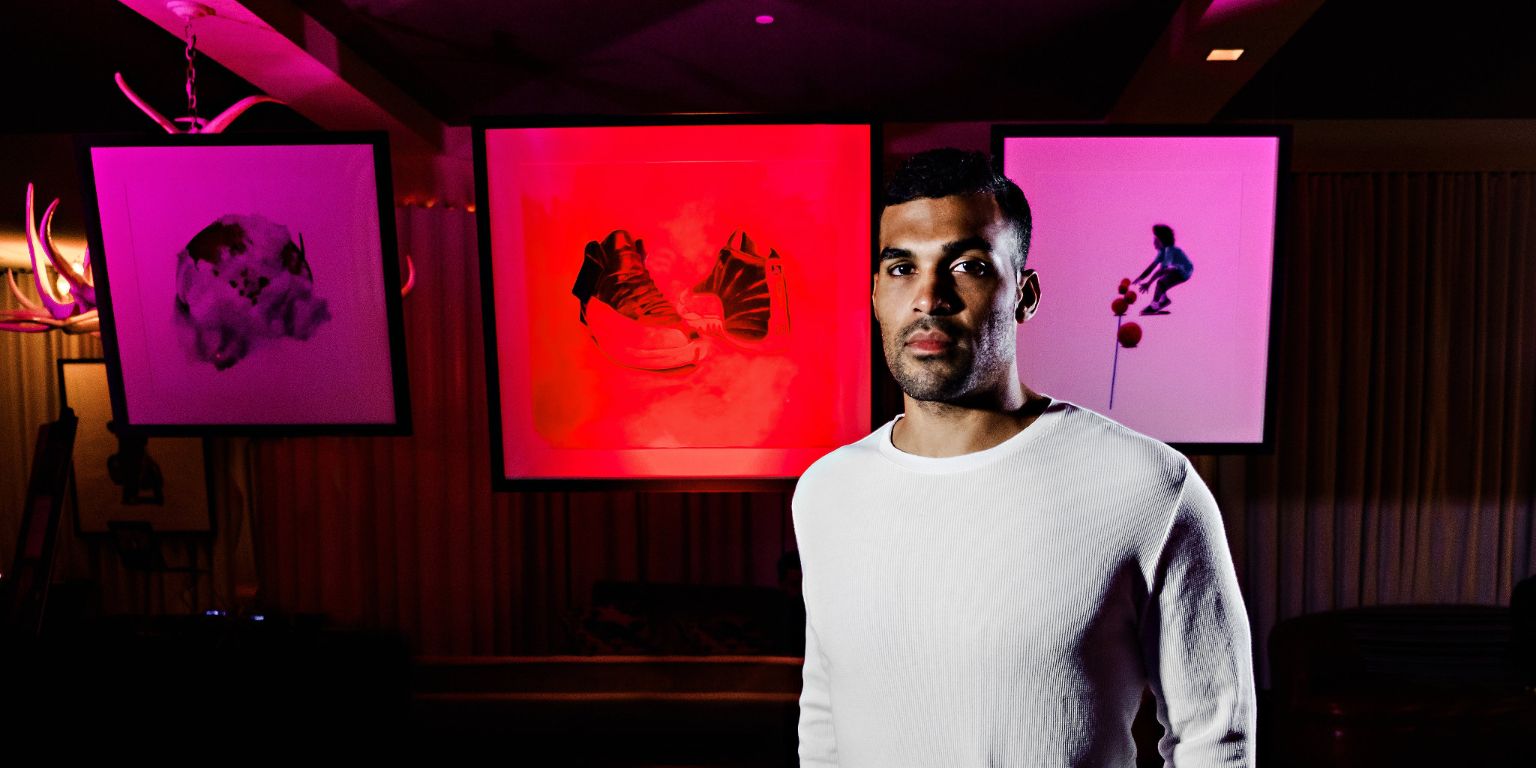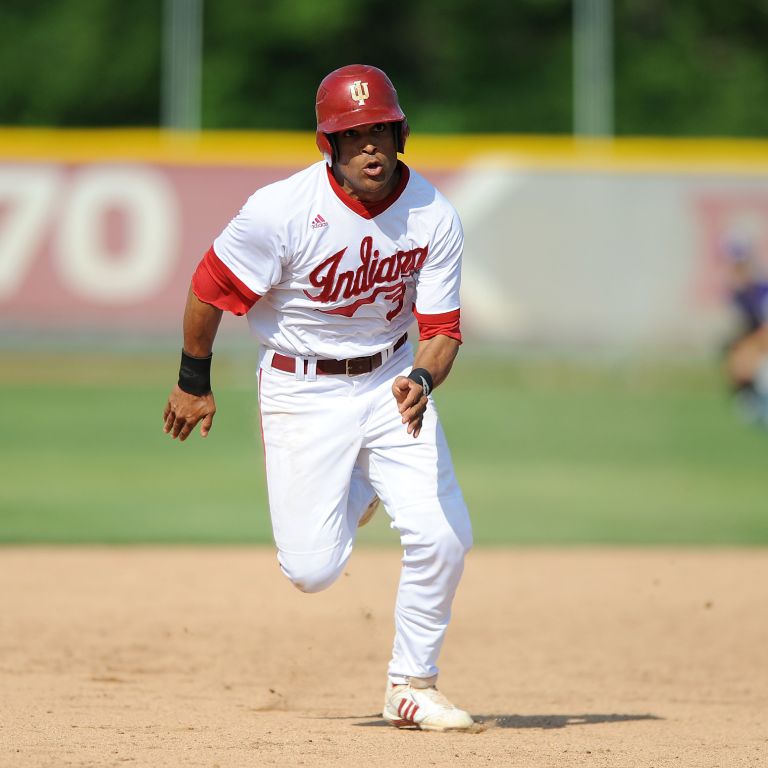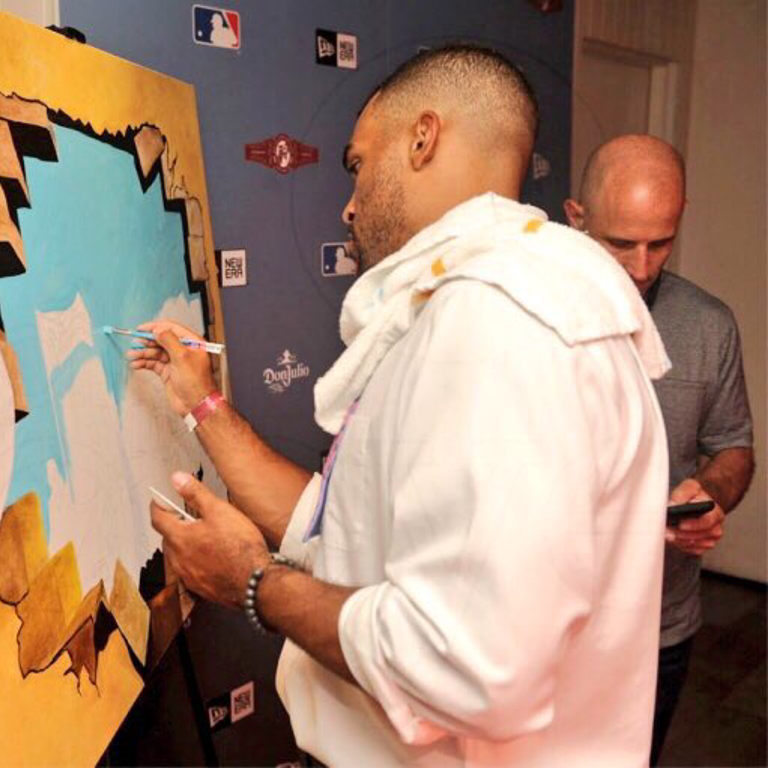 Photos courtesy of Micah Johnson and IU Athletics
Johnson was drafted at the Major League level in 2012 while in his junior year at IU. He continued to take classes online and graduated in 2015 with degrees in general studies, Spanish and labor studies. 
"Basically, once you commit to college you have to wait until you're 21 or a junior in college to get drafted," he said. "Once that happens, you must grind through a 140-game Minor League season in towns across America you've never heard of."
That grind eventually led him to the Rays, who claimed him off waivers in October 2017. Johnson has previously played for the Atlanta Braves, Los Angeles Dodgers and Chicago White Sox.
Painting, though, was more of a side hobby for Johnson growing up. He wasn't too serious about it until about two years ago, when he started investing more time into art projects. His paintings have now been in exhibits in Los Angeles, Atlanta and Kansas City. 
When time allows – namely during the off-season – he'll now spend upwards of 13 hours a day on a piece to prepare for an exhibit opening, first developing concepts for several weeks before diving in.
"After I grasp them, I become obsessive," he said.
Last month, Johnson premiered an installation at the W Hotel in Atlanta and a piece at the Negro Leagues Baseball Museum in Kansas City. His most recent works focus on paintings of individual objects that are important to him, using a gouache technique – a form of opaque watercolor.
One piece, a portrait of Jackie Robinson, uses 350 Major League baseballs as a canvas. Since baseballs aren't a flat surface, the painting process was unusual.
"For me, it's all about perspective," Johnson said. "It's about the perspective of things up close. The general idea of something isn't always as it seems."
Interested in Johnson's art?
His techniques have developed over time and continue to evolve. He wants people to know that his work is distinctly his work, but building that style has been tough.
"Someone told me it takes about 400 pieces to know who you are as an artist," he said. "There's an ever-changing dynamic."
Finding time to focus on art is also challenging. While he's found a good balance between baseball and art, Johnson previously pushed himself more than he would have liked. 
He said it is easier to devote time to painting during the off season, as his first love and obligation is baseball.
"What it all comes down to is time management," Johnson said. "You choose not to watch television."
Having a strong support system helps, too. He said his teammates have been supportive of his art.
"My friends and roommates now see my work, and they can't believe me," he said. "I was doing stuff in college, but it wasn't good. Something clicked in my head."
But that groundwork from Johnson's years at IU was critical to building his success now, both as an athlete and an artist.
"At IU, you develop a sense of who you are. It's your first time being independent," he said. "Once I took time at IU and had coaching staff shaping me to who I am today, they helped me identify things I liked and didn't like about myself. They instilled a work ethic in me that taught me if I love something, I have to do it nonstop."