Description of the following video:
[Audio: In Spanish with subtitles]
[Words appear: You have 26 minutes.]
[Audio: A telephone dial tone is heard]
[Audio: A voice answers the telephone]
[The caller speaks: Talk to me.]
[Video: Indiana University student Anabel Gutierrez Orraca talks to her mother, the voice heard on the other end of the phone]
[Anabel speaks: Mamita.]
[Anabel's mother speaks: Hola!]
[Anabel speaks: Mami.]
[Anabel's mother speaks: The most beautiful one! How are you, my girl?]
[Anabel speaks: Good and you?]
[Anabel's mother speaks: How are you?]
[Anabel speaks: Bien.]
[Anabel's mother speaks: Are you happy?]
[Anabel speaks: I'm here at school.]
[Anabel's mother speaks: I can barely hear you. It sounds a little choppy.]
[Video: Stock footage of Havana, Cuba including the bay, flags, pedestrians walking among vintage automobiles]
[Anabel speaks: The Cuban government decided that they needed someone who could have more degrees in harp who could help them build a harp department there. So I decided to leave my country and try to find a school somewhere else.]
[Video: A montage of still photographs of as a young girl back in Cuba, including her playing the piano]
[Anabel speaks: Being a musician is all I know since I was in my mom's belly. My parents are both musicians so my siblings and I are also musicians.]
[Video: A still photo of Anabel's mother conducting a choir]
[Anabel speaks: Many people wanted me to be a choir conductor as my mother but I didn't feel as happy.]
[Video: A still photo of Anabel as a young girl playing the harp, followed by more contemporary images and footage of her playing a full-sized instrument]
[Anabel speaks: And I always felt really enchanted by the harp. And when I was a kid I always told people I wanted to be a fairy god mother.
So maybe because the harp is so angelical, I feel attracted to it. And when I'm playing the harp, I feel like I'm full.]
[Video: Anabel begins to tear up as she tells her story]
[Audio: A buzz and audible cell phone alarm ring out in the darkness]
[Video:  Anabel turns on her bedside table lamp as she wakes up]
[For the past year I haven't had one day off. The most challenging part is doing a bachelor degree in two years instead of four.
[Video: Anabel brushes her hair, fixes breakfast, then exits her apartment]
[Anabel speaks: And having to take the top amount of credits, which is 20, plus 20 hours work.]
[Video: Anabel in Jacobs School of Music class, then practices the harp]
[Anabel speaks: I start my classes at 8 AM. If I have 40 minutes between classes I do homework. And after I finish that I start practicing for four hours. And after that I might go for a swim.]
[Video: From a camera position beneath the surface of the water, Anabel swims laps in a pool]
[Anabel speaks: Whenever I'm feeling down or sad I just look around and I realize that I'm living a dream.]
[Video: Anabel walks across the IU campus]
[Anabel speaks: Ever since I got here I feel like I'm home. I walk around campus and sometimes it hits me that I'm not, I'm not home. But I feel it is as such.]
[Video: Anabel enters the Jacobs School of Music]
[Anabel speaks: I don't get the feeling every day that I'm abroad in a different country with a different culture. I feel I'm home.]
[Video: Anabel drives her car. Later, she tracks a plane flight using an app on her phone. Then she enters the terminal of the Indianapolis International Airport]
[Anabel speaks: I try not to think about if I miss my mom. I try to keep that locked in a part of my soul that doesn't affect my day to day life.]
[Video: As her mother stand with luggage waiting to be picked up at the airport, Anabel runs through the terminal and surprises her mother from behind. They both embrace and break into tears as they are reunited]
[Anabel speaks: I always thought I had very big dreams.
Almost impossible dreams.
And people around me would always tell me that they're impossible to make.]
[Video: A procession of graduates file out of the fieldhouse for IU's commencement. Anabel, dressed in a cap and gown is one of the students in the procession]
[Anabel speaks: That kind of feeling that you want something that it's not possible, but you believe you can do it, helps you to push and push and push until you make it happen.]
[Video: Teary-eyed at first, Anabel's mother views the graduation ceremony from the crowd. She enthusiastically waives her arms in approval of her daughter's accomplishment]
[Video: Anabel walks in a line of graduates, later she stands on a recital hall stage, holding a bouquet of flowers as she takes a bow]
[Anabel speaks: IU has taught me that I'm strong enough. And that I can keep having big almost impossible dreams.]
[Video: An aerial shot of the music corridor of the IU campus]
[Words appear: Big Almost Impossible Dreams]
[Video: The Indiana University trident appears] 
[Words appear: Indiana University] 
[Words appear: Fulfilling the Promise]
[Words appear: iu.edu]
Anabel Gutierrez Orraca spent thousands of hours honing her skills on the harp during her tenure as a student at the Indiana University Jacobs School of Music.
She arrived in Bloomington in fall 2015 from Cuba. She'd wanted to study the harp since age 5 but had become frustrated with the lack of high-level instruction in her native country.
Orraca worked hard under her idol Susann McDonald, distinguished professor emerita of music. And in May 2017, she graduated from the Jacobs School with a bachelor's degree in harp performance and a certificate in music entrepreneurship.
"Working with Susann was the best experience a harp student could possibly have," she said. "You're working with someone who has had a wonderful and marvelous career as a performer and as a teacher."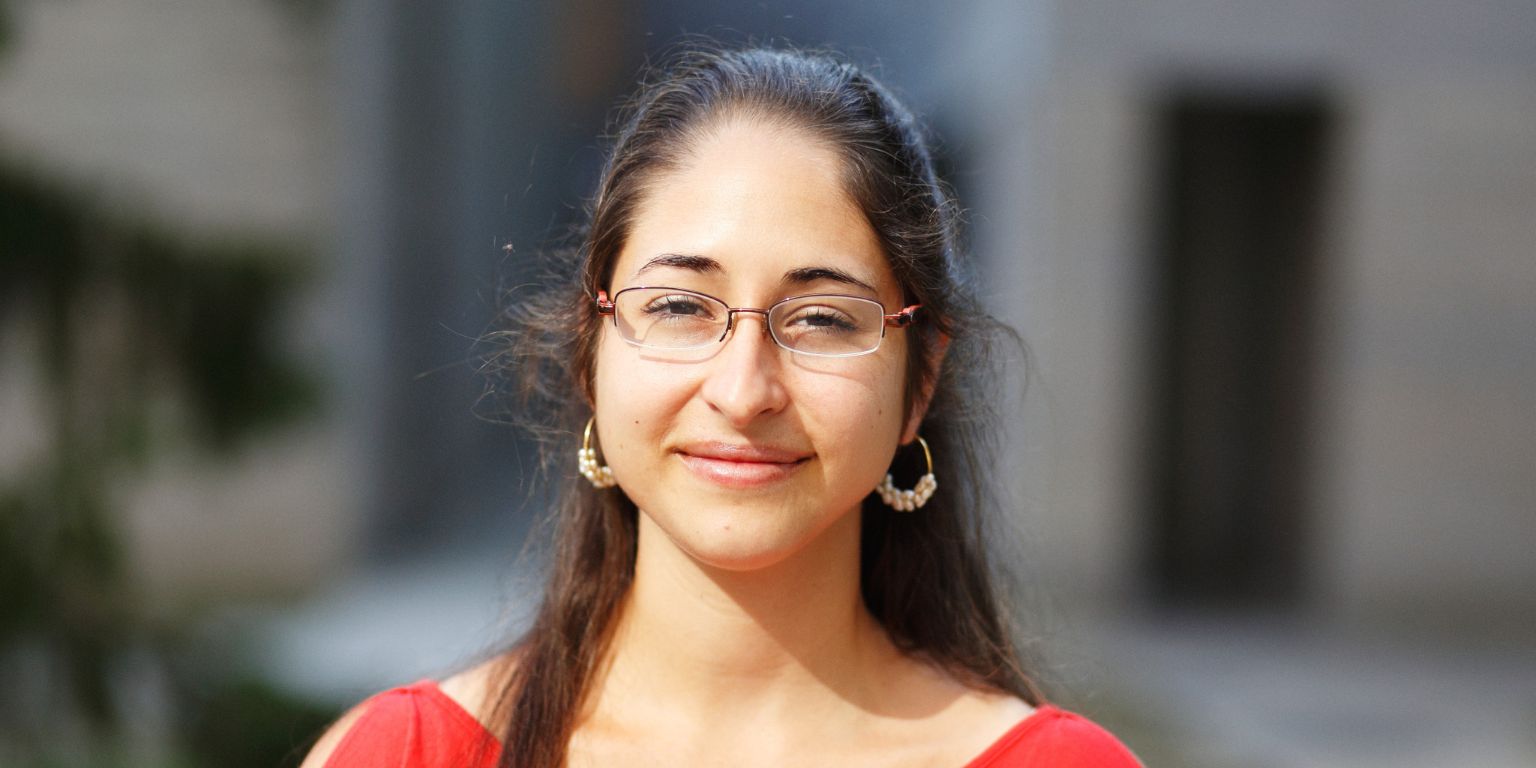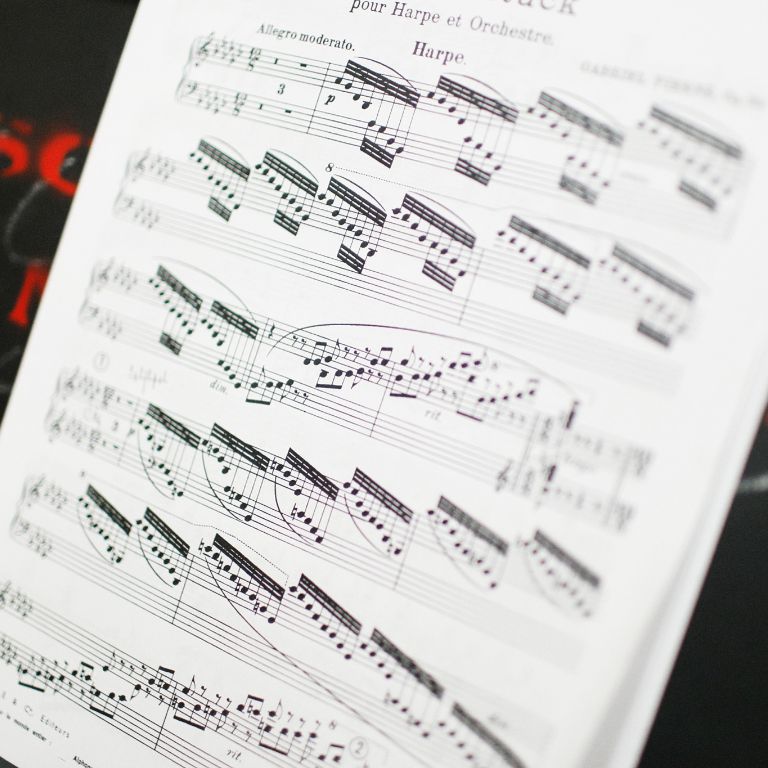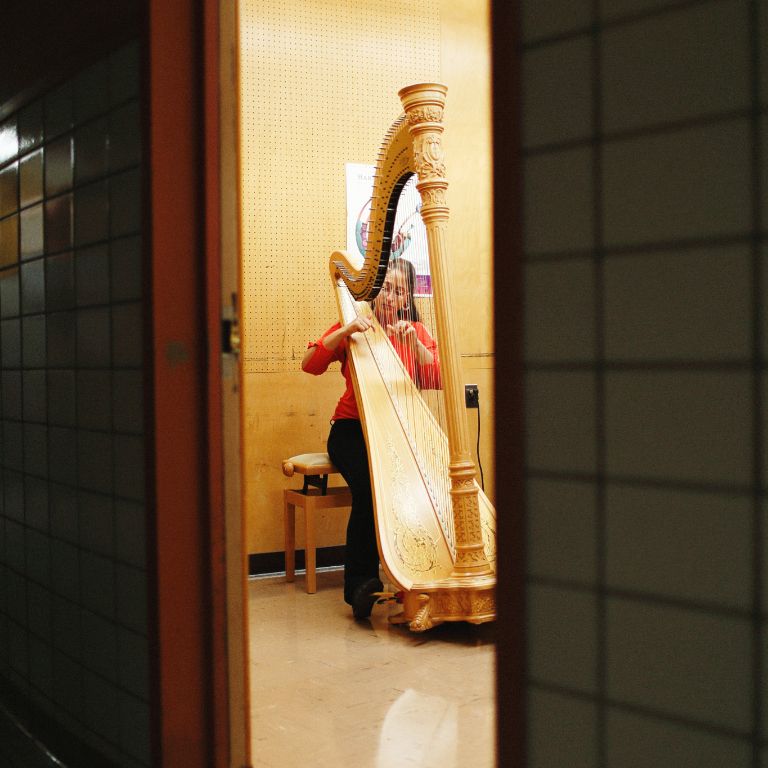 Photos by Eric Rudd, IU Communications
Now at McGill University's Schulich School of Music, Orraca has been busy following her graduation from IU. She helped organize a tour of Havana for the Chicago Harp Quartet and worked with the head technician at the Chicago-based Lyon & Healy harp factory to regulate what few of the instruments are available in her home country.
And for the future? She's already got her eye back on Bloomington.
"I plan to begin my doctoral studies after I finish my master's degree," she said, "and IU is definitely on my short list of schools. It would be my dream to come back."