IU is famous for its basketball. Simon Skjodt Assembly Hall regularly seats 17,000 attendees who are eager to see the 17-person team take the court.
Most fans don't realize, however, that a second, smaller team sits courtside at each game: basketball statisticians John Decker, Mick Renneisen and Steve Hitzeman.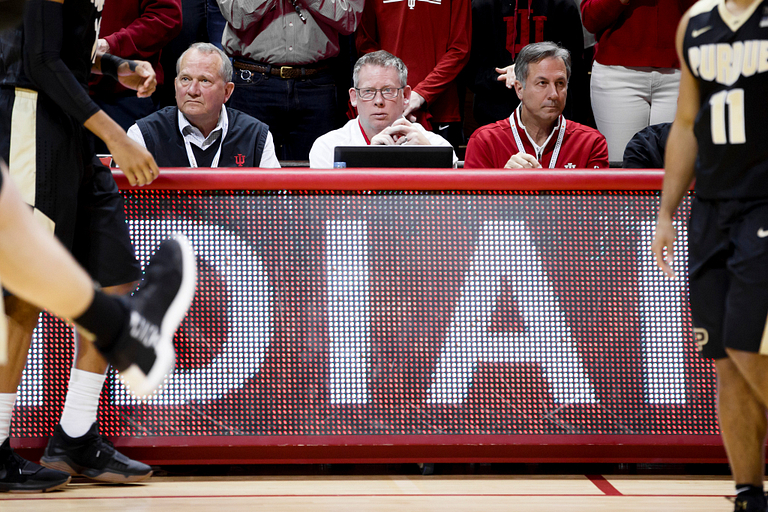 The three have run statistics at every game for 25 years now. Records of past games dating back to 1962 can be found on the Indiana Hoosiers website.
They also keep track of stats during IU football games and at the Maui Invitational Tournament for basketball each year in Hawaii.
This is all on top of full-time jobs: Decker is the director of strategic communications for IU Athletics, the organization that first got him interested in this statistician work. Renneisen is Bloomington's deputy mayor and first started doing statistics in football, originally working in the press box before making the transition. Hitzeman worked as an optometrist up until he retired recently. He started doing statistics after performing an eye exam on Gregg Elkin, who previously did statistical work for IU Athletics and offered him a position. All three of the men are IU alumni.
Each statistician has a specific task: Decker handles all final data entry into the computer, while Renneisen handles home statistics and Hitzeman does visitor statistics. They track points, fouls and all other individual and team statistics fans find in a postgame boxscore.
The men are so passionate about their statistics work that Decker jokes that basketball statistician is his full-time job. Renneisen said keeping this position was a condition he specifically requested when accepting his deputy mayor position. 
"I worked for a long time to get to this point in life," Renneisen said. "It's not something I will easily give up."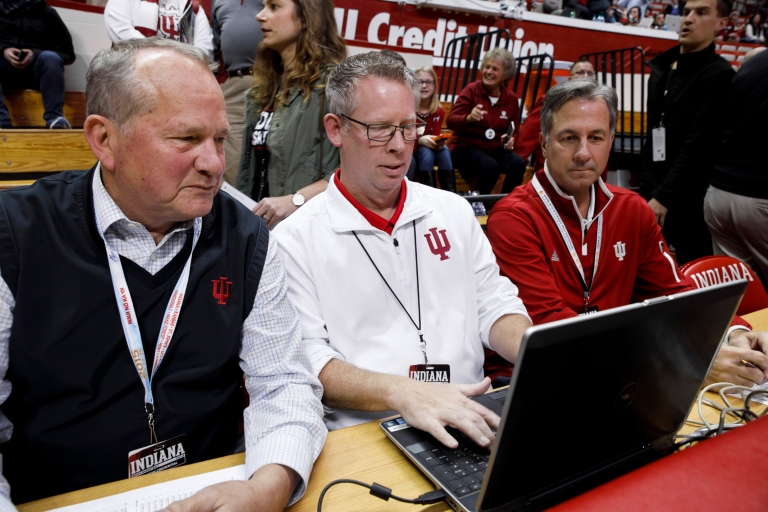 Two and a half decades is indeed a long time. When the men first started out, statistics were run by hand. When computers became part of the process, some senior members of the IU basketball community were skeptical of their success, so the statisticians handled stats both by computer and by hand.
"Computers were kind of suspicious back 25 years ago," Hitzeman said. "They didn't really trust that they would stay working. So we duplicated everything for the first year."
They now use computers reliably, but risks remain in the back of their minds. All three said the sheer proximity to players creates opportunities for things to go awry. Once, while a practice drill was being held at a Maui Invitational, a basketball player lunged into the statisticians' desk to catch a stray ball. Since then, they've prepared themselves for a player to knock equipment over.
"I think we're all aware of the disaster that it would be. Not that we could ever stop a 6-foot-10 center if they were coming at us, but we do react as far as like protecting the computer," Decker said. "I'm more concerned about the computer than myself."
The job doesn't require much time per week beyond games themselves. The men show up an hour before each game, stay for it, then go home, Renneisen said. 
Still, the job requires a combination of focus and precision.
"It's a high-pressure thing," Decker said. "It has to be right. It has to be done as quickly as possible."
Doing everything quickly and correctly is made easier by the fact that the men can rely on one another.
"Sometimes you're blocked by players or coaches that are in your way, and you call what you think you see, because John has to enter something right away, because the game still goes on," Renneisen said. "And then someone else will say, 'I think there was a block.' And then we'll really quickly confer and say, 'OK, if you saw it.' We just know each other well enough to always be looking out for the other person."
Balancing schedules outside the court may have been challenging at one time, Hitzeman said, but this work is just part of his life now, after so many years. 
"It's very stressful, but we all know that the team is going to be together, and we work well as a team," he said.