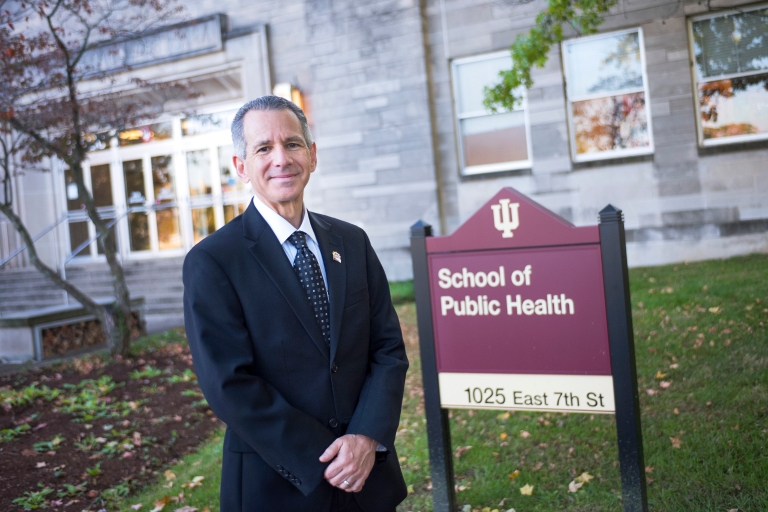 BLOOMINGTON, Ind. – David Allison, dean of the Indiana University School of Public Health-Bloomington, has been elected to the European Academy of Sciences and Arts, one of the most prestigious learned societies.
Founded in 1990 and based in Salzburg, Austria, the European Academy of Sciences and Arts is an interdisciplinary, scientific network of experts in sciences, arts and religions located in Europe but with members from all over the world. The academy focuses on seven disciplines: humanities; medicine; arts; natural sciences; social sciences/law/economics; technical/environmental sciences; world religions and corporate/public governance.
Members are nominated by an academy member and elected by the senate of the academy. The academy has about 2,000 members, including 29 Nobel laureates. The first and only other member from Indiana University was the late Peter Bondanella, distinguished professor emeritus of comparative literature, film studies and Italian, who was elected to the academy in 2009. 
"David is renowned nationally and internationally for his thoughtful and innovative research on – among other important areas of public health concern – nutrition and obesity, as well as for his efforts to explore new ideas, challenge common perceptions and promote scientific research that is conducted with maximum rigor and integrity," IU President Michael A. McRobbie said. "He also believes deeply in the importance of educators and researchers finding ways to connect their discoveries with the challenges of our surrounding communities, which makes him an ideal person to lead the mission of our School of Public Health at IU Bloomington. 
"David is well-deserving of this prestigious honor, which further cements his status as one of the world's top scientists in the field of public health."
"It is humbling to be welcomed into so esteemed a cadre of creative artists and scientists," Allison said. "I look forward to joining their ranks and learning from them. The disciplinary breadth of the academy is extraordinary, and I am especially proud to be affiliated with a scholarly fellowship that so embraces and promotes the spirits and ideals of tolerance, humanity and transnational dialogue."
Allison began his position as dean of the School of Public Health-Bloomington in August 2016, after most recently serving as associate dean for research and science in the School of Health Professions at the University of Alabama at Birmingham. There he served as a distinguished professor, the Quetelet Endowed Professor, director of the Office of Energetics and director of the National Institutes of Health-funded Nutrition Obesity Research Center.
A renowned scientist and researcher, Allison has authored over 500 scientific publications. His work has focused on a wide range of areas including basic science using drosophila (fruit flies), rodent models, epidemiology, human clinical trials, statistical methodology, meta‐analysis, mathematical models and human behavioral research.
Allison is an elected fellow of the National Academy of Medicine – the most prestigious academic society in the U.S. in the field of medicine – as well as of the Academy of Europe and the Academy of Behavioral Medicine Research. He has served on the Scientific Advisory Board for the Nutrition Science Initiative and currently serves on the board-appointed Committee on Science and Technology Engagement with the Public for the American Association for the Advancement of Science.