BLOOMINGTON, Ind. – When Bedford, Indiana, Mayor Shawna Girgis wanted help with projects in her beloved city, she turned to members of the Indiana University Bloomington community – including students like Bedford native Sarah Murphy.
"Being in a class that is really involved in my community makes my major feel more tangible," said Murphy, a student in the School of Public Health-Bloomington. "A lot of people will want to go out to Colorado or Alaska and work at national parks, which is great – but also, there's a lot to be done within the community here."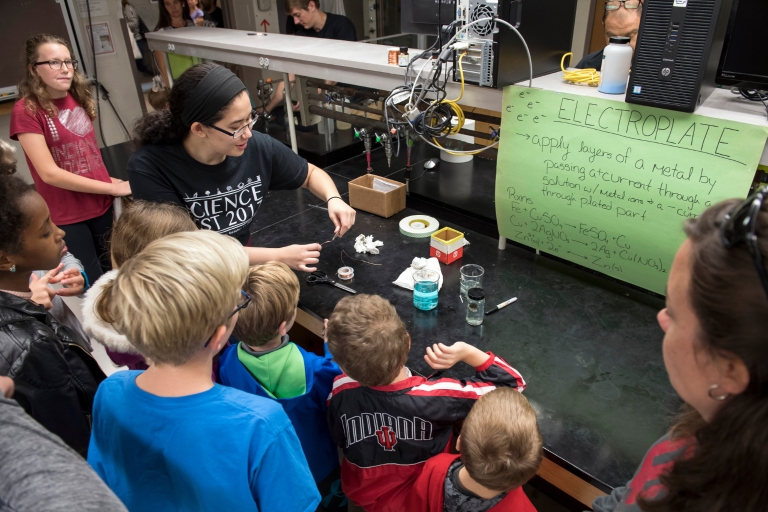 In an effort to increase the impact of such campus-community partnerships in Indiana, throughout the U.S. and beyond, IU Bloomington is launching IU Corps, a network that helps connect students with service-related opportunities. A public kickoff event to celebrate IU Corps is scheduled at 3 p.m. Thursday, March 1, in Presidents Hall within Franklin Hall on the IU Bloomington campus.
IU Corps is a way to bring together and make more visible the many types of service-focused community engagement efforts to get a better idea of where IU is making an impact – and where it can be of greater service to communities at home and abroad.
IU Bloomington Provost and Executive Vice President Lauren Robel said the IU Corps network will encourage a broader culture of service and volunteerism and be a point of entry for organizations and agencies seeking to partner with IU classes or faculty.
"IU students already volunteer huge amounts of their time," Robel said. "My hope is that IU Corps makes opportunities for community engagement more visible so that every student can graduate from IU Bloomington having taken part in some type of service – whether it's a one-time volunteer activity, an alternative spring break trip or years of intensely focused community-based service or research.
"Becoming involved with communities can be life-changing; it takes students outside of themselves to engage with important issues while developing professional skills working with community leaders and IU mentors."
From spring 2010 to spring 2018, IU Bloomington students provided more than 300,000 hours of work through service-learning classes alone, the majority of which are in the state of Indiana. By an economic metric calculation, those hours equal a nearly $7.1 million contribution. And those figures don't even include the thousands of hours of service-focused research, engagement and volunteerism happening through programs and opportunities outside service-learning classes.
IU Bloomington currently offers more than 160 community engagement programs and over 200 service-learning classes. More than 230 of the student groups on campus include a service component. These existing programs and partnerships – such as those offered by the Service-Learning Program, Student Life and Learning, the Office of Overseas Study, the Kelley Institute for Social Impact, the Engaged Learning Program, and many others – will now have the added benefit of being part of an interconnected network spanning all disciplines and connecting a vast range of talents and causes.
Cassi Winslow-Edmonson, the inaugural director of IU Corps, said she looks forward to seeing IU Bloomington's many partnerships expand, watching new ones form, and helping students and agencies make meaningful, transformational connections.
"Every student can be part of IU Corps, and many are actually already doing this kind of work," Winslow-Edmonson said. "As participants in IU Corps, students can apply classroom lessons to real-world challenges while learning so much from nonprofit professionals and community leaders, and IU faculty and staff. In the process, I hope more students will develop a sense of civic responsibility and feel a real desire to make a difference in the world."
IU Corps supports the university's new Center for Rural Engagement by connecting IU students with community-identified issues and opportunities. IU's Center for Rural Engagement was created to form close collaborations with Bloomington's 11 neighboring counties in Southwest Central Indiana through six areas of focus. One of the center's areas of focus, Sustaining Hoosier Communities, is the basis for IU's recent partnerships with Lawrence and Orange counties.
"After less than a year, I can already see the impact of this work," Girgis said of Murphy and her classmates' work to help determine the best use for the Avoca Fish Hatchery site in Lawrence County. "I hope other cities throughout rural Indiana are inspired to engage with the university to make their communities the best that they can be."