BLOOMINGTON, Ind. – Indiana University is one of 16 U.S. institutions to be a named a top producer for both the Fulbright U.S. Student Program and Fulbright Scholars Program.
Twenty-one IU Bloomington students received Fulbright awards for academic year 2017-18 – ranking IU 10th in the nation and second among public colleges and universities – as announced by the U.S. Department of State, Bureau of Educational and Cultural Affairs. The lists of top-producing institutions appeared in the Feb. 18 issue of The Chronicle of Higher Education.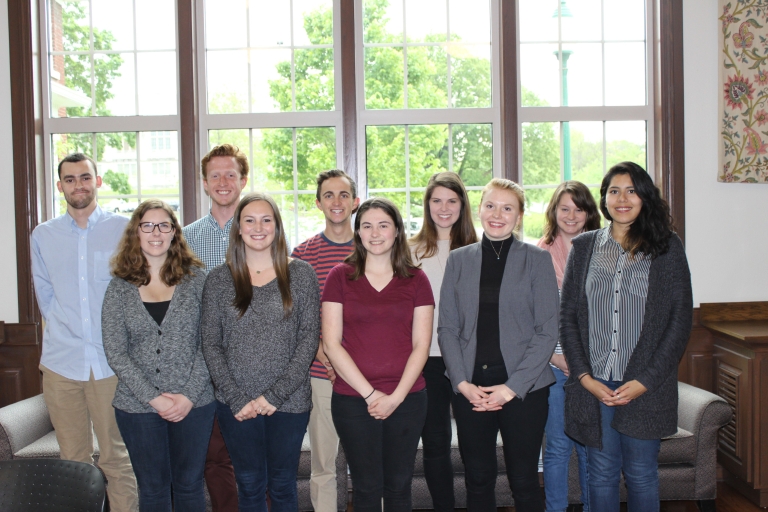 "We are extremely proud of our students who have worked hard for this opportunity to continue their studies abroad, develop their leadership skills and serve as great ambassadors for our university and state," said IU President Michael A. McRobbie. "The Fulbright program is extremely competitive, and it demands a high level of scholarship of its recipients. These awards demonstrate IU leadership in international engagement and the quality of our student body, faculty and academic programs."
Eleven of this year's recipients from IU Bloomington are participating in the Fulbright English Teaching Assistant Program, which places recent graduates and young professionals as English teaching assistants in primary and secondary schools or universities overseas.
As an undergraduate studying secondary education at Indiana University, Kelsey Gerbec spent summers in Rwanda and Peru and enjoyed working with teenage students. Her placement as a Fulbright English teaching assistant is in a middle school in Litomyšl, Czech Republic. Outside her teaching responsibilities at the school, she organizes English language clubs where she creates a more casual environment to encourage new learners to talk.
Peter Arnold graduated in May 2017 with a Bachelor of Science in biology and arrived in the Sipitang region of Malaysia in January to begin his Fulbright English teaching assistant position.
"I (was) accepted to IU medical school and will begin there upon my return," Arnold said. "To an outside observer, teaching English in Malaysia seems to have very little to do with my future career aspirations. To the contrary, the personal growth that I have experienced in these first six weeks has been tremendous. I cannot wait to see what the rest of this grant holds."
Kurt Baer is a graduate student in folklore and ethnomusicology in Thailand. He was drawn there after performing in Bangkok as an undergraduate at the World Saxophone Congress. He spends his time studying Thai, learning to play Thai instruments, and collecting data at events and festivals around the country that will contribute to his dissertation.
"Our newest Fulbright students continue our campus tradition of outstanding global engagement across all disciplines," said IU Bloomington Provost and Executive Vice President Lauren Robel. "The sheer diversity of academic excellence among this cohort is cause for celebration, as their studies touch upon topics as wide-ranging as anthropology, gender studies, education, viola, information systems and more. We are very proud to have them representing Indiana University around the world."
Since its inception in 1946, the Fulbright Program has provided more than 380,000 participants – chosen for their academic merit and leadership potential – with the opportunity to exchange ideas and contribute to finding solutions to shared international concerns. Over 1,900 U.S. students, artists and young professionals in more than 100 fields of study are offered Fulbright Program grants each year to study, teach English and conduct research abroad. The Fulbright U.S. Student Program operates in over 140 countries.
The Fulbright U.S. Student Program is a program of the U.S. Department of State, funded by an annual appropriation from the U.S. Congress to the Bureau of Educational and Cultural Affairs. It is supported in its implementation by the Institute of International Education.
The Fulbright Program also awards grants to U.S. scholars, teachers and faculty to conduct research and teach overseas. IU ranked second with 11 selected for the Fulbright Scholars program in November 2017. In addition, some 4,000 foreign Fulbright students and scholars come to the United States annually to study, lecture, conduct research and teach foreign languages.
Students who are interested in pursuing a Fulbright U.S. Student Program grant should contact their respective adviser: Paul Fogleman, pfoglema@iu.edu, advises undergraduates; and Duke Gatsos, ugsawrd@indiana.edu, advises graduate students.
Below is a list of IU Bloomington's Fulbright U.S. Student Program grant recipients, including their major(s), hometown, host country and type of Fulbright award:
Alejandra Aguilar Perez: international studies, Elkhart, Indiana; Brazil; English teaching assistantship
Peter Arnold: biology; Carmel, Indiana; Malaysia; English teaching assistantship
Kurt Baer: folklore and ethnomusicology; Terre Haute, Indiana; Thailand; research
Samuel Bass: Central Eurasian studies; Atlanta, Georgia; Mongolia; research
Tiarra Clarkston: education; Liberty, Indiana; Argentina; English teaching assistantship
Megan Darlington: anthropology and Slavic and East European languages and culture; Mason, Ohio; Russia; English teaching assistantship
Kelsey Gerbec: education; Geneva, Illinois; Czech Republic; English teaching assistantship
LaTeeka Gray: anthropology; Fredericksburg, Virginia; Japan; research
Kaitlyn Hockerman: international studies; Churubusco, Indiana; Cyprus; English teaching assistantship
Bridget Kelly: anthropology; Indianapolis; Romania; English teaching assistantship
Allison Larmann: international studies; Newburgh, Indiana; Malaysia; English teaching assistantship
Natalie Levin: history; Chicago; Spain; research
Victoria Miluch: creative writing; Phoenix, Arizona; Poland; creative arts
Nathan Quinlan: Germanic studies; Long Beach, Indiana; Germany; English teaching assistantship
Meghan Riley: history; Colorado Springs, Colorado; France; research
Deanna Said: orchestra; El Paso, Texas; Denmark; performing arts
Amber Seira: information systems; Santa Rosa, California; Peru; Clinton Public Policy
Amanda Stephens: gender studies; Huntington, West Virginia; India; research
Katelyn Testerman: international studies; Mukilteo, Washington; France; English teaching assistantship
Thomas Tyler: Russian and East European studies; Poquoson, Virginia; Russia; English teaching assistantship
John Upton: anthropology; Waco, Texas; Taiwan; research