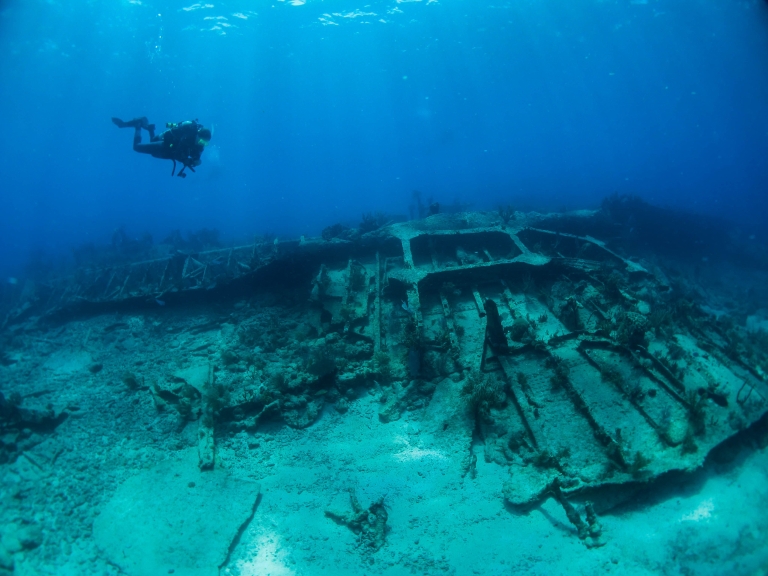 BLOOMINGTON, Ind. – Indiana University's Center for Underwater Science program has signed a new agreement with the National Oceanic and Atmospheric Administration to enhance the two entities' collaboration on underwater and maritime archaeology, conservation, heritage management and public outreach.
The five-year agreement for underwater archaeology work in the Florida Keys National Marine Sanctuary – which has been granted to only one other university, the University of Miami – will not only enhance IU's partnership with NOAA, but will serve as a catalyst for securing  funding. It will also simplify the process for researchers and students within IU's Center for Underwater Science program to conduct scientific research in the Florida Keys National Marine Sanctuary.
"This agreement builds upon the long-standing collaboration with NOAA and represents a chapter in IU's efforts to protect the cultural and biological resources of the Florida Keys," said Charlie Beeker, director of the Center for Underwater Science, in the School of Public Health-Bloomington. "Through this collaboration, IU students and staff will work closely with NOAA staff to enhance scientific research taking place in the Florida Keys National Marine Sanctuary and beyond. We look forward to enhancing our partnership with NOAA and providing even more opportunities for IU students to engage in scholarly research."
Although located in a nearly landlocked state, IU's Center for Underwater Science program is one of the oldest and largest academic diving programs in the country. For more than 30 years, the center has been partnering with NOAA and other entities in the Florida Keys to establish underwater protected areas, document precious cultural and biological resources, and provide methodological training for their dive team.
Past projects with NOAA's 13 designated National Marine Sanctuaries include several underwater archaeological surveys in the Florida Keys; proposing and implementing the Florida Keys National Marine Sanctuary Shipwreck Trail; assisting with the sinking of two historic ships as artificial reefs and placement of the Coast Guard cutter Duane on the National Register of Historic Places.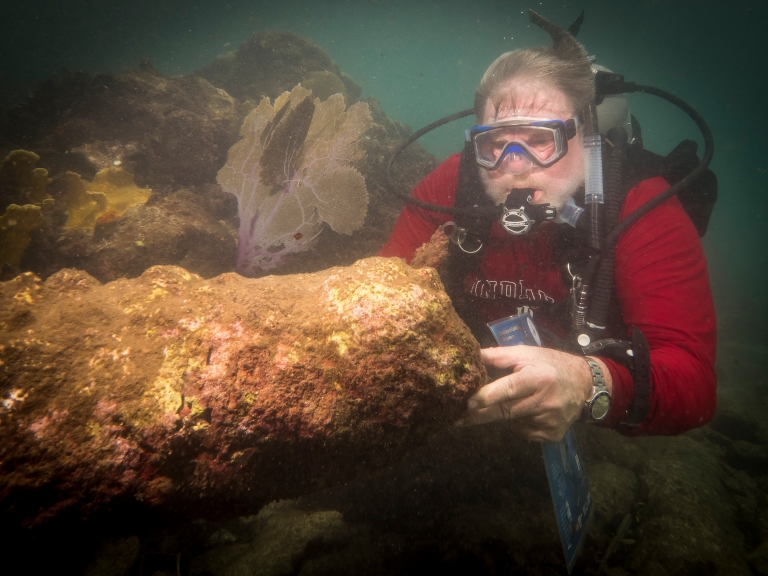 Through the recent agreement with NOAA, Beeker is applying for NOAA and state permits to survey the 1733 San Pedro Underwater Archaeological Preserve, which Beeker helped survey, enhance and establish as a Florida state underwater park in 1989, and the 1733 San Felipe, which Beeker helped nominate to the National Register of Historic Places in 1994. As part of the projects, and thanks to the recent agreement, almost a dozen IU students will take part in the research, working directly with NOAA divers and researchers.
Students and faculty with the center will begin the project in June, using 3-D photogrammetry to document the shipwrecks and associated corals growing on the site. This technique will help determine what impacts occurred to the shipwrecks and its resident marine life from Hurricane Irma.
"IU was among the first academic institutions in the world working to create shipwreck parks that protect both the cultural and biological resources," said Sam Haskell, assistant director for the Center for Underwater Science. "With the devastating effects of anthropogenic climate change on our planet's oceans, it is of the utmost importance to have historic, comparative data to track changes to these underwater resources. By creating and managing underwater parks that allow archaeological sites to act as a foundation for promoting reef growth and bio-connectivity, IU and NOAA hope to not only improve the way we interact with the natural, underwater world but also hopefully preserve it for future generations."
Matt Lawrence, maritime archaeologist at NOAA, said Beeker's commitment to documenting and interpreting sanctuary archaeological resources in the Florida Keys is responsible for much of the knowledge about these sites today. He said he looks forward to collaborating even more with IU, particularly the fieldwork that will take place this summer.
"This agreement provides a framework for us to expand our partnership, providing more educational opportunities for IU students, while at the same time bringing new and innovative techniques to Florida Keys National Marine Sanctuary underwater cultural heritage management," he said. "I'm excited for the upcoming fieldwork with Dr. Beeker, his staff and students to document and monitor several shipwrecks this summer."