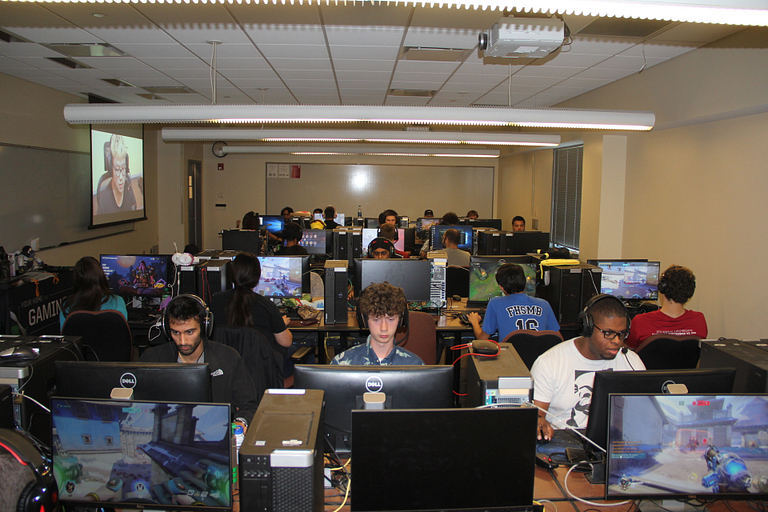 Teams of five players are engaged in an indoor spectacle, competing in a bracket format with a champion to be crowned in April.
Sound familiar? It might not be what you think.
Esports – team-based video gaming – is surging in popularity around the world and around IUPUI. A three-year-old campus organization called Gamers Hall gathers hundreds of esports-loving students to compete against each other, and against other universities, in a variety of games.
The group is expanding its reach by hosting its first League of Legends high school invitational, with 27 teams from five states. The competition is now live. The winning team from the online battle-arena game gets $10,000 in scholarship money to be split among members who enroll at IUPUI.
"We thought offering the winners a scholarship would a good way to get IUPUI's name out there and get involved with something relatable to them and cutting-edge," said Jay Gladden, associate vice chancellor for undergraduate education and dean of University College at IUPUI.
A couple of years ago, when Gladden was the dean of the School of Physical Education and Tourism Management and head of the Sports Innovation Institute, he met with Noah Pumphrey, the visionary student behind esports at IUPUI. Gladden helped get several IUPUI academic units together – Informatics and Computing, PETM, Science, and Engineering and Technology – to see the benefits of esports and agree to put up scholarship funds.
Pumphrey was selected to receive a grant from the IUPUI Welcoming Campus Innovation fund for the League of Legends invitational, as it provides a unique opportunity to showcase IUPUI in front of prospective students.
Each team in the event is affiliated with a high school. It's little surprise to see Central Indiana schools such as Center Grove, Warren Central and Noblesville represented, but there are also teams from Illinois, Minnesota, Missouri and Florida high schools.
"I anticipated out-of-state teams, though not necessarily Florida," said Pumphrey, a senior majoring in computer and information technology. "The turnout is right around my expectations; League of Legends is one of the more popular games."
The competition is double-elimination, with teams currently playing online. The final four teams will compete live on campus Sunday, April 15, in The Jungle.