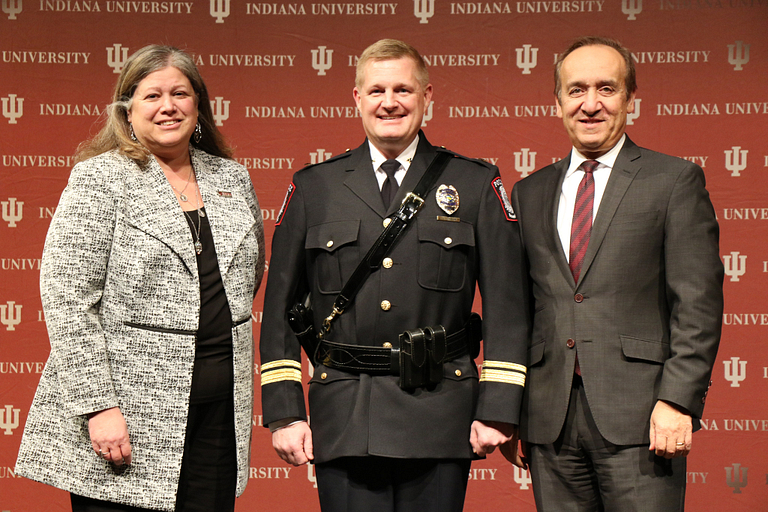 The IUPD-Indianapolis division has a new chief of police. Chief Doug Johnson was sworn in Thursday, Jan. 25, at a ceremony in Hine Hall Auditorium. The event boasted such attendees as Chancellor Nasser H. Paydar, police chiefs and officers from other IUPD divisions, and various IUPUI administrators and staff.
Johnson retired from the Indianapolis Metropolitan Police Department before joining IUPD, where he served at IUPUC before joining IUPD-Bloomington as deputy chief in 2014. A graduate of the FBI National Academy, Johnson also serves as a colonel and division chief of staff in the U.S. Army Reserve. His unit comprises more than 2,500 soldiers who undertake a range of civil affairs missions in Europe and Africa.
Campus Campaign Kickoff 2018
The 2018 IUPUI Campus Campaign kicks off Feb. 15, uniting faculty, staff and retirees in celebration of the Jaguar experience. The annual campaign raises critical support for programs and resources that impact students directly. This year, Chancellor Paydar has designated the Jaguar Persistence scholarship program as the Chancellor's Choice for the campaign.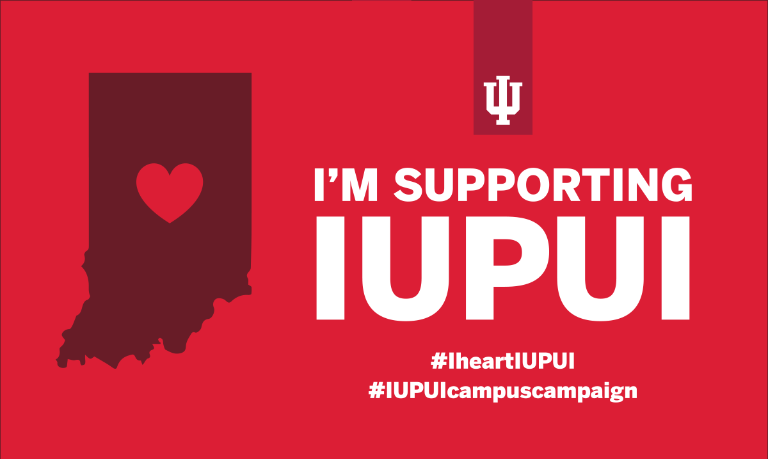 Jaguar Persistence scholarships provide stopgap funding to give qualified students who are progressing toward their degrees the opportunity to stay enrolled despite modest financial shortfalls that may otherwise have prevented them from registering for future classes. Since the 2012-13 academic year, more than 200 IUPUI students have been brought back to the classroom – and kept on the path to attaining a college degree – through Jaguar Persistence scholarships. As the Chancellor's Choice for the 2018 IUPUI Campus Campaign, we hope to expand the funding available to students with unmet financial need so that we can help even more Jaguars persist to graduation. 
Join in the excitement Feb. 15 as we kick off the 2018 campaign. Celebrate your love for IUPUI with colleagues in your school or unit – or share your enthusiasm on social media using the hashtag #iheartIUPUI.
Learn more about the IUPUI Campus Campaign
Liberal Arts Talks presents 'Sixteen Bullets'
Join professor Robert Aponte as he presents his talk "Sixteen Bullets: The Laquan McDonald Tragedy and the Police Code of Silence." Taking place from 4 to 5 p.m. Feb. 8 in Campus Center Room 305, the talk will address shootings of mostly black civilians by police and the renewed reform efforts spurred thereafter. It will focus on the case of Laquan McDonald, a 17-year-old shot 16 times by an officer, and how this case exemplifies the problem and points to solutions. 
30th International Conference on Parallel Computational Fluid Dynamics
The 30th International Conference on Parallel Computational Fluid Dynamics, an annual conference centered on the discussion of recent developments in parallel computing and its applications, will be hosted by IUPUI this year. The conference will take place May 14 to 17 at the Omni Severin Hotel in Indianapolis. 
Abstracts may be submitted until Feb. 15. Early registration runs until March 14, with regular registration to follow until April 14. Early registration includes a discount on ticket price, so register today! 
Celebrate IUPUI's finest with Top 100 Dinner
The top 100 junior and senior students at IUPUI will be honored at the 2018 IUPUI Top 100 Students Recognition Dinner. Taking place April 13 at the Indianapolis Marriott, the event will begin with a 6 p.m. reception followed by dinner at 6:30 p.m. Individual seats go for $45, but table sponsorships are available for $800. All the details are available at the event's website, and an RSVP is required by April 6 for those planning to attend. Don't forget to claim your table and RSVP today!