Though the group has just begun its work, Enactus at IUPUI has big ideas that are taking Indianapolis by storm. 
Founded in 2016, Enactus at IUPUI is the local chapter of an international organization. Enactus as a whole is focused on harnessing entrepreneurial spirit to make sustainable change in communities and transforming the lives of students along the way. In fact, the group is so committed to entrepreneur-driven progress that its name is taken from the concept – a mashup of the words "entrepreneurial," "action" and "us," referring to the students. The organization has more than 1,730 university programs across 36 countries, touching the lives of 72,000 student members.
Since the advent of Enactus at IUPUI in 2016, the group has engaged in many unique opportunities. In the spring of 2017, Enactus students participated in the "Indy Healthy Food Access Challenge" hosted by local group communityINNOVATE. Students spent four months attempting to find ways to decrease the number of food deserts in Indianapolis, volunteering in various activities throughout the challenge. By the end, grants totaling $10,000 were awarded to 20 different student-led solutions.
Enactus at IUPUI has plans to take its fight against hunger even further, having collaborated with the IUPUI Office of Sustainability in the fall of 2017 to launch a project that will see implementation in spring 2018. The project will address food insecurity in Indianapolis as well as healthy eating; more details are to come.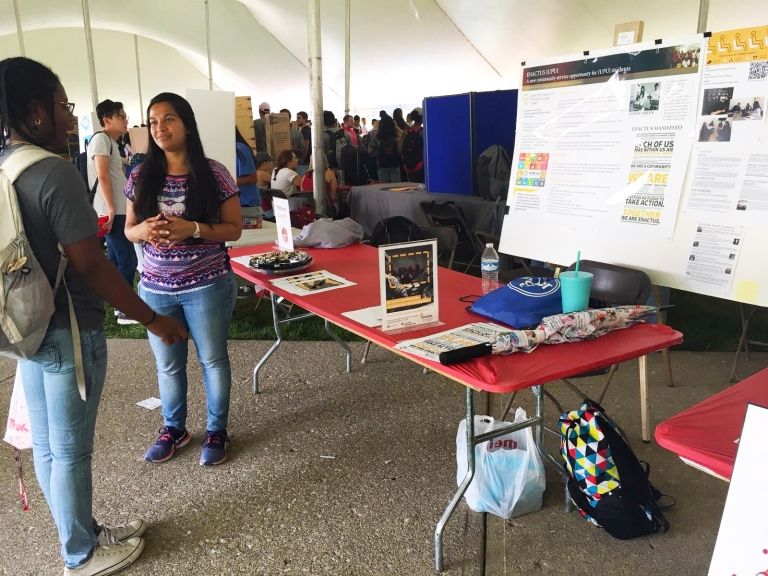 Enactus at IUPUI President Deeksha Cauvery is passionate about the organization and what it has to offer our campus. "Enactus at IUPUI is motivated to make a sustainable change in our community," she said. "Every semester, we look for projects that are beneficial to the student community on campus and/or the community at large."
Cauvery also looks forward to getting more students to join the organization, which values the different skill sets provided by students from a variety of majors. "Our team is diverse and currently consists of students from the School of Science, computer science, informatics and computing, business, engineering and technology, and public and environmental affairs. Because of our diverse collaboration, we are able to bring expertise from various fields to aid local entrepreneurs wanting to achieve sustainability. We are always looking to collaborate with more IUPUI students!"
Enactus has already started doing great things at IUPUI, and more is sure to come.