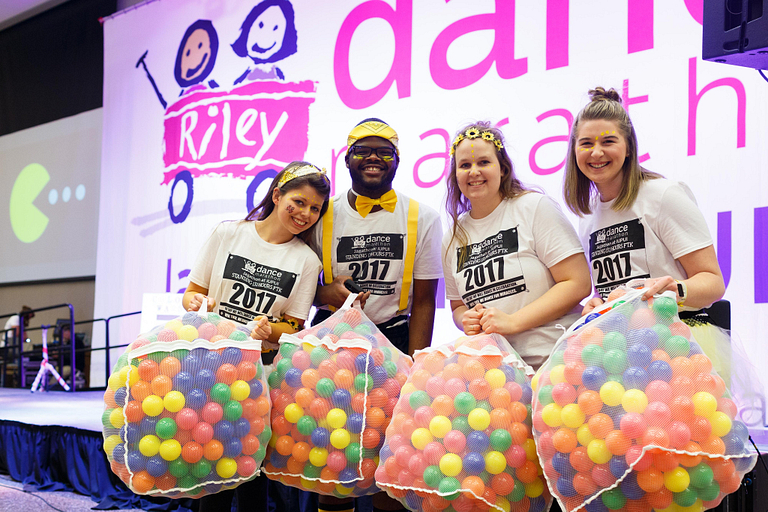 Jagathon returns for 16th year of helping kids
One of IUPUI's most popular annual events is coming up, and you don't want to miss it. Jagathon, the annual dance marathon held by IUPUI students to raise money for Riley Hospital for Children, will take place from noon March 3 to 3 a.m. March 4.
Jagathon has been supporting Riley Hospital for 16 years, and $350,000 was raised at the 2017 event. The dance marathon will include listening to music, playing games, dancing, and spending time with the children and families supported. Every donation and every dancer makes a difference. Find out how you can get involved.
Traffic closures on Michigan and University
On or after Feb. 19, there will be single-lane closures on both Michigan Street and University Boulevard. Traffic control officers and other preventative measures will be in place. This is expected to take five working days; consider alternate routes during this time. Crosswalks and sidewalks are expected to remain open.
Never again be the bearer of bad internships 
Join the Center for Teaching and Learning and the RISE Program for a workshop on designing the perfect internship program. The workshop will take place from noon to 1:30 p.m. Feb. 21 in room 0130 of University Library. Participants will learn to create a more impactful internship practice that moves off the beaten path of tracking hours and work reports. Topics include effectively including critical reflection throughout the internship, a template of the internship course, and access to the Canvas site and other useful resources.
This is the fourth in a series of four workshops and will include panelists Jay Gladden, Brian Benedict, David Heard and Jennifer Williams. Feb. 21 is coming up soon, so register today. 
RISE with these course-development grants
IUPUI's own RISE program is pleased to be offering five different course-development grants for 2018. The grants are designed to help applicants design a new course or redesign an existing course in line with RISE criteria. Two of the grants include an ePortfolio component, and another must be focused around research because it is being funded through the Center for Research and Learning. Tenure-line faculty and full-time lecturers are eligible to apply. The deadline is Feb. 23, so apply now!
Carly Schall charts rise and fall of Swedish welfare machine  
Carly Schall will present a reading of her book, "The Rise and Fall of the Miraculous Welfare Machine: Immigration and Social Democracy in Twentieth-Century Sweden," at the IUPUI University Club. At the event taking place from 11:30 a.m. to 1 p.m. Tuesday, Feb. 20, Schall will discuss in detail the relationship between diversity and the Swedish welfare state. The compelling argument that Schall makes in her book could have relevance for immigration policy in the United States and further, so you won't want to miss this event. Registration is open. 
Translate research into practice with this keynote address
The Center for Translating Research into Practice will be holding its Seventh Annual Keynote Address from 6 to 7:30 p.m. Monday, Feb. 19, in Campus Center Room 450B. The event is free and open to the public and will feature Dean Saitta, professor of anthropology at the University of Denver, as keynote speaker.
Saitta's talk, "Translational Research and Institutional Responsibility: Owning Up to Historical Atrocities," will focus on the challenges of acknowledging and redressing injuries and inequalities that are part of many universities' institutional histories. An informal reception and a Q&A will follow, and an RSVP is requested. 
JagStart Pitch Competition pits students against the clock
Watch students from across IUPUI pitch original, innovative ideas in this year's annual JagStart Pitch Competition, The event, which is open to all undergraduate, graduate and professional students from the IUPUI and Columbus campuses, focuses on giving elevator pitches. Students learn skills to both develop their idea and share it with potential investors, all in a concise fashion. Of course, the prizes available for top ideas don't hurt, either. The competition will take place from 1:30 to 3:15 p.m. Friday, March 2, in the Lilly Auditorium.