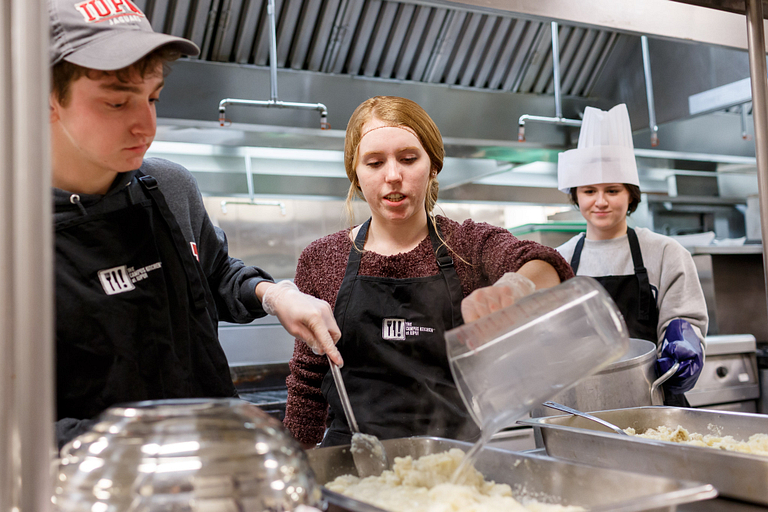 With her black apron tied and a white paper chef's hat donned, Madison Watson was ready to simultaneously battle hunger and food waste from a kitchen in the Campus Center.
The sophomore epidemiology major first joined IUPUI's chapter of The Campus Kitchens Project to fulfill a community health class requirement. She put in her hours in the fall but has since returned to the kitchen on her own this semester. Campus Kitchens has the mission of ending hunger by utilizing and repurposing excess food into healthy, nutritious meals for those in need. 
"I never cooked a day in my life before I started volunteering here, but I've picked up a couple of skills along the way," Watson said.
The work Watson and dozens of other volunteers have done this academic year helped bring Campus Kitchens' annual meeting to IUPUI. The national Food Waste and Hunger Summit is set for March 24-25 in Hine Hall. The acquisition of the event was aided by a $5,000 Indiana University Bicentennial grant, which will cover logistical costs like feeding those who help feed thousands across the nation during the summit. Indiana University students can register and attend the event for free thanks to the grant.
The meals Watson helps prepare feature extra food gathered from Chartwells' Tower Dining and Catering, Second Helpings, and community food banks. The meals are then provided to community organizations like Brightwood Community Center, Wheeler Mission and the Ronald McDonald House of Indiana.
Description of the following video:
[Video: IUPUI presents bug]
[Kelly Moors speaks: So over here we've got Lindsey Steiner. She's our volunteering staffing coordinator. She's cut up some watermelon for us. And over here we've got lentils and rice. And, this will go to Brightwood Community Center. It's an after-school program. And this is Tangible and this is Madison. And the rest of this, they're going to repackage for Paw's Pantry.
[Words appear: Kelly Moors, Camus Kitchen at IUPUI director, senior]
[Kelly Moors speaks: And all of this will go to the Paw's Pantry freezer or refrigerator, so that students and faculty, staff, anybody from the IUPUI community can benefit from this excess food. And this was all donated from the Tower.]
[Video: Steaks are prepared for grilling.]
[Kelly speaks: We got, probably, 20 pounds of steak donated from the Tower dining service, so that food will serve as the protein item for tomorrow's meal at Brightwood Community Center, as well.
This is Carly, Barshini, and what's your name?]
[Isaac speaks: Isaac.]
[Kelly speaks: Isaac, so Carly is actually a Butler student, so anybody can volunteer with us. You can be a student. You can be a community member. They are making mashed potatoes, and they're waiting on the water boiling over here.
So, they are just kind of at a standstill, but once this water boils, they'll make mashed potatoes. Those are just mashed potato flakes right now. It's from a box, but it's just as good as the real thing.]
[Video: Watermelons are being chopped.]
[Kelly speaks: We've rescued over 20,000 pounds of food so far since Campus Kitchen started in 2014.
So now, we just want to expand upon that number and get even more people involved.]
[Words appear: IUPUI Fulfilling the Promise, iupui.edu]
[End of transcript]
Watson can identify with the Indianapolis children who are on the receiving end of much of Campus Kitchens' efforts; growing up, she sometimes suffered from food insecurity. She found an outlet to help with the Campus Kitchen at IUPUI, which was founded in 2014.
"It's good to give back, to help people who are in a situation I used to be in," Watson said.
The statistics that the Campus Kitchen at IUPUI promotes are impressive: From October 2014 to November 2017, 1,128 volunteers put in 3,272 hours to prepare 7,712 meals for the campus and the community. The chapter used almost 20,000 pounds of recovered food to create these meals. That's 10 tons of food that would have gone to the garbage.
Menus on the go
While the dual battle against hunger and food waste is first in the minds of Campus Kitchen volunteers, creativity, ingenuity and improvisation are required at every cooking session because the students never know what they will be working with when entering the kitchen. "Chopped" contestants have nothing on Campus Kitchen volunteers. Watson was flipping pancakes one evening and baking cupcakes the next.
On the evening of Feb. 7, Watson and the team inherited some marinated steaks, trays of seasoned wild rice and lentils, and a few crates of small watermelons. Student leaders Kelly Moors and Arooj Mohammed quickly worked out a menu and put the volunteers on grilling and melon-chopping duties. They decided on classic mashed potatoes for another side.
"You have to be creative. You have to think whether you can pair this with this," said Mohammed, a senior studying geology. "It makes it more interesting and exciting to prepare stuff impromptu."
The food is carefully packed away for next-day delivery. Much of the Feb. 7 haul was bound for Brightwood's after-school program; the rest would find home in the coolers of Paw's Pantry. The plates are assembled – protein, sides and fruit – and ready to be taken home by an IUPUI student and reheated.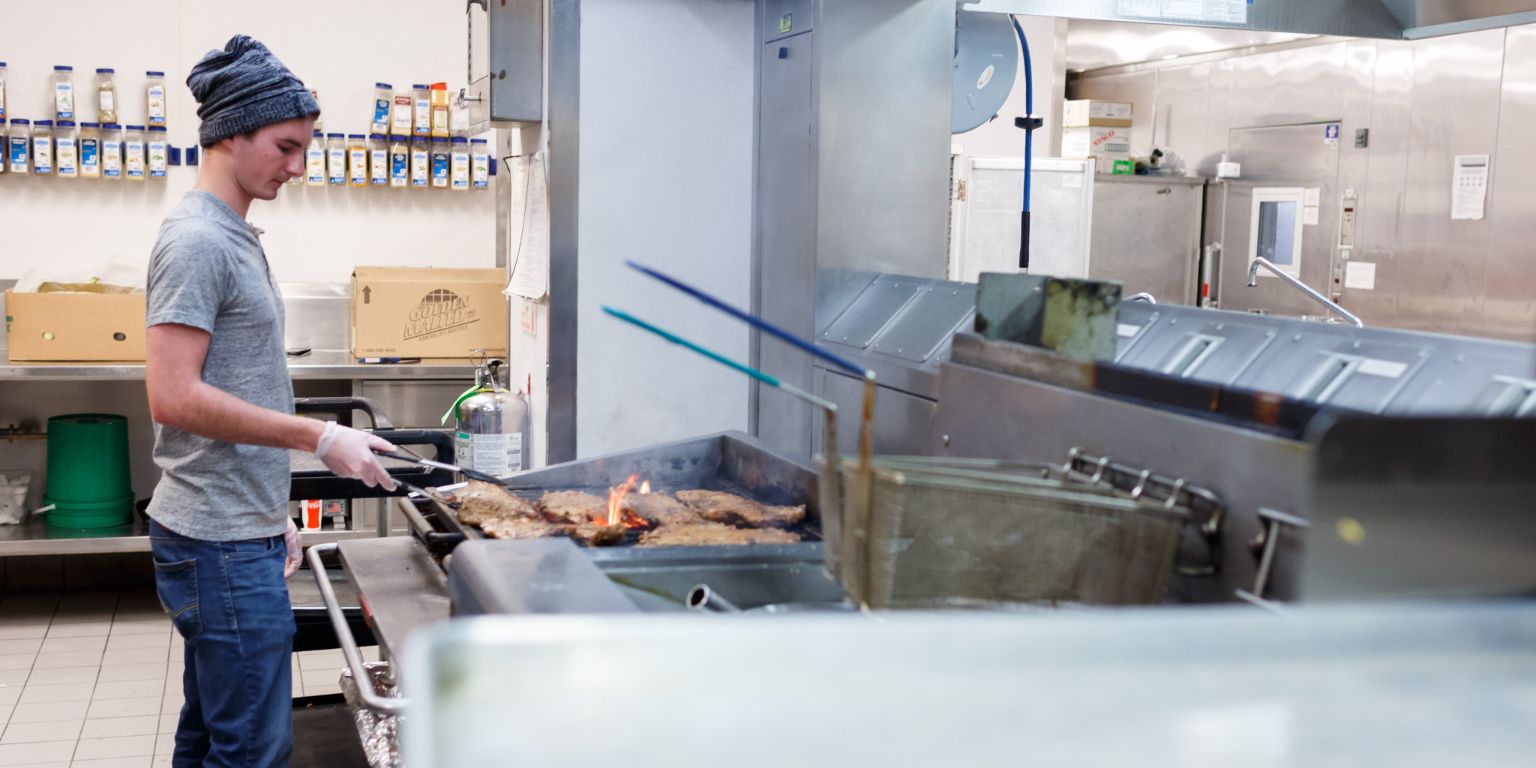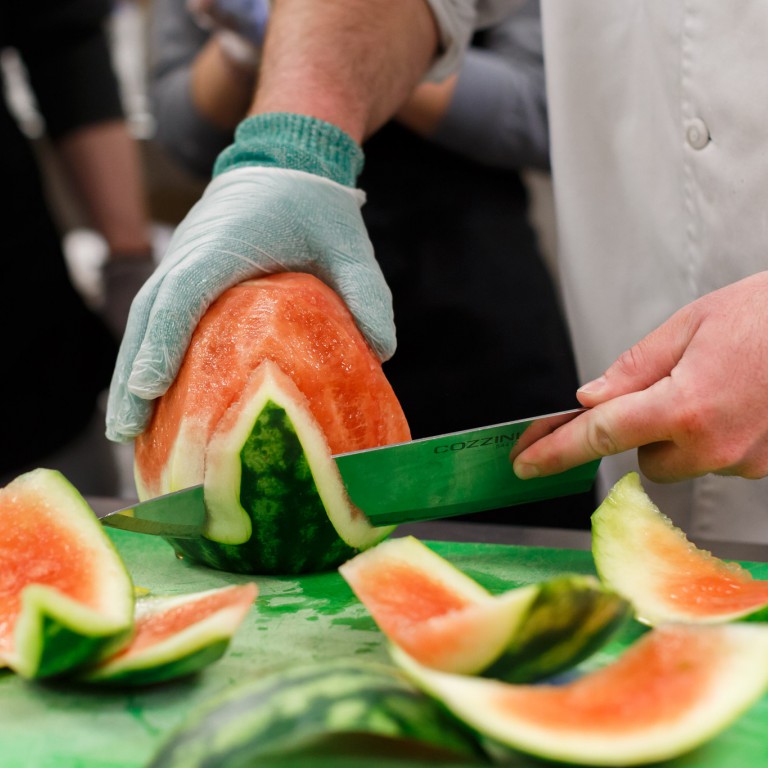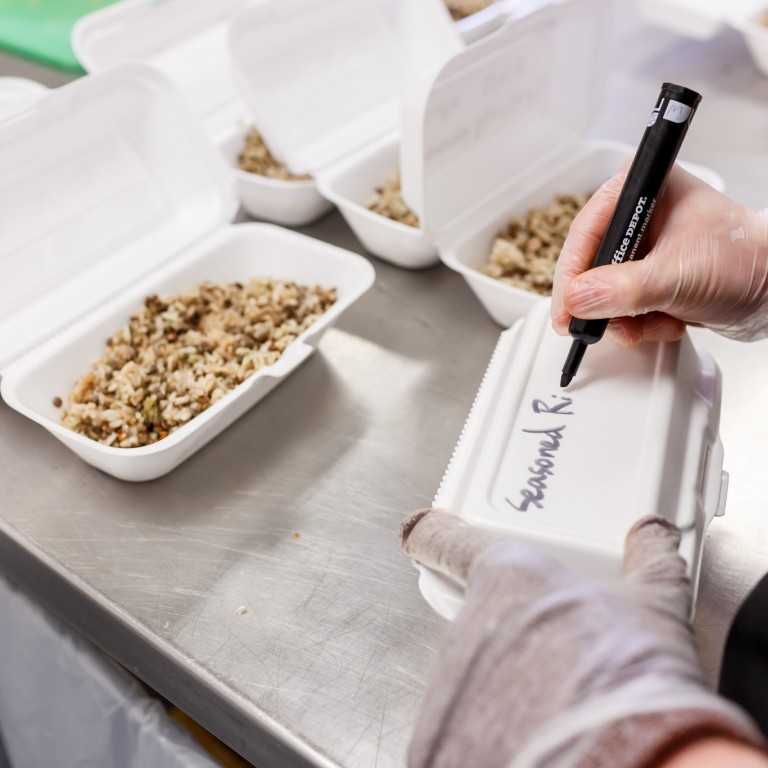 Photos by Liz Kaye, IU Communications
Mohammed watched his volunteer team carefully package the wild rice and lentil medley in dozens of smaller containers to be donated to Paw's Pantry. The portions were clearly labeled and dated.
"Every serving of food you make, and every second you put into making the food, is taking action," Mohammed said. 
History of helping 
The origins of the Campus Kitchen at IUPUI started with Nancy Barton, a lecturer in the School of Physical Education and Tourism Management, noticing the problems of hunger and food waste in Indianapolis and on the IUPUI campus. The two problems should cancel each other out, she thought, if the extra food could only reach those in need. After working with Second Helpings, which also specializes in food rescue, preparation and delivery along with culinary job training, Barton was alerted to The Campus Kitchens Project, a "student-powered hunger relief" charity based out of Washington, D.C. With the help of the IUPUI Office of Sustainability, the IUPUI chapter was launched and has been making an impact campus- and communitywide for the past four years.
Recent months have seen the Campus Kitchen of IUPUI looking more at its home base. The collaboration with Paw's Pantry was strengthened with a sit-down, dine-in IUPUI student meal on Nov. 13 during Hunger and Homelessness Awareness Week. The successful event took place in the Campus Center and should help pave the way for more campus meals. 
"We fed more than 80 students," recalled Deb Ferguson, IUPUI's assistant director of sustainability and a staff advisor for the Campus Kitchen at IUPUI. "Working with Paw's Pantry, we're going to try to host six to eight campus community meals throughout the year and make them a little more informal so that anyone on campus who has a need can get a hot meal and eat it there or take it to go." 
Most Campus Kitchen volunteers come in with a love of cooking already, but the feeling of helping others usually becomes the main course.
"It's an extracurricular activity that's cooking, and you're doing it for a good cause," Mohammed said. "You're doing it for people who need food."