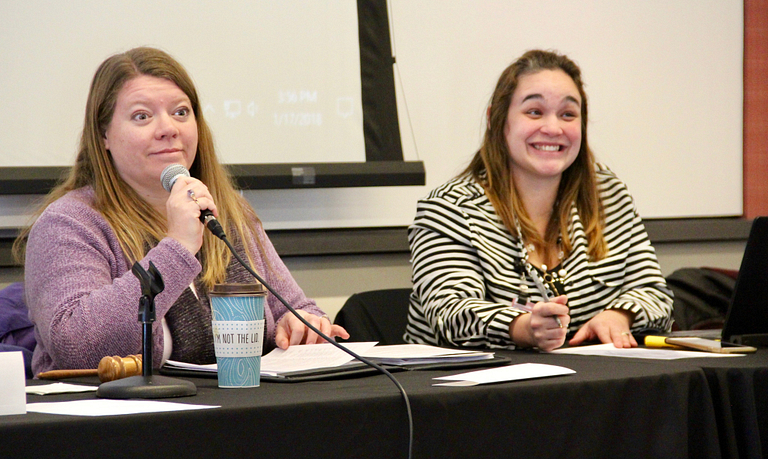 From construction updates to new recycling measures, monthly IUPUI Staff Council meetings, which are open to all staff members, are designed to be an early source for keeping faculty and staff members up-to-date on campus news.
A recent social media push by the council looks to make its cause easier to access. After established its Facebook page, the council launched a Twitter account and an Instagram channel, @iupuistaffcouncil.
The social media posts will feature breaking campus news and promote upcoming meetings. The next staff council meeting is slated for 2-4 p.m. Wednesday, Feb. 21, in Campus Center Room 409.
A typical meeting includes a staff remembrance for former IUPUI workers who passed away the months before. Updates from the human resources administration, academic affairs, the faculty council and other offices follow.
Subcommittees present during the fast-paced meetings. The Jan. 17 meeting revealed plans for the May 25 staff council mini conference. Patti Holt, IU School of Medicine's fiscal and human resources affairs director, revealed that the event will have a Legos theme and that the committee is accepting donations of the cherished, colorful toy building blocks. 
The special events committee announced an upcoming staff council retreat. The event will have a "IUPUI Dream Team" theme, and it will feature breakout sessions and a keynote speaker.
Each staff council meeting has a kind of keynote speaker of its own. In January, Jessica Davis, director of the IUPUI Office of Sustainability, led a 25-minute presentation on IUPUI's recycling efforts and the importance of utilizing the blue bins and Ray's receptacles around campus. New "desk-side recycling" cans have steadily spread through campus to help reduce the amount of trash at IUPUI. 
About 40 faculty and staff members attended the Jan. 17 meeting. Staff council members hope the social media push will draw more people to the meetings while keeping the campus more informed.