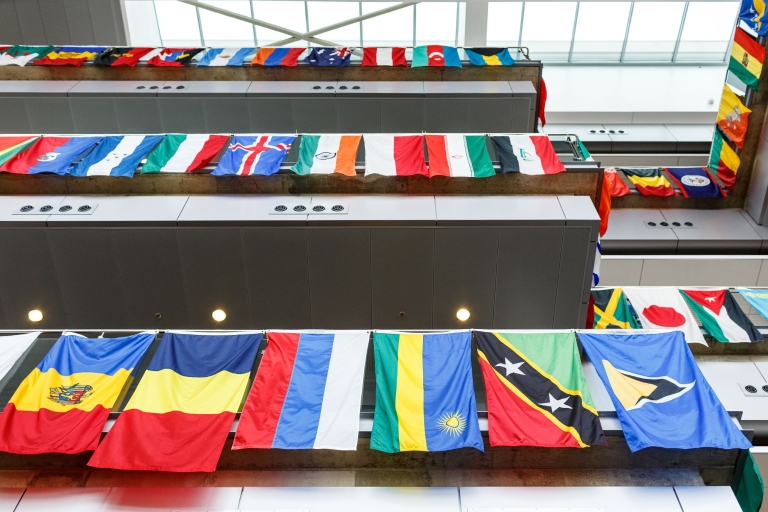 INDIANAPOLIS – IUPUI's 14th annual International Festival will explore global issues and celebrate world cultures, food and music. It will take place Feb. 14.
The festival, featuring more than 50 campus and community exhibitors, will be in the IUPUI Campus Center, 420 University Blvd. It runs from 10:30 a.m. to 2:30 p.m. and is free and open to the public.
Activities will include performances of Iranian music, Indian dance, drumming and a reading of love poetry on the Campus Center Atrium stage. The performances will take place from 11 a.m. to noon and from 12:30 to 2:30 p.m.
There will also be samples of international cuisine in the lower level of the Campus Center and in the Campus Center Atrium. Visitors will be able to taste chakalaka, a South African vegetable relish; beshbarmak, boiled meat with noodles and the national dish of Kyrgyzstan; kookoo sib zamini, Persian potato pancakes; paneer masala, an Indian curry; and Mexican hot chocolate.
The ethical considerations of global health volunteering and potential impacts on host communities will be explored during a public talk by Judith N. Lasker, author of "Hoping to Help: The Promises and Pitfalls of Global Health Volunteering." The talk will take place at 10:30 a.m. in Campus Center Room 450A.
"As universities around the world tout the growing number of students seeking international experiences, particularly health service programs, they also are faced by the difficult challenges of ensuring that students have valuable learning experiences and do not put themselves or their hosts at risk," Lasker said. "Fortunately, IUPUI is among the universities that are tackling these challenges and seeking responsible solutions."
Other festival activities will include:
At noon, Chancellor Nasser H. Paydar will honor faculty, staff and community partners who have championed study abroad and international partnerships.
Several global-themed lectures by Department of World Languages and Cultures faculty in the School of Liberal Arts. Topics will include "Islamic art in Venice," "Health care in Nigeria," and "Film censorship during the Franco regime."
A panel discussion by former residents of I-House, IUPUI's international residential apartment building, on the skills created and connections gained from living and learning alongside students from different backgrounds. The discussion will take place from 1 to 2:30 p.m. in Room 305.
Display of the 195 flags of the United Nations, on loan from the International Center's flag collection.
An "international photo booth," where visitors can transport themselves to another global setting through an international backdrop and props.
IUPUI's international celebration concludes Saturday, Feb. 17, when the International Club presents its annual international fashion show. Visitors will see traditional to modern attire from across the globe.
The fashion show, which unites students from different countries as they display their own cultures through fashion, will take place in Campus Center Room 450. The event also is free and open to the public. Doors open at 8 p.m.