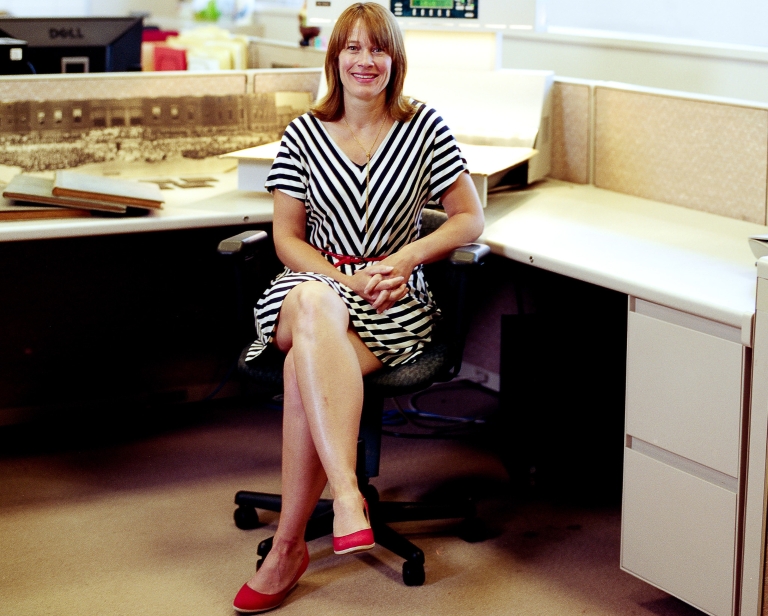 INDIANAPOLIS – IUPUI Executive Vice Chancellor and Chief Academic Officer Kathy E. Johnson has announced the appointment of Kristi Palmer as interim dean of University Library.
Palmer has served as associate dean for digital scholarship in University Library since 2014 and is an associate librarian. She will begin her new position as interim dean April 9 as David Lewis prepares to retire effective May 18.
As interim dean, Palmer will provide leadership and guidance of library operations, strategic direction and responsibility for the mission of the library, connecting people with resources and services and transforming the lives of community members by facilitating discovery, creativity, teaching, learning and research.
"I'm delighted that Kristi is taking on this role, which builds on her impressive leadership and service to the campus and the community through her responsibility for the library's digital scholarship program and the Center for Digital Scholarship," Johnson said.
As associate dean for digital scholarship, Palmer developed and implemented the library's digital scholarship strategy. She supports the creation, digitization and preservation of scholarly, historical and cultural content as well as manages the campus's institutional repository and other library tools for accessing digital content. She has been a leading supporter of the promotion of open access in the library.
Palmer is responsible for the library's operations team, which provides security and management of the server environment, operating systems, and network and application infrastructures utilized by all areas of the library. As a member of the library's administrative team, Palmer assists in the oversight of the library's liaison program, including planning and program review and the assessment of liaison librarian performance.
"IUPUI has been a welcome constant in my educational and professional life for 17 years, and I'm thrilled to have the opportunity to serve my campus in this new role," Palmer said. "I'm privileged to be part of a University Library staff that is committed and driven to fulfill our mission to inform, connect and transform the IUPUI and Indianapolis community."
Palmer began her career at IUPUI in 2003 as an assistant librarian and has steadily risen to her current rank and position. During her 15 years working on campus, she has served as chair of the University Library Faculty Organization, been a member of the IUPUI Faculty Council Executive Committee, served as liaison to the IUPUI Staff Council, served on the IUPUI Libraries Faculty Council, and served on search and screen committees and administrative review committees. Presently, Palmer is the chair of the Faculty Council Campus Planning Committee. She has been honored with the 2016 Indianapolis Business Journal "Forty Under 40" award and was named a 2009 Library Journal Mover and Shaker.
Palmer earned her bachelor's degree in history from Ball State University in 1999 and her Master of Library Science from IUPUI in 2003.