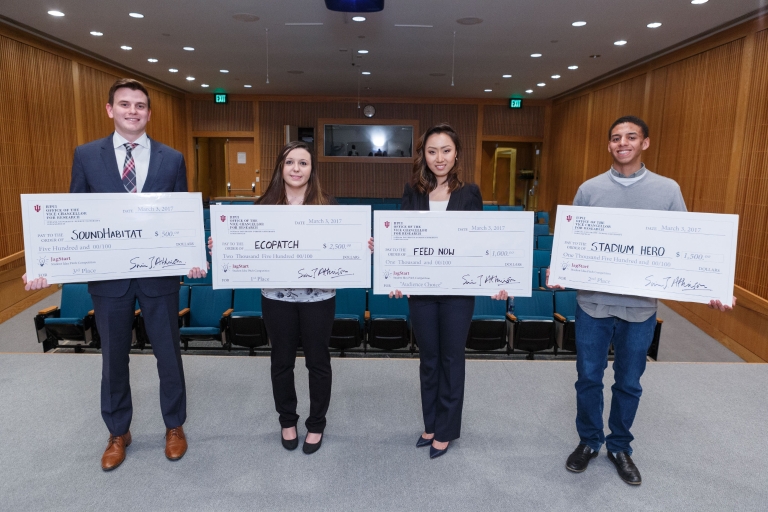 INDIANAPOLIS – Fifteen teams composed of some of IUPUI's most enterprising students will gather in March to "pitch" their way to a share of $5,500 in prize money in the 2018 JagStart competition, from 1:30-3:30 p.m. Friday, March 2, in the Lilly Auditorium at the IUPUI library.
In this elevator pitch-style competition, similar to ABC's "Shark Tank," students will have three minutes to pitch their ideas for new products or ventures, both commercial and nonprofit, and then face two minutes of questions from a five-person judging panel. Audience members are encouraged to offer comments, as feedback is a valuable part of the experience.
The panel will decide the first-, second- and third-place prizes, which will earn $2,500, $1,500 and $500, respectively. There will also be a $1,000 award for the best pitch as chosen by audience balloting.
The competition is under the auspices of the IUPUI Office of the Vice Chancellor for Research, which offers programs to support student innovation and entrepreneurship.
"JagStart is a different approach to building entrepreneurial capabilities in students and in the community. It focuses participants on building and refining ideas and relationships over time," said Joe Albano, founder of Logika International LLC and The Indy Startup Challenge and a former JagStart judge. "There are lots of programs to teach the mechanics of entrepreneurialism; JagStart reminds participants that business-building is primarily a human endeavor."
Audience check-in and on-site registration begin at 1 p.m. the day of the competition.