BLOOMINGTON, Ind. – Tornado sirens and IU-Notify emergency alerts will sound across all Indiana University campuses March 20 as part of the annual Operation Stormy Weather drill. Held in conjunction with drills conducted by schools, municipalities and emergency management agencies statewide, this exercise is part of the National Weather Service's Severe Weather Preparedness Week in Indiana.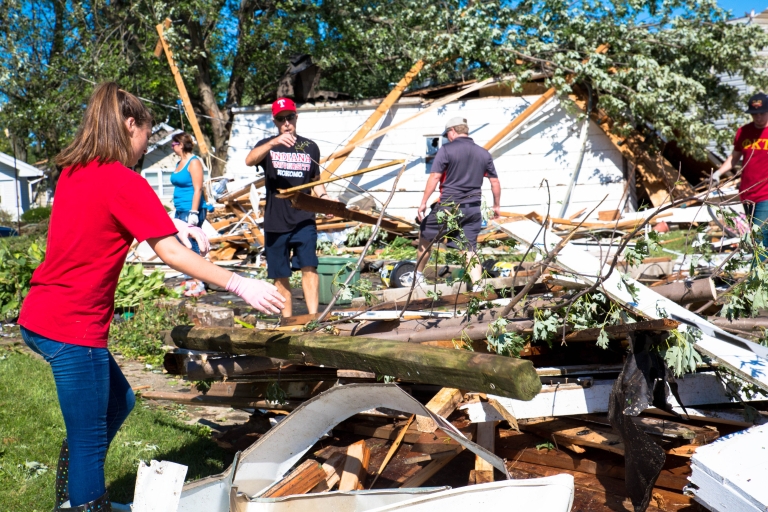 Last year, 37 tornadoes touched down in 27 counties across the state. With campuses from New Albany in the south to Gary and South Bend in the north, campus leaders believe it's critical for students and staff to practice their response to tornadoes so that they know what to do at a moment's notice.
"Each year, IU students, faculty and staff are given an opportunity to participate in this statewide severe weather drill," said Carlos Garcia, interim university director for IU Emergency Management and Continuity. "It's important to take the time to explore, understand and prepare ourselves for the risk that tornadoes and severe storms pose not only to our campuses, but to our homes as well. Preparedness starts with the individual, so I encourage everyone within the IU family to be a part of this year's drills."
Operation Stormy Weather tornado drills will only be conducted in the morning this year. During the drills, students, staff and faculty members are expected to respond as they would to the real deal: head to their severe weather shelter or the safest location available.
IU-Notify alerts using most modalities, including email, text and Alertus desktop alerts, will be sent between 10 and 10:30 a.m. announcing the beginning of the drill (between 9 and 9:30 a.m. CDT at IU Northwest). No all-clear will be issued. Students, staff and faculty may leave their safe shelters after 15 minutes.
Students do not need permission from faculty to comply with emergency instructions during emergencies and drills. They can leave class to locate a severe weather shelter – but they must return.
The safest places to be during tornadoes are in basements, interior rooms or hallways, and severe weather shelters, which are indicated by a tornado funnel cloud symbol. The Protect IU website also provides information about preparing for tornadoes and severe weather.
The drills are part of ongoing campus safety programming coordinated by IU Emergency Management and Continuity.