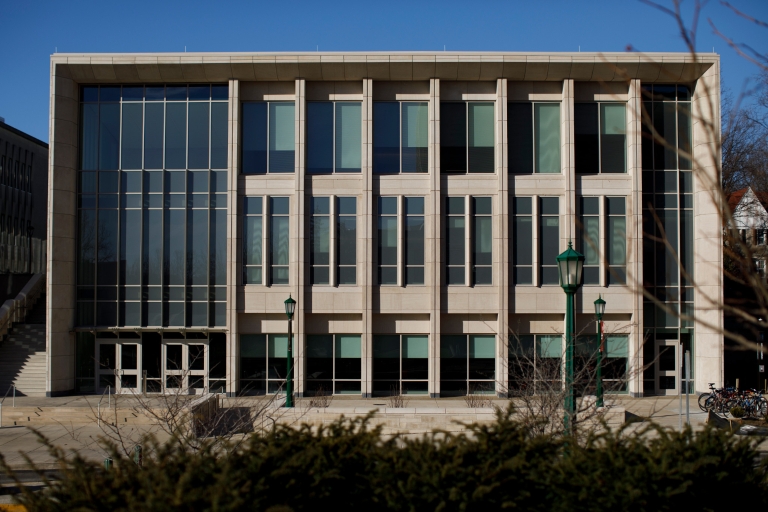 BLOOMINGTON, Ind. – Indiana University's School of Public and Environmental Affairs ranked No. 1 for its master's programs in public affairs, and IU graduate programs in business, law, education, nursing, medicine and sciences were also recognized in the annual U.S. News and World Report Best Graduate Schools rankings, released today.
"These rankings reflect our efforts to prepare students for success in a wide variety of disciplines, but they are just one way we measure the quality of an Indiana University education," IU President Michael A. McRobbie said. "Feedback from our students and alumni confirm that IU continues to achieve as one of America's great teaching and research universities."
Seven SPEA programs on the Bloomington campus ranked in the top 10. Public finance, environmental policy and management, and nonprofit management all ranked first; public management and leadership ranked third; public policy analysis ranked fifth; health policy and management ranked eighth; and local government management ranked 10th.
At IUPUI, SPEA's program in nonprofit management ranked seventh, while its program in public management and leadership ranked 37th.
The School of Public and Environmental Affairs reached the top of the rankings in 2016, when it was tied for first with the Maxwell School of Citizenship and Public Affairs at Syracuse University. Public affairs graduate programs were not newly ranked in 2017.
"This is a historic day for SPEA and a day of joy for our students, faculty, supporters and alumni around the world," said John D. Graham, dean of the School of Public and Environmental Affairs. "What a year this has been! We're celebrating the 45th anniversary of our founding, our move into the new and wonderful Paul H. O'Neill Graduate Center and now the No. 1 ranking. It's not easy to maintain our Midwest humility, but we'll try."
U.S. News rankings are based on statistical and reputational data about graduate programs at U.S. colleges and universities collected in fall 2017 and early 2018.
Rankings for IU graduate programs include:
IU Kelley School of Business Master of Business Administration programs continue to claim spots among those offered by elite business schools. Its full-time program at IU Bloomington is ranked 27th overall, and its part-time Evening MBA program at IUPUI is 13th. Six specialty programs were highlighted, with entrepreneurship ranked ninth; accounting and information systems each ranked 10th; marketing, 11th; and management and production/operations each ranked 17th.
The School of Education at IU Bloomington ranked 30th overall, and its program in higher education administration ranked fifth. Other specialties included elementary education, 10th; secondary education and curriculum/instruction, both 11th; counseling/personnel services; 13th; and administration/supervision, 18th.
The IU School of Nursing's family nurse practitioner program is ranked 20th; its doctoral program ranked 36th and its master's program 42nd.
The IU Maurer School of Law in Bloomington ranks 32nd overall. Three specialties in the school were ranked: tax law was 17th, intellectual property law was 21st, and international law was 23rd.
The IU McKinney School of Law in Indianapolis ranked 33rd for its part-time program. Its specialty in health care law was ranked 12th, and legal writing was ranked 17th.
Science programs in the College of Arts and Sciences in Bloomington cracked the top 30 in two categories. Analytical chemistry ranked seventh, and nuclear physics ranked seventh.
IU's graduate programs in criminology and in social work each ranked 30th.
The IU School of Medicine's program in medical primary care ranked 46th and medical research ranked 50th.
U.S. News did not issue new rankings this year for programs in computing, library science, social sciences, arts and humanities. Graduate programs in these disciplines typically go several years without new rankings. Complete results are available on the magazine's website.