The newest research program at Indiana University Bloomington's Ostrom Workshop is up and running, and its first gathering of interested researchers will take place this month.
Called the program on Political, Economic and Legal Institutions and Organizations, or PELIO, it will bring together scholars at IU and other universities to study how institutions and organizations affect processes of development, including social, legal, political and economic outcomes.
"The PELIO program has quite a wide focus," said Cyanne Loyle, interim director of the program and assistant professor of political science at IU Bloomington. "It has a mandate to think about governance in some really creative ways."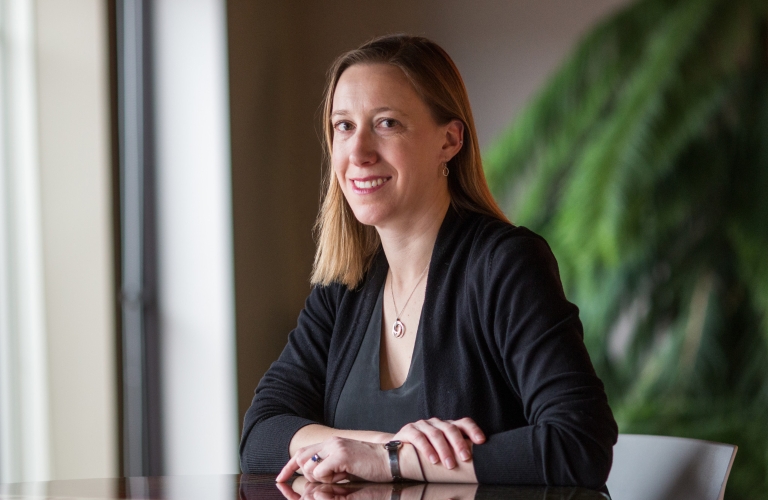 The program will include at least two working groups. The first, underway this semester, focuses on what Loyle calls ungoverned spaces. It will launch at noon March 20 at the Ostrom Workshop with a lunch meeting where interested faculty and students will share their research topics.
The second working group, on non-state-actor governance, gets underway in the fall. Also planned for the fall is the program's first public event: the inaugural PELIO Lecture on Sept. 18 by Robert Bates, a political scientist and African studies expert from Harvard.
Each working group will meet once a month for discussions and research planning. They will also be involved with the Ostrom Workshop visiting scholars program and conferences.
The PELIO program joins Ostrom Workshop research programs on cybersecurity and internet governance, data management and information governance, and natural resource governance. The workshop was founded in 1973 by longtime IU researchers Elinor and Vincent Ostrom. Elinor "Lin" Ostrom was awarded the 2009 Nobel Prize in economic sciences. Both Ostroms died in 2012.
The working group on ungoverned spaces will examine areas where formal governance is weak or nonexistent, Loyle said. That can include physical spaces: for example, rural African regions that are beyond the reach of central governments and stateless zones such as Zomia in Southeast Asia and the Chittagong Hill Tracts in Bangladesh. They can also include legal and institutional areas where laws are not firmly codified and enforced, such as laws of the seas.
Loyle expects the working group to attract scholars from a range of disciplines – not only political science, law and economics but areas like African studies, sociology and anthropology. The March 20 meeting, she said, will be like "academic speed dating" in which participants introduce their research interests and start to talk about finding collaborators.
"I've read a lot about how to do that, and no one's got a magic formula," she said. "You put smart people who are working on interesting things together in a room. Sometimes it works and sometimes it doesn't."
The working group on non-state-actor governance aligns with Loyle's own academic work, which includes study of transitional justice initiatives during armed conflict and the organizational structures of rebel groups. Surprisingly, she said, some rebel groups devote considerable resources to courts, schools and other institutions that bolster their legitimacy.
Like the Ostroms' research, Loyle said, the work of the PELIO program can be expected to have an "outward-facing" approach that connects scholarship with real-world governance issues.
"One of the reasons I like the PELIO program and the other workshop programs is that there is real policy significance to the work," she said. "That was a key component of what Lin and Vincent tried to do with their own work. It wasn't just academic research; it was work with real policy implications."