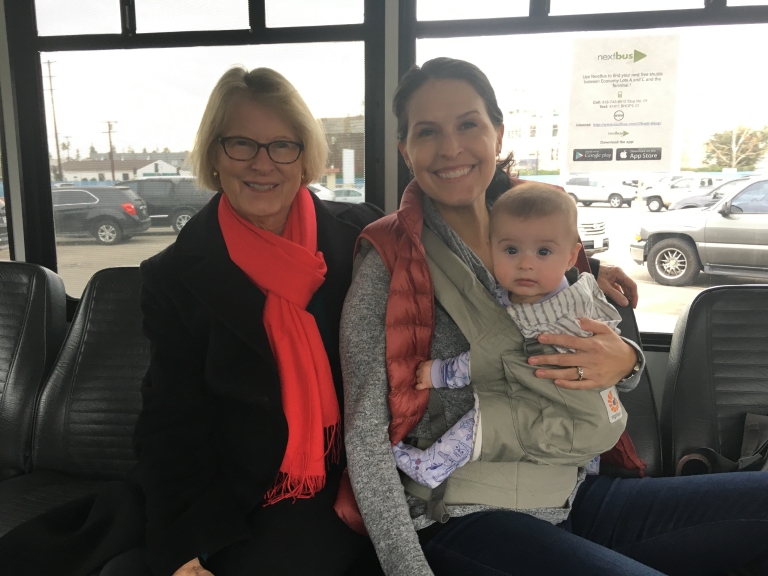 As an academic scientist, Kim Rosvall knows the importance of attending conferences and networking with others in her field.
But after having children, the assistant professor in the Department of Biology at Indiana University Bloomington found that attending conferences presented a challenge she had never faced before.
"On one hand, my 5-month-old daughter was too young to be away from me for five days," she said of planning a trip. "On the other hand, it would have been professionally unwise for me to miss the conference at this phase in my career."
Thankfully, Rosvall's parents have been able to help, although bringing them along to care for her daughter has cost her a significant amount out of pocket. But for many academic researchers who have young children, particularly mothers, choosing between their children and advancing their career can present a real problem.
A newly formed group, A Working Group of Mothers in Science – made up of 45 women in science from throughout the country – is aiming to address the issue. The group recently co-authored a paper, "
How to tackle the childcare-conference conundrum
," published in Proceedings of the National Academy of Sciences.
"Keeping up with the literature is one thing, but the benefits of going to a conference are the face-to-face opportunities," Rosvall said. "From my perspective, it's about being a part of those conversations that happen during the coffee breaks or at dinner. That is where the newest collaborations come from.
"If you think about when people have children and when people start their academic careers in science, it's the same time period. So it can be difficult for women to engage at this critical time in their career, and conferences need to find solutions that don't leave parents out of the scientific process."
Rebecca Calisi Rodríguez, assistant professor in the Department of Neurobiology, Physiology and Behavior at the University of California, Davis, spearheaded the group after noticing what she considered meager accommodations for mothers at a conference she was attending.
Calisi brought the issue to the attention of conference organizers, who were eager to improve.
"That's when it occurred to me: Many organizers wanted to support nursing mothers, they just didn't know how," Calisi said. "That's when I decided to organize a large, diverse group of mothers in science to offer specific recommendations organizers could reference."
The paper outlines specific guidelines for addressing the problem, which the group calls CARE – Childcare, Accommodate families, Resources and Establish social networks.
When it comes to child care, the paper suggests including financial support for individually arranged child care for smaller conferences; onsite child care for larger conferences; allocating funds to help attendants cover the cost of child care while away from home; or providing grants to fund caregiver travel.
In addition to providing financial resources, conference organizers can also accommodate families by considering family-friendly dates and venues, and by considering families when scheduling keynote speakers and networking gatherings. The paper also suggests that babies should be allowed in conference halls, seminar rooms and poster areas, and lactation areas should be provided for mothers who are breastfeeding or pumping.
Finally, it calls for establishing parent/caregiver social networks to allow a virtual place for parents to easily find and share pertinent information before, during and after a conference, including kid-friendly meet-ups and activities, babysitting and child care swaps.
"It is easy to see the problem, harder to see the solution," Rosvall said. "This piece really focuses on concrete solutions, some of which are not that onerous but would go a long way to be more inclusive. It also sends a message to young women who are thinking whether they want this career or not. We need to show them that science welcomes parents."
Although the suggestions are geared toward research societies and conference organizers, Rosvall believes universities can also play a role in making it easier for faculty with young children to achieve their professional goals. She has shared the paper with IU administration to begin a dialogue about addressing the issue locally.
Calisi and the group hope that tackling conferences is the first step in addressing the larger issues women in academia face.
"My hope is that by tackling the problem on a small level (in this case, conferences), this could serve as a model for larger-scale initiatives, helping to change the culture of academia to make it more inclusive and equitable for women," Calisi said.