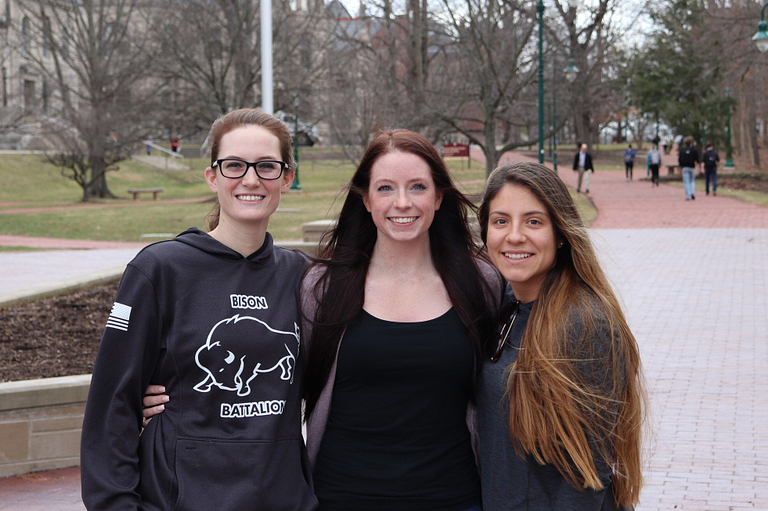 Analiese Smith and some of her fellow female Indiana University Army ROTC cadet have not only chosen the military as a path to education and career, but they have excelled. They're now helping increase the number of women in IU's ROTC program and providing a support system for women in the military through the Sisters in Arms initiative.
"Sisters in Arms is an initiative that focuses on educating, recruiting and developing women leaders," said Smith, a senior majoring in law and public policy. "The military has been a male-dominated service since the start of our nation. We would like to not only see more women in the program, but we want to provide a support system for those already involved."
IU's Sisters in Arms initiative began in January, in part, to recruit more female cadets. Women currently make up 15 percent of IU Bloomington's Army ROTC battalion. Sisters in Arms, an IU Army ROTC initiative, also will be a mentoring program for female cadets already in the program. Junior cadets will serve as "big sisters" to incoming freshmen, and leaders will create opportunities and an environment where female cadets can get to know each other and develop friendships/working relationships.  
ROTC cadets Jerah Bowen and Alyia Sones know first hand the importance of having a fellow female cadet to turn to.
Although Bowen and Sones both completed their basic training in Oklahoma at the same time, they didn't meet until they came to IU and Bowen overheard Sones talking about basic training. The two quickly became friends and have leaned on each other as both IU students and ROTC cadets.
"When I met Sones, I automatically felt at home," Bowen said. "There's a connection you feel when you meet someone who has been through the same thing."
Although both women say they feel a connection to their male counterparts, it is sometimes nice to have "girl time."
"Sometimes there are girly things you want to do that guys in the Army don't want to do," Bowen said. "It is nice to have someone else who understands the Army life but who wants to do those things men don't want to do. You don't feel like you get lost in the crowd of dudes."
Smith, Bowen and Sones all say they initially joined the military for the financial benefits, and each took different paths to enrolling.
Smith, a Chattanooga, Tennessee, native, joined ROTC her sophomore year at IU. Wanting to leave the IU rowing team to focus on her academics, Smith found that she needed a way to continue to pay for college.
"I love this school, and I didn't want to leave it," Smith said. "And I thought the military would be something I could be good at. While I was originally motivated by money, I ended up really loving ROTC."
Bowen enlisted in the National Guard her senior year in high school, knowing she would join ROTC in college. She chose IU Bloomington because of its nationally ranked ROTC program. Sones also enlisted in the National Guard in high school and switched to ROTC in college.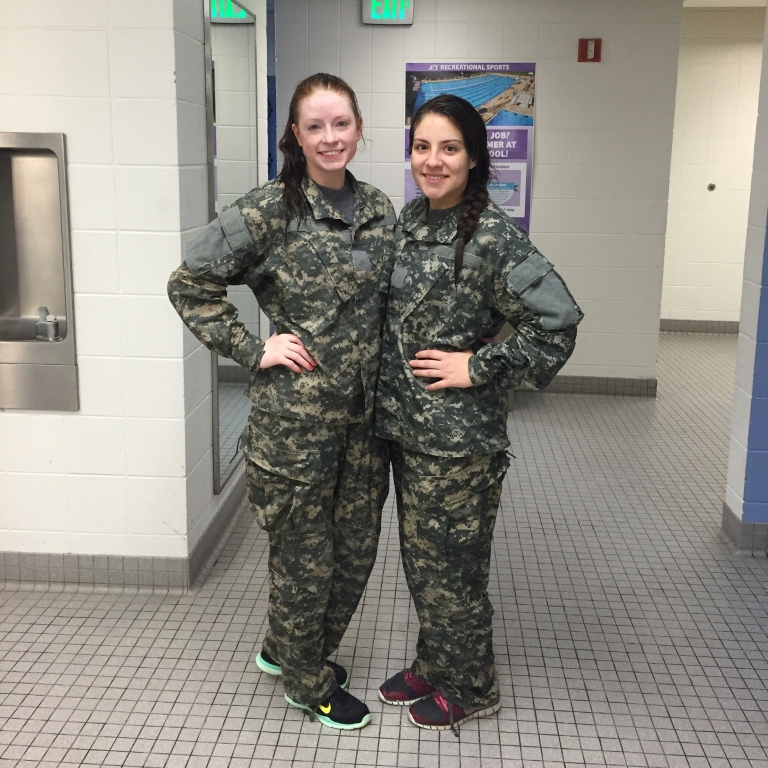 Sones said she is one of the few people who actually enjoyed basic training. The experience, and encouragement from a female drill sergeant, solidified her desire to make the military a full-time job.
Being surrounded mostly by men isn't a deterrent for Sones but has served more of a motivator.
"I love the Army and people in the Army, and this is what I want to do in my life," she said. "I feel like I have developed quicker in the military, partly because you are surrounded by dominating men, so you push yourself a little harder. Although you do have to work a little harder, your achievements are also recognized more broadly."
All three cadets acknowledge people have strong opinions about the military. But there are a lot of misconceptions, they said, the main one being what it actually means to be in the military.
"A lot of people think the Army means you get a gun and go to war," Smith said. "But there are so many routes you can take. There are 18 different jobs you can have as an officer, including medical services, logistics, infantry, engineering and nursing. You have a choice in what you are going to do."
All three cadets have chosen different military paths. Sones is going into active duty after graduation, Smith is going into reserves, and Bowen is going into the North Carolina National Guard. 
The women say they are examples of how women can succeed in the military. Since joining ROTC, Smith was selected as the battalion's cadet executive officer, second in charge of the 120 IU Army ROTC cadets; Sones was on the winning female team during the 2017 Best Ranger Buddy Team competition; and Bowen was selected to be IU Army ROTC's information operations officer.
"I always knew I wanted to be a leader, and I thought it was something I could be good at, but I didn't know how to use my personality and leadership skills to get where I wanted to go," Smith said. "The ROTC taught me how to speak up and lead people, and it taught me discipline. It also taught me how to build friendships and positive relationships."
An IU Army ROTC call-out meeting will take place at 7 p.m. Wednesday, April 4, in the Global and International Studies Building auditorium. Free pizza will be available to participants.