When the Hoosier National Forest wanted to know whether any part of its more than 200,000 acres could be eligible for an international designation intended to recognize those who minimize light pollution, it turned to Indiana University students for help.
The project is part of the university's Sustaining Hoosier Communities initiative, which partners with a local community to explore, understand and resolve challenges identified by the community. The initiative is one of the six areas of focus for the IU Center for Rural Engagement, which works within 11 neighboring counties in southwest central Indiana to address challenges and opportunities in the area.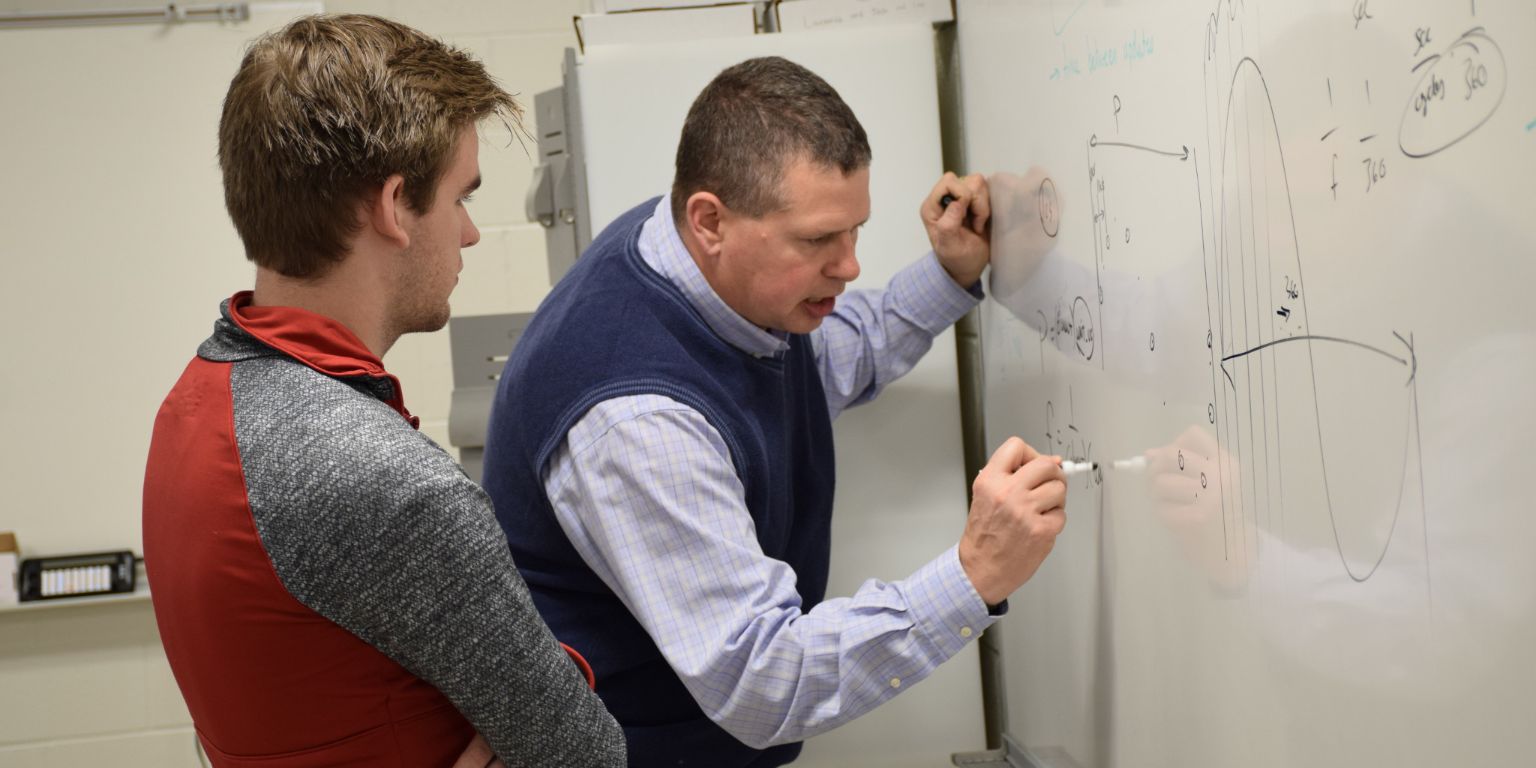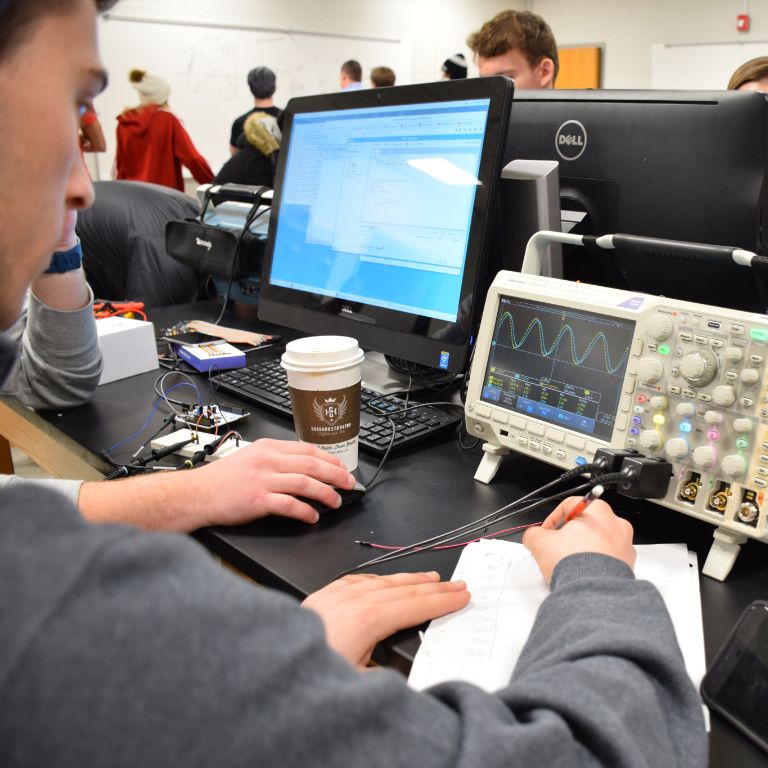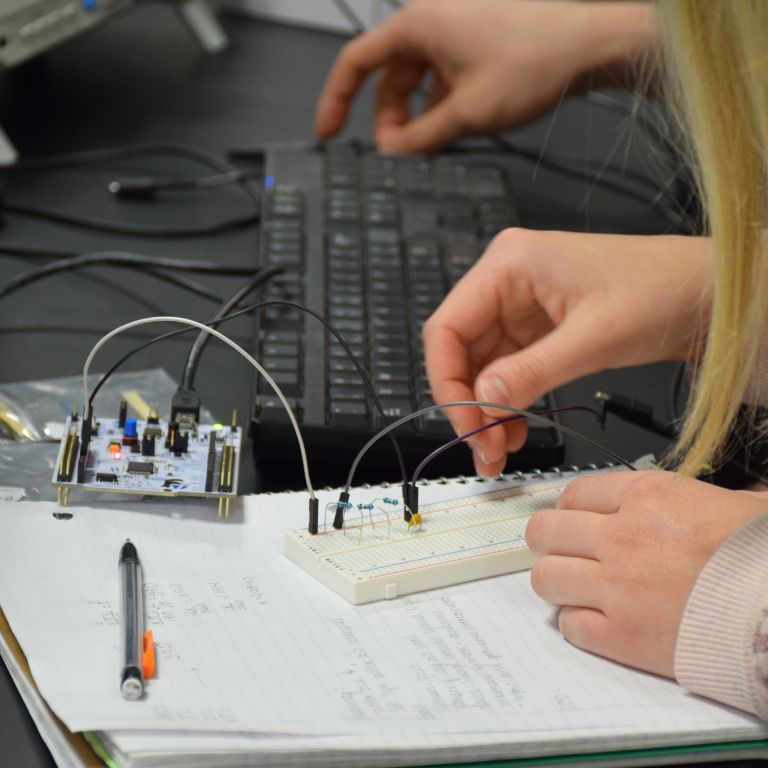 Photos by Tracey Theriault, School of Informatics, Computing and Engineering
Clinical assistant professor Bryce Himebaugh, who teaches in IU Bloomington's new Department of Intelligent Systems Engineering in the School of Informatics, Computing and Engineering, said the 28 undergraduate students in his spring digital systems class are constructing a set of monitors that can be installed in the Hoosier National Forest to measure light pollution.
The project launched in August, when the fall cohort wrote a piece of software to collect data while several independent study students constructed a prototype monitor.
"Now I'm teaching the principles of how that hardware and software was designed to this spring's class, and they're learning how to build those systems," Himebaugh said. "We hope they'll be deployed in the field by April 2018."
He said the project is perfect for his class, which is a mix of students studying intelligent systems engineering and computer science.
"They work with a tremendous amount of energy and enthusiasm, and when you see them figure out things, it's almost like you're seeing it all over again for the first time too," Himebaugh said. "One of the most rewarding things for me is to see these students understand how this system works, and how they can apply it to other situations.
"I don't expect students in this class will all have a career in developing outdoor monitoring equipment, but rather that they'll see its applicability to other areas – some sort of medical wearable device or something that could track items in a shipping management system. All kinds of things are possible once you understand how to collect systems data and communicate it."
That's exactly what IU sophomore Jackie Youngs enjoys most about the class, she said.
"Following a project from idea to physical completion through the entire design process reinforces understanding of each of the individual components and how everything – the programming language, the physics of the components, the devices themselves – connects," the intelligent systems engineering major said. "This is one of the most important skills I intend to use after completion of this semester.
"I don't necessarily plan on pursuing computer engineering as a career but am more interested in going to medical school. Even so, being able to identify how a large system is composed of smaller components and how they are connected is an invaluable skill I plan to take from this course."
Once the class work is complete and the solar-powered monitors are deployed throughout the Hoosier National Forest, Himebaugh said, the data they'll collect and transmit will help measure light patterns within the forest.
The Hoosier National Forest is seeking International Dark Sky Places designation. The application process requires ongoing monitoring and documentation of specific programs intended to minimize light pollution.
"People might not think about the importance of dark night skies on their lives, but increases in nighttime light levels can have serious consequences for ecosystems, animal life and even human rhythms," Hoosier National Forest spokeswoman Andrea Crain said. "We hope through this project we can reach a whole new audience to communicate the importance of dark skies and potential recreation experiences on the Hoosier National Forest."
She said the assistance from the class has been invaluable.
"It's been exciting to meet with students and see their progress throughout this process, as they're learning to problem-solve and come up with creative solutions to new issues," Crain said. "Being part of that learning process makes this project an extra special experience for the Hoosier National Forest employees involved."