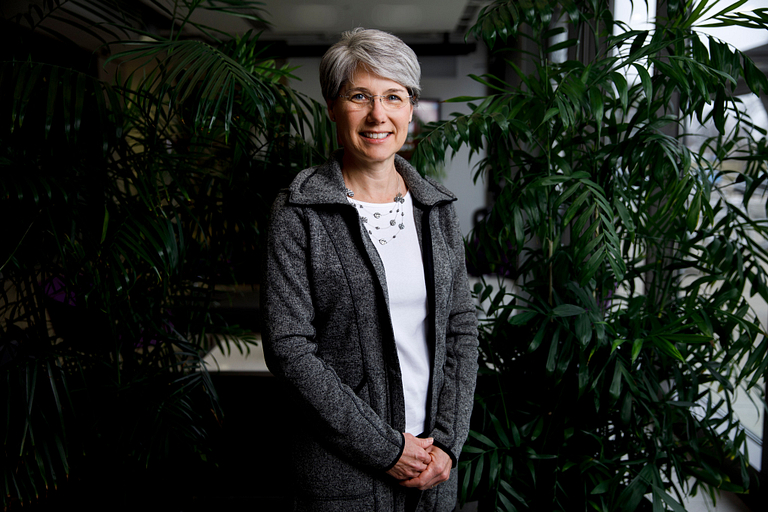 Since Earth Day is just around the corner on April 22, you might be thinking about ways you can go green in your workplace. Here are some of my favorite strategies for being green at work:
Cut your carbon footprint
Start your day by getting your exercise in and cutting your carbon footprint. Walk to work, ride your bike, carpool or take the bus. You can even try a combination of the two by riding your bike part of the way and taking the bus to your final destination. Don't forget, that your CrimsonCard allows you as an IU employee to ride Bloomington Transit buses at no additional cost.
Power down
Most of us spend our days working on computers, and computers use energy. There are several ways to minimize your power use. Start by enabling power-management settings on your computer: Set your monitor to sleep after 10 minutes of inactivity and your computer to sleep after 20 minutes. Be sure to power down your devices at the end of the day, too, since they continue to draw power even in standby mode. Make the task of turning off your system easy by using a smart power strip that turns off all the peripherals at once.
Think before you print
The greenest piece of paper is the one that isn't printed. Try to digitize your work as much as possible to reduce your need to print. Read and edit documents online instead printing them out. Use Box or other appropriate online storage to file your documents. Digital storage make it easy to share and collaborate with others anywhere you have an internet connection. As an added bonus, you can say goodbye to those ugly filing cabinets!
Work virtually
Have a meeting across campus? You can cut your carbon footprint by walking, taking the bus or using teleconferencing technology like Zoom to attend the meeting virtually. Virtual meeting rooms are easier than ever to use, and they help you avoid a frustrating and carbon-intensive search for a parking space. Teleconferencing can even allow you to work from home, eliminating your commute to campus altogether.
Minimize food waste
Rethink lunch! About 40 percent of the food produced in the United States is wasted, and one-time-use carryout containers contribute to landfill waste. When you are cleaning up after dinner at home, tuck your leftovers into reusable containers and bring them in for a tasty lunch. Keep a reusable plate, bowl and set of utensils at your desk, too, so you don't have to use disposable ones.
Noma Maier, UITS Sustainable IT Services project manager, is also co-leader of the Green Team at the Cyberinfrastructure Building and for University Information Technology Services.