For his entire life, Blake Sorensen has dealt with a life-threatening allergy to all kinds of nuts.
"I have to carry an EpiPen everywhere I go," said Sorensen, a second-year MBA student in Indiana University's Kelley School of Business. "I've had numerous near-death experiences. It affects me every day of my life."
Like so many others who deal with the same medical condition, Sorensen said it's challenging to find nutritional snack foods, particularly when he is on the go. But as a result of a class assignment and through support from Kelley professors, he and another second-year Kelley MBA student, Alex Marijan, have launched a company that produces nut-free, seed-based snacks.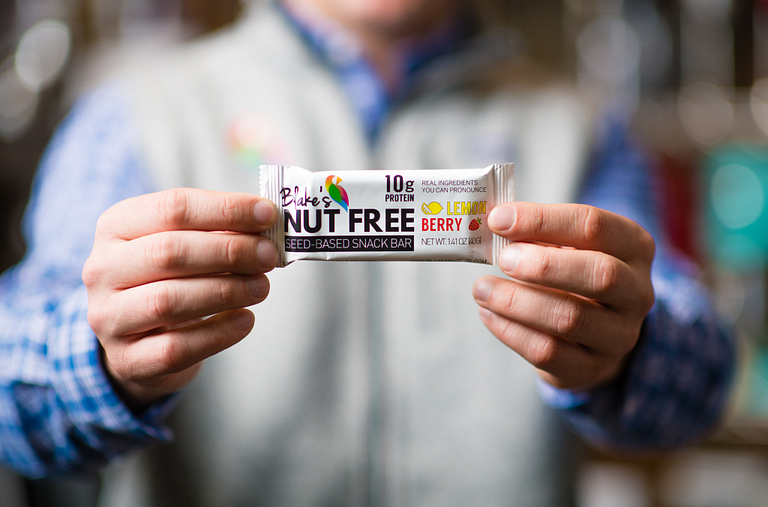 Their company, Blake's Nut Free, used a successful Kickstarter campaign in December to get word out about their products. Within two days, they raised more than $20,000; they ultimately raised $28,923 from 239 people within a month. They have since launched an online store and are offering a subscription service for their nut-free and gluten-free snack bars.
"We've been bootstrapping this whole company," Sorensen said. "We're grad students. We have no other income coming in, and we have debt. Kickstarter was a way we could offer our product since we basically are running this as lean as possible."
At this stage, their strategy focuses on selling the bars online, but they are available for purchase at two locations in downtown Bloomington: Goods for Cooks and The Inkwell restaurant.
Donald F. Kuratko, executive director of the Johnson Center for Entrepreneurship and Innovation, said he and his colleagues have been impressed by the students' commitment to their new business.
Enter to win
"They are impressive because sometimes students get excited at first and then interest wanes," Kuratko said. "These guys stayed focused."
Sorensen and Marijan were classmates in a social entrepreneurship course and were assigned to come up with a business concept that addressed a societal need. They spent weeks brainstorming, pitching ideas to each other, before the idea came to Sorensen during a road trip.
"It kind of hit me. I was driving back to Kelley from Chicago when I wanted something quick on the go," he said. "I wanted something healthy. I stopped at a gas station, and I wanted a snack bar. I spent about 20 minutes looking in the aisles, reading every label. Every bar had nuts or was produced in a facility with nuts. 
"After that, I went to the supermarket – same thing. So out of that, I said 'I'm going to start making these on my own.'"
Marijan, a self-professed fan of energy bars, readily saw starting the company as a good way to apply what they were learning at Kelley.
"I felt this was something that was missing in the market – something with simple ingredients that is seed-based, so not only can people with nut allergies eat it, but also whose who need to be gluten-free," he said. "I don't have either of those allergies, but I still love the product."
According to the American Academy of Allergy, Asthma and Immunology, tree nut allergy is one of the eight most common food allergies, affecting roughly 0.5 to 1 percent of the U.S. population.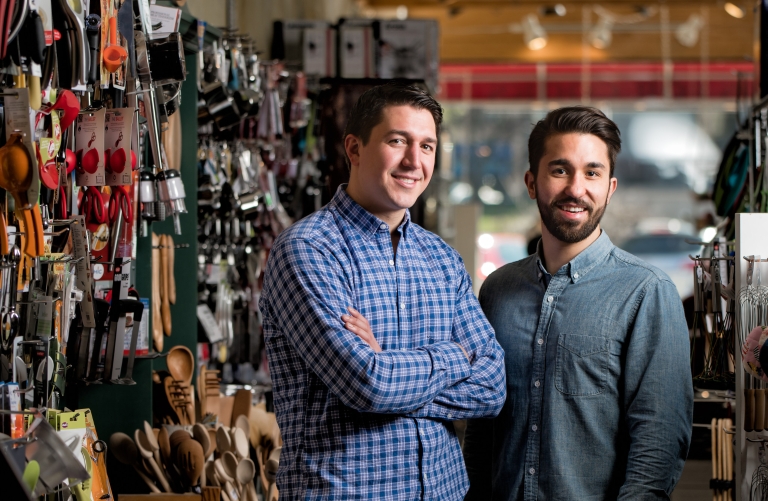 Once they committed to creating the product, Sorensen and Marijan bought aprons and a mixer and started trying various recipes on weekends. Classmates often came over to help and served as taste testers. They frequently brought samples with them to Kelley and asked peers for more feedback. Eventually, they narrowed their recipes down to three: apple ginger, dark chocolate banana and lemon berry.
"Everything is all natural. It's dehydrated fruit – real ingredients you can pronounce," Marijan said, adding that they use dates and honey as the binding ingredients.
Their biggest challenge was finding a factory where the bars could be manufactured.
"To scale, we knew we couldn't make them in our kitchen, so we looked around the country to find a nut-free manufacturer," Sorensen said. "There are very few of them."
They chose a company in Canada that's considered the premier nut-free manufacturer in the world and is very selective about who they partner with. Sorensen and Marijan traveled there to pitch their product.
"The place is so serious about nuts that when you walk in, they pat you down," Sorensen said. "There are no nuts involved anywhere."
Blake's Nut Free bars went into production in January and are now being shipped out to customers.
Want to try Blake's Nut Free?
Both students said the support they have received from Kelley faculty has been very helpful. One professor offered input on product pricing. Another professor wrote a case study for his students to use that offered them solutions on logistics and supply chain issues. Others have served as sounding boards.
"There have been numerous instances where we could approach a professor or classmates with any problem we've had. It's about as collaborative as it can be with the start of a company," Sorensen said. "Dr. K's been a great resource for us. I approached him when I first had this idea, and he has been advising us through this whole process."
Kuratko shrugs off the compliment. "It goes back to the experiential learning component of our program. It's a constant that we've always had in our MBA program. We give them classroom theory, but through our academies and other experiences, including actual venture startups, they apply what they've learned theoretically in the classroom and put them into action and find out works and what doesn't."
Of Sorensen and Marijan, he said, "They want to become the next superstars of our program. … I really believe in these guys."
George Vlahakis is the associate director for communications and media relations at IU's Kelley School of Business.