Indiana University Bloomington's The Restaurants at Woodland in Forest Quadrangle spans 34,200 square feet, seats 800 customers, hosts nine restaurants and, thanks to efforts from a few Residential Programs and Services staff members, now produces zero waste.
Sustainability has been a priority for the staff from its inception. The facilities' design included busing stations that encouraged customers to sort recyclables from trash when disposing of their own waste, and the restaurants planned to serve food on more reusable dishes like ceramic dishware and stainless flatware. But within the first year of operation, it became clear that the bus stations weren't large enough to accommodate as much customer sorting as anticipated. And even though dishware is available, many students wanted to take their food to go instead of eating on reusable china in the restaurants.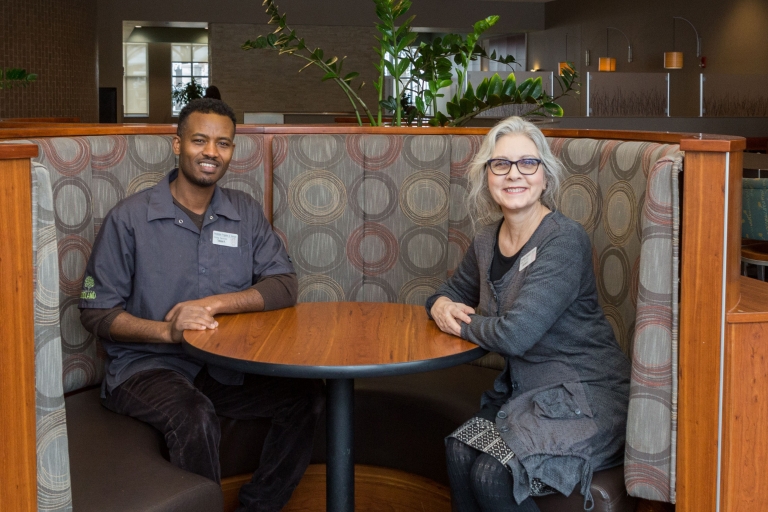 Luckily, Woodlands manager Linda McCoy had already charged custodians Bradley Branam, Tafesse Anshebo and Justin Hoene with finding solutions to allow the facilities to achieve their zero-waste goal.
The custodians started stacking waste and using a compactor for recyclables and cardboard to cut down on the number of bags used. They reduced the number of trash cans inside the facility to encourage use of the indoor trash conveyor and allow for more staff sorting.
They made calls to IU's composting and recycling partners to confirm what could and could not be recycled or composted. They found that many items the staff was including in trash – like eggshells, dairy, meat and even some napkins and cardboard – could actually be composted. Wax cups, which were previously considered trash, were found to be recyclable. They then re-trained the hundreds of student employees at Woodlands to reflect these revelations in the way waste was sorted.
"I was so impressed with how quickly these guys made the zero-waste project their own," McCoy said. "It was really awesome and made my work so much easier. And since they were doing the research on recycling and composting practices, they already had buy-in when it was time to apply their findings."
Branam said that becoming more sustainable was simple. Many of the staff were already sorting and stacking items to save space in trash cans and recycling bins before zero-waste efforts were made. When Anshebo saw how easily the sustainability changes were made at work, he was inspired to start recycling at home.