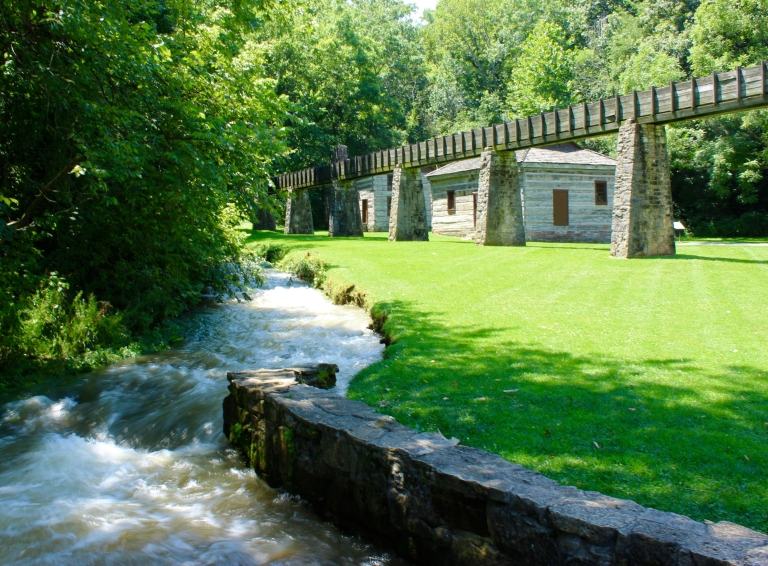 WEST BADEN, Ind. – Indiana University Bloomington is strengthening existing collaborations and forging new partnerships throughout southwest central Indiana with the launch of the Center for Rural Engagement.
IU Bloomington Provost and Executive Vice President Lauren Robel announced today that Lilly Endowment Inc. has approved a $10 million grant to the IU Foundation to fund the center. The grant, $2.5 million of which is subject to matching conditions, will help the center support regionally based initiatives to address community-identified opportunities and needs in 11 neighboring counties.
"The Center for Rural Engagement reflects IU Bloomington's commitment to working side by side with our neighbors and friends in the state to address the issues that matter most to their communities," Robel said.  "We are grateful to Lilly Endowment for its support of our collaborative vision, and to the many community partners who have already helped shape the center's early initiatives. We look forward to the many opportunities ahead for our faculty, staff and students to strengthen these partnerships, forge new ones and promote IU as a force for good in the lives of our fellow Hoosiers."
In 2015, Lilly Endowment awarded the IU Foundation a planning grant to explore the feasibility of a rural center to study and address societal challenges found in rural communities. During the past several years under the leadership of Robel, IU developed what is being announced today as the Center for Rural Engagement.  
The Center for Rural Engagement's focus and vision developed from discussions with local residents and community leaders, as well as with leaders of regional organizations, through a series of meetings and open sessions. More than 200 IU faculty, administrators and staff have participated in project development and engagement activities during the planning period.
The center will support and enhance ongoing work by IU Bloomington faculty, staff and students on rural issues, using a mix of approaches from faculty-led classes to multidisciplinary research projects. The center will launch in the 11-county southwest central Indiana region: Brown, Crawford, Daviess, Dubois, Greene, Lawrence, Martin, Monroe, Orange, Owen and Washington counties.
The concept for a center at IU Bloomington to focus on rural issues stemmed from the Lilly Endowment-funded 2014 "Strategic Plan for Economic and Community Prosperity in Southwest Central Indiana." The plan also contained recommendations that led to $42 million in funding from Lilly Endowment in 2016 to establish two other organizations:
Regional Opportunity Initiatives Inc., which is primarily focused on education, workforce development and quality of place.
Applied Research Institute, which coordinates multi-institutional, defense research collaborations between NSWC Crane, Indiana University and Purdue University.
The three organizations are aligning their efforts to ensure a multipronged approach to addressing regional opportunities and challenges.
With an initial focus on health and wellness, sustainable communities and environments, and arts and culture, the Center for Rural Engagement will work in tandem with community leaders and residents to create scalable and replicable solutions to the pressing issues facing rural Indiana. The center also plans to address projects related to educational attainment, entrepreneurship and economic development, and capacity building and leadership development as it establishes working groups in these areas. Projects will be designed to build on one another over the long term.
The Center for Rural Engagement will include work already piloted by the Sustaining Hoosier Communities initiative, which developed 15 community-identified projects in Lawrence County and engaged more than 550 IU students and faculty to work on those projects this academic year. From addiction issues to street and highway infrastructure to a new, sustainable use for the decommissioned Avoca Fish Hatchery, students and Lawrence County residents are building upon the county's assets and responding to local needs.
"The depth and breadth of the engagement of Indiana University's faculty, administration and students in the center's efforts to improve the quality of life in communities throughout this region is most impressive," said Sara B. Cobb, Lilly Endowment's vice president for education. "The center will marshal IU Bloomington's diverse resources to build on the strengths and address the challenges of neighboring communities, and their residents' futures will be much brighter."
Bill Brown, former university director of sustainability and Sustaining Hoosier Communities lead, will serve as the executive director of the new center.
"The Sustaining Hoosier Communities program has demonstrated enthusiasm for collaboration from community partners and from faculty and students," Brown said. "The Center for Rural Engagement will have additional capacity to offer a wider range of long-term engagement with communities, and the many organizations that serve them, to create unique local and regional solutions to complex challenges common to rural communities everywhere."
In the fall, Sustaining Hoosier Communities will kick off a new year of projects and engagement in Orange County. Students will join the initiative as part of the newly organized IU Corps, a network of IU students engaged in service with organizations and community leaders on a campus, local, national and global level.
The announcement was made at the historic West Baden Springs Hotel in West Baden, Orange County, Indiana. Coined the Eighth Wonder of the World, West Baden Springs Hotel is a National Historic Landmark and an architectural marvel completed in 1902. Through immense community commitment and nonprofit, philanthropic and state and local leadership support, the hotel was restored and reopened in 2006.
The Center for Rural Engagement connects the broad resources of IU Bloomington and its region through collaborative initiatives. The goal of the center is to improve the lives and opportunities of Hoosiers by working with partners to discover and deploy evidence-based, data-informed and scalable solutions to common challenges facing rural communities. The center will connect with communities to build upon their many opportunities and assets, such as the natural beauty of the region; their family-friendly community culture; and their many economic and cultural resources.
Lilly Endowment Inc. is a philanthropic foundation created in 1937 by three members of the Lilly family – J.K. Lilly Sr. and sons Eli and J.K. Jr. – through gifts of stock in their pharmaceutical business, Eli Lilly and Co. While those gifts remain the financial bedrock of the endowment, the endowment is a separate entity from the company, with a distinct governing board, staff and location. In keeping with the founders' wishes, the endowment supports the causes of community development, education and religion and maintains a special commitment to its hometown, Indianapolis, and home state, Indiana.