BLOOMINGTON, Ind. – Critically acclaimed author Sir Salman Rushdie will receive an honorary Doctor of Humane Letters during his visit to the Indiana University Bloomington campus March 29. Rushdie will be in Bloomington as part of the university's semesterlong "India Remixed: Global Arts and Humanities Festival."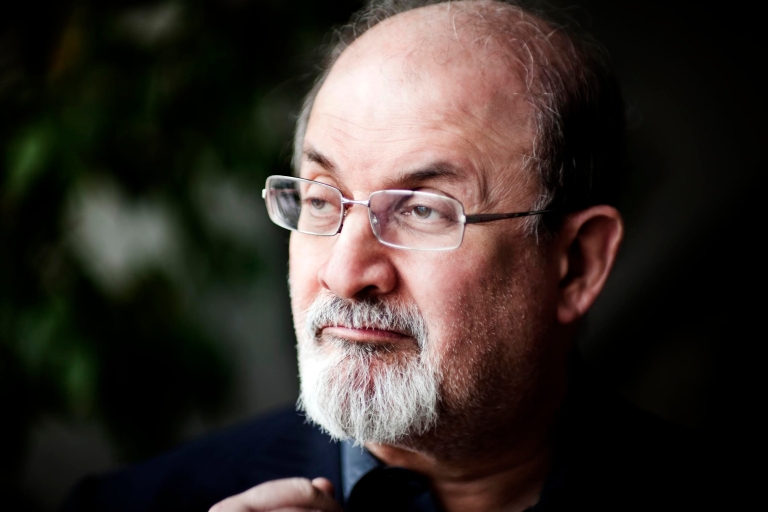 "Salman Rushdie is a true giant in the field of world literature, and he is widely considered one of the greatest living writers," IU President Michael A. McRobbie said. "He has also been a tremendous influence on generations of Indian and non-Indian writers through his critically acclaimed and highly imaginative novels; his willingness to take risks, push creative boundaries and address some of the major issues of our times; and his unflinching commitment to championing the ideals of free speech and expression. We are honored and delighted to welcome him to IU as part of our India Remixed festival, which promises to be a very exciting event for all members of the university community, and we look forward to recognizing his extraordinary accomplishments with an honorary doctorate from IU."
Rushdie has authored 13 novels, as well as several stories and works of nonfiction, during his more than 40-year career. His second novel, "Midnight's Children," launched Rushdie into the international literary scene, winning the 1981 Man Booker Prize and twice winning the Best of the Bookers award.
Rushdie may be best known, however, for 1988's "The Satanic Verses." The controversial novel, which some in the Islamic community felt included a derisive depiction of Muhammad, led to protests, public rallies and the spiritual leader of Iran issuing a fatwa on Rushdie.
"Rushdie's work touches upon some of the most pressing social and political topics of our time, and he is respected around the world for his commitment to free speech and artistic expression," said Ed Comentale, associate vice provost for arts and humanities and director of the IU Bloomington Arts and Humanities Council. "Rushdie's work represents the arts and humanities at their very best, as it grapples honestly and unflinchingly with questions as large as the meaning of God and country, and as small as the relationships among lovers, friends and family."
Though he lived under police protection for several years because of the fatwa, Rushdie continued writing and publishing, including the children's book "Haroun and the Sea of Stories" in 1990, "The Moor's Last Sigh" in 1995 and "The Ground Beneath Her Feet" in 1999.
"Rushdie has used his voice to advocate for religious and racial reforms, and to speak out about the alienation of immigrant youth and racial minorities in England," said Raju Chinthala, founder and president of the Indiana India Business Council.
Following the degree ceremony, Rushdie will deliver a lecture titled "Wonder Tales: East Meets West." The lecture, which will include readings from his own work, examines the correspondences between the fabulist tales of the East and West, and how these stories are relevant to the modern world. The lecture will be followed by a Q&A and a book signing.  Rushdie will also meet with creative writing students during his time on campus.
The talk and honorary degree ceremony, which begin at 5 p.m. March 29, are open to the public, with tickets available through IU Auditorium.
Rushdie is one of five cultural luminaries visiting the Bloomington campus as part of "India Remixed." The festival is the largest Indian arts and culture festival ever organized in the Midwest and includes exhibits, performances and films. A full schedule of events is available on the India Remixed website.