BLOOMINGTON, Ind. – Indiana University President Michael A. McRobbie presided over today's dedication of the Conrad Prebys Career Services Center, which meets vital career development and placement needs for an increasing number of students at the Kelley School of Business and IU.
The new $14 million facility, which is an addition to Hodge Hall on the IU Bloomington campus, nearly doubles the facilities where recruiters can meet privately with students. It includes more than 70 interview rooms as well as nearly 30 offices for staff serving more than 8,000 students in Kelley's undergraduate and master's degree programs.
"Indiana University will always be extremely grateful to the late businessman, philanthropist and IU alumnus Conrad Prebys for his tremendous vision and enormous generosity that has allowed us to reach this moment," McRobbie said. "His remarkable gift to IU and the Kelley School of Business, which made possible this splendid new center that bears his name, is testament to his strong belief in the value of a quality business education that gives students the skills they need to succeed and instills in them the values and principles that will guide them in their careers and in their lives.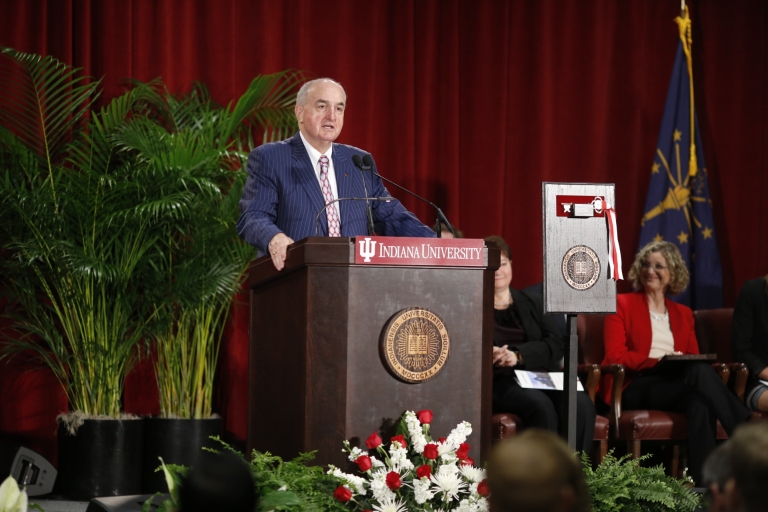 "The new Prebys Career Services Center is now part of his enduring legacy – one that will help prepare countless students for success in the workplace of today and the workforce of the future, while also ensuring that the Kelley School's career services remain among the very best in the country."
The career services center was among several needs addressed in 2015 when Prebys committed $20 million to IU and the Kelley School. Other initiatives included the Conrad Prebys Amphitheater, an outdoor amphitheater for musical and theatrical productions dedicated last year; an endowment fund for attracting and retaining top scholars; and student scholarships.
Prebys, who passed away in July 2016, had been president of Progress Construction and Management in San Diego. Raised in a working-class area of South Bend, he was the first of his five brothers to attend college and participated in the ROTC Program at IU. After graduating in 1955, he returned to South Bend, where was a manager at a steel company and operated a pizzeria. A decade later, he moved to San Diego and helped found his company, a successful developer of affordable, middle-class residences.
"I love Indiana University, the beautiful Bloomington campus, and it's exciting to be able to make this gift to the university," Prebys said in 2015. "I am very proud to help the Kelley School build on its strong foundation and further its profound promise to students and their futures."
Other speakers at the dedication ceremony included Lauren Robel, IU Bloomington provost and executive vice president; Idalene "Idie" Kesner, Kelley dean and the Frank P. Popoff Chair of Strategic Management; Daniel Smith, president and CEO of the IU Foundation; Debra Turner, president of the Prebys Foundation; and Anna Schilling, a Kelley graduate student and president of the Master of Science in Information Systems Association.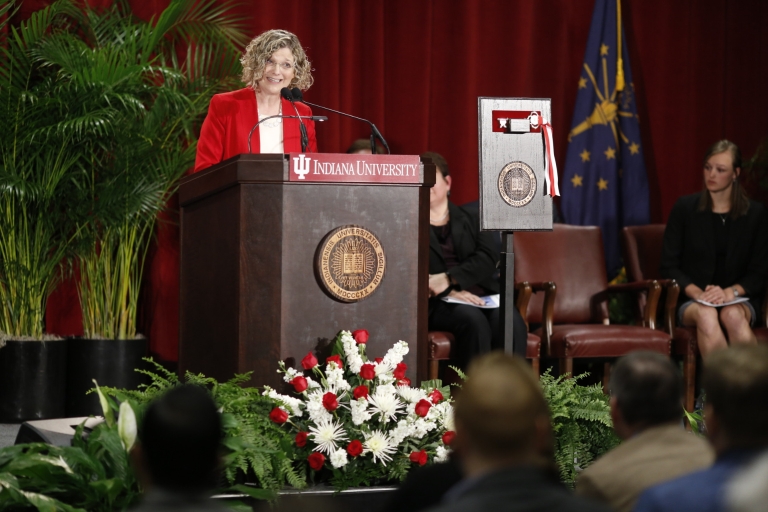 "We are very grateful to alumnus Conrad Prebys, whose gift created the momentum needed to make this career center a reality," Kesner said. "This wonderful building is a fitting tribute to decades of groundbreaking innovations by our career services staff."
Also recognized for his support to the Prebys Center was C. Randall Powell, who led the Kelley School's career services office for more than 30 years, helping thousands of students begin their professional careers. He and his wife gave $1.25 million to support the Prebys Center; its welcome center, where today's dedication took place, is named for them.
"I imagine no one is prouder today than Randy, who was director of career services during a pivotal time of our growth," Kesner said. "The generous donation to the center from Randy and his wife, Kathy, demonstrates their continued dedication to career development. What a wonderful legacy to leave for generations of Kelley students to come."
The two-story, 30,000-square-foot structure houses both undergraduate and graduate career services for Kelley students. A portion of Prebys' gift partially funded the career services center bearing his name – 43 percent of its construction costs. Remaining funding came from other generous donors and corporate partners.
More than 300 companies recruit undergraduate students and more than 175 companies recruit graduate students at Kelley each year. Since 2005, there has been a 26 percent increase in companies recruiting at the business school.
Ninety-seven percent of Full-Time MBA Program students report jobs within 90 days of graduation, and 95 percent of undergraduate students report full-time employment or graduate school admission. Students in the Kelley Direct Online MBA Program also benefit from the Prebys Center, where – like other Kelley students – they receive career coaching and learn how to tap into the school's alumni network of more than 110,000.
"Our career services remain among the most innovative and effective in the country, and this new center demonstrates our continued commitment to our students, helping them fulfill promises they made for themselves when they chose to study business at Kelley," Kesner said.
The center began serving the needs of students and companies recruiting at Kelley in January.
"Conrad Prebys was a great IU friend whose legacy will shape students' lives," Robel said. "The new career center will be a fitting home for Kelley's terrific career professionals and ensure great companies access to Kelley's more than 8,000 excellent students." 
Video of the entire dedication ceremony will be available at broadcast.iu.edu.