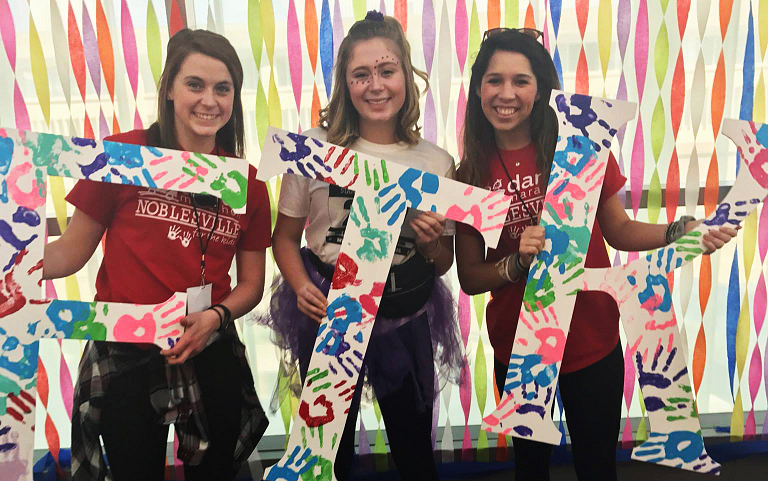 As Jagathon, IUPUI's Dance Marathon, heads into its 16th event March 3-4 at the Campus Center, its expanded high school mentorship program and a new partnership with the Office of Admissions is teaching everyone a few new steps.
Mentoring high school dance marathons is nothing new to the Jagathon organization, which has been working with local schools for a few years now. This year, however, it has more dance marathons than ever, including those of Beech Grove, Ben Davis, Center Grove, Greenfield, Greensburg, Frankfort, Noblesville, Westfield and Whiteland high schools.
Money raised through Jagathon and the high school dance marathons benefits Riley Hospital for Children at Indiana University Health.
"We guide them along to put on their own mini Jagathons,"said Claire Ralston, IUPUI sophomore and director of high school dance marathons for Jagathon. "They hold their own event, very similar to ours, but on a smaller scale. We guide them along in that process. In the end, their total goes to our collegiate total, and then one big check goes to Riley. They have their individual events, but they're part of the Jagathon family."
Professional-development opportunities abound for both Jagathon and high school students through the partnership. Ralston is putting her studies in the Lilly Family School of Philanthropy into action by "stewarding these high schoolers to reach their end goal and to fundraise."
As for the younger students, "They're learning lots of different skills that are really going to help them in the future in whatever they do – skills like talking to sponsors, putting themselves out there, leading their peers.
"I think another benefit is just doing something bigger than themselves," Ralston said. "I did a lot of things in high school, and I definitely feel the most impact now in my life from dance marathons. I learned so many skills and lessons through this – about failure when you don't reach your goals, and about hard work and success when you do."
New this year is a sponsorship agreement with the IUPUI Office of Admissions. Admissions provides monetary support ranging from $250 to $1,000 to each high school that falls under Jagathon's umbrella. Admissions representatives also attend the high schools' dance marathons, meeting with students and even waiving application fees for participants. It's believed to be the first sponsorship in the country of its kind.
Admissions' involvement will create a bond with the students and show them what they can accomplish as Jaguars, whether it's academically, philanthropically or as part of the community in other ways.
"The idea is that Admissions can support this cause and can advocate for IUPUI to these prospective students while also giving incentives," said Ralston, who is a student employee in the Office of Admissions. "It is unique. Because each school is so different, it would be hard for Admissions to work with each of them, whereas I can relay the information back and forth."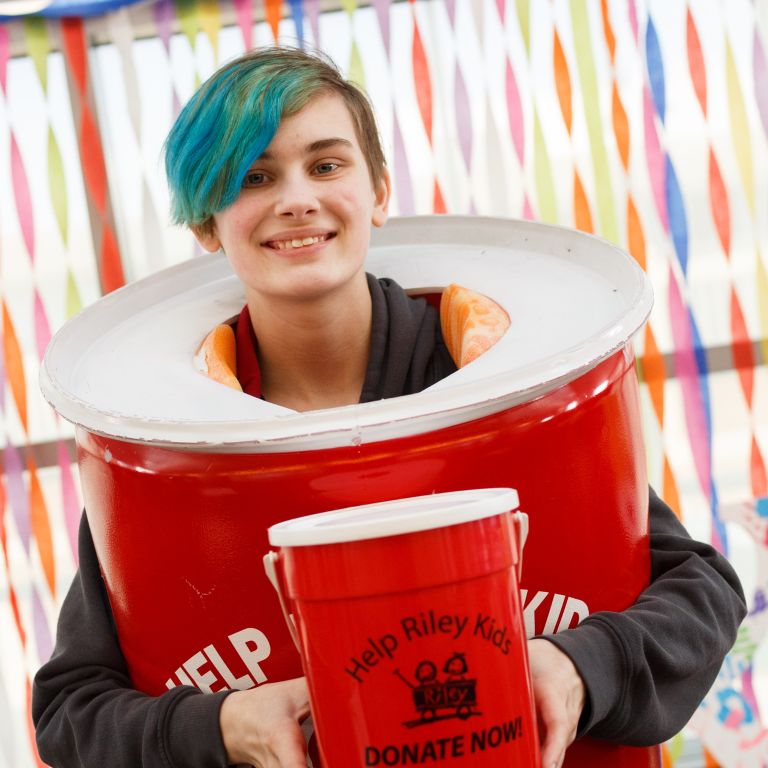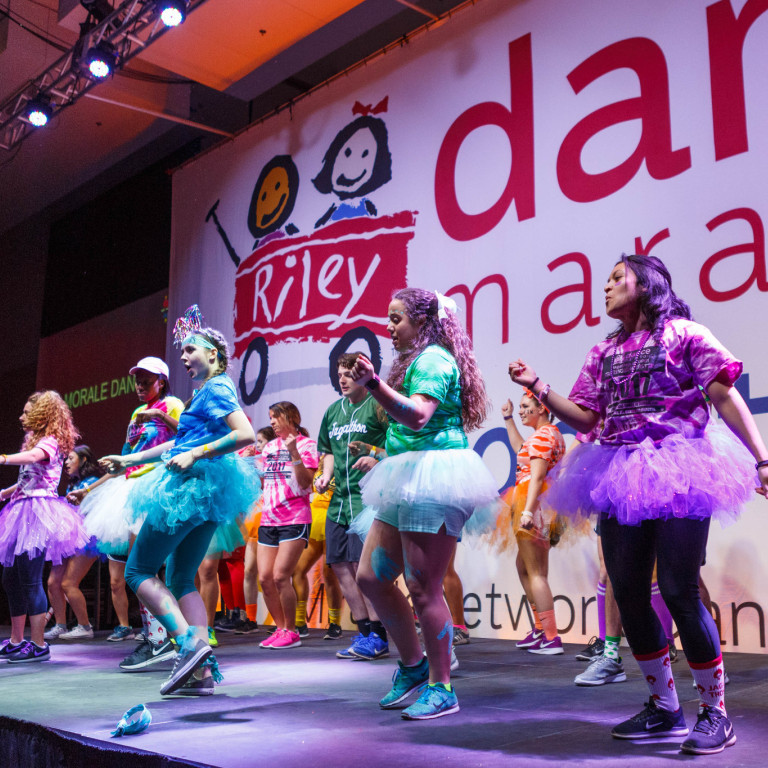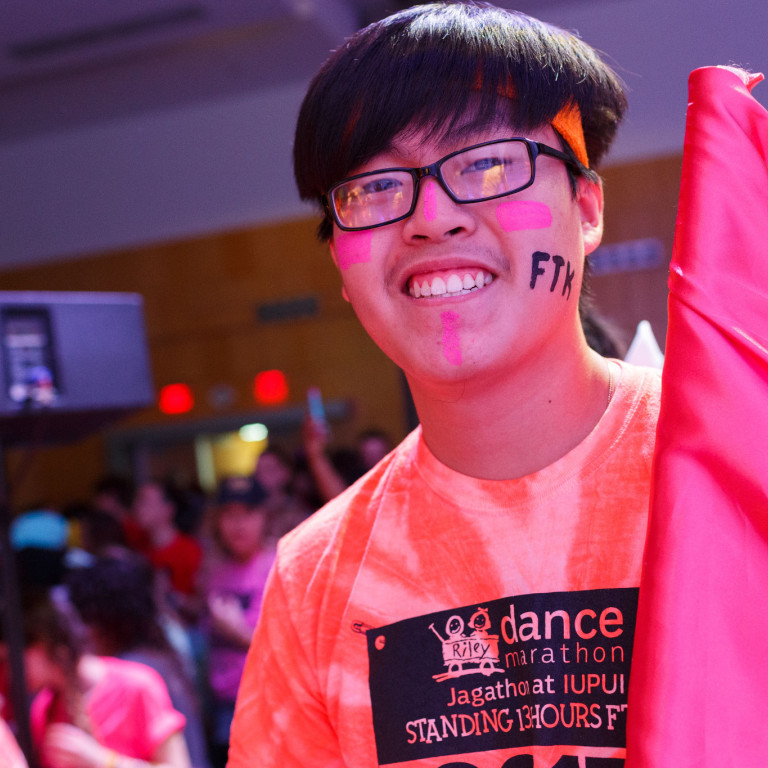 Photos by Liz Kaye, IU Communications
Many participants of the high school programs will take part in Jagathon and, for the first time, the IUPUI Dance Marathon will include a reveal of the high schools' fundraising total. Ralston is excited for the younger students, some of whom have just started dance marathons at their own schools, to experience the event.
"Last year, you could really see the light, especially the schools that don't quite get it yet or get the culture of dance marathon, because that's the hardest part to get across. 'What is this? How do we make this happen? How do we get this message across?' And then they come to Jagathon, and it just clicks."
The largest student-run philanthropic organization on campus, Jagathon is part of the IUPUI Student Foundation. It encourages students to serve their community by gaining experience in planning and executing campuswide events.
Jagathon is the second-oldest dance marathon in the state, trailing only the IU Dance Marathon in Bloomington. The IUPUI dance marathon raised $351,430.22 last year, more than doubling its previous record set in 2016. This fall, it passed the $1 million mark for total fundraising in organization history.