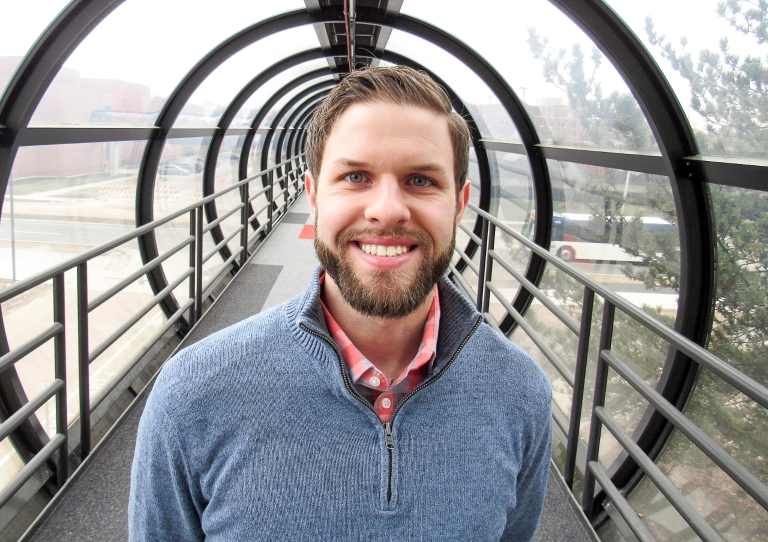 "Double your pleasure, double your fun" usually refers to things like gum and puppies, not doctorates. Andrew Gatza proves the exception.
Gatza is working on his Ph.D. in urban education studies at IUPUI. It's a relatively new program in the IUPUI School of Education that examines how the social structures that make up a city interact. Gatza's focus is on systemic racism, or how those social structures, such as schools, impact race in a community. It looks at how our institutions either perpetuate negative practices related to race or drive positive change.
But that's not all. "I also enrolled in the mathematics education program at Indiana University Bloomington," Gatza said. "Another Ph.D."
Doctoral students are familiar with leading double lives. They attend classes while conducting research or write their dissertation while also working professionally. It's a difficult balance, to say the least.
But Gatza has gotten a bit of a reprieve in his workload even with his pursuit of two doctorates at the same time. He received the Wells Graduate Fellowship, awarded annually to students who demonstrate leadership, academic excellence, character, social consciousness and generosity of spirit.
With the $42,000 grant, he's now able to focus on writing his dissertation rather than chase additional, hard-to-come-by funding. He'll also be able to attend conferences to share his own research findings while staying current on others' studies.
A grant of this magnitude can understandably be a game-changer. So what set Gatza apart for the prestigious award?
"I guess it could be because of this whole idea of bridging the gap, when worlds collide," said the modest Gatza, referring to how he plans to integrate his studies from both programs, combining mathematical learning and race consciousness. "There are tons of scholars who have paved that road for me to even set up the study I would like to do and things I would like to research, but I think it's certainly a growing area within mathematics education research.
"Also, it's the community aspects of things. I think that was a strong component of the Wells Fellowship, strong community collaborations."
It also doesn't hurt that he has the backing of others across the disciplines. He's eager to share credit with professors like Monica Medina, who introduced him to the program, as well as Erik Tillema, Crystal Morton and Craig Willey at IUPUI and Dionne Cross Francis at IU Bloomington who help their schools champion social justice and structural change and have pushed Gatza to new heights personally and professionally.
But all of this still doesn't quite answer how Gatza ended up in two doctoral programs and what it is he intends to do with not one, but two, Ph.D.s.
Gatza got his master's in teaching secondary math from Marian University, a departure from his bachelor's degrees in business management and law and society – yes, two degrees – from Purdue. He later taught middle school math in Indianapolis Public Schools. It was his experiences with IPS that led him to his doctoral studies.
Gatza loved teaching math to students at that "fun, quirky age" but found it increasingly difficult to stomach conflicting and ever-changing education policies, particularly when he saw them as being a roadblock to his students' success.
"My last year with IPS, there was a takeover of different schools within the district by the state. I would have 65-plus students in different classes for up to six weeks despite trying to say, 'Hey, this is not working for anyone.' So I started thinking, 'Would those kinds of things happen at a different school, specifically at a suburban school?'" Gatza said.
"I had reached a point where I thought, 'I don't know what else I can do. It feels like I need to know more myself so I can do more.' That was kind of a jumping-off point."
Just as he has a foot in two worlds with the urban education studies and secondary math programs, Gatza plans to live in two worlds when he graduates, which he hopes will be in May 2019.
"I would love to be a tenure-track mathematics education professor but also with strong community partnerships. Ideally, I would have strong connections to a secondary school, maybe heavily partnered with a teacher and co-teaching an eighth-grade algebra class or a high school class, as well as doing teacher education at the university level," Gatza said. "But I think the strong community partnerships are very much in line with everything I would like to do. I don't really see myself doing anything else. It just wouldn't feel right."
You could say that, for Gatza, it would double the pleasure, double the fun.