IUPUI faculty among those honored for outstanding teaching and service
Indiana University will honor several faculty members and graduate students this spring for excellence in teaching and service. Among them are three IUPUI faculty members: John Parrish-Sprowl, professor of communication studies; Anastasia Morrone, university associate vice president for learning technologies and IUPUI dean of information technology; and Susan Hyatt, professor of anthropology. The university is fortunate to have them as well as all of those recognized. 
Don't miss your Top 100 students
IUPUI's Top 100 juniors and seniors will be recognized during the 19th annual IUPUI Top 100 Outstanding Students Recognition Dinner. The dinner will take place on Friday, April 13, with a reception at 6 p.m. and dinner to follow at 6:30 at the Indianapolis Marriot. Individual seats are $45, or you can sponsor a table for $800. Table sponsors will receive eight seats at the dinner, recognition in the printed program, and table signs with their school or department name. Those who want to sponsor a table should do so by March 19.
The Top 100 program began in 2000 as a way to foster great leaders through letting students know that their hard work and passion are appreciated. A full list of students selected this year is available on the event website.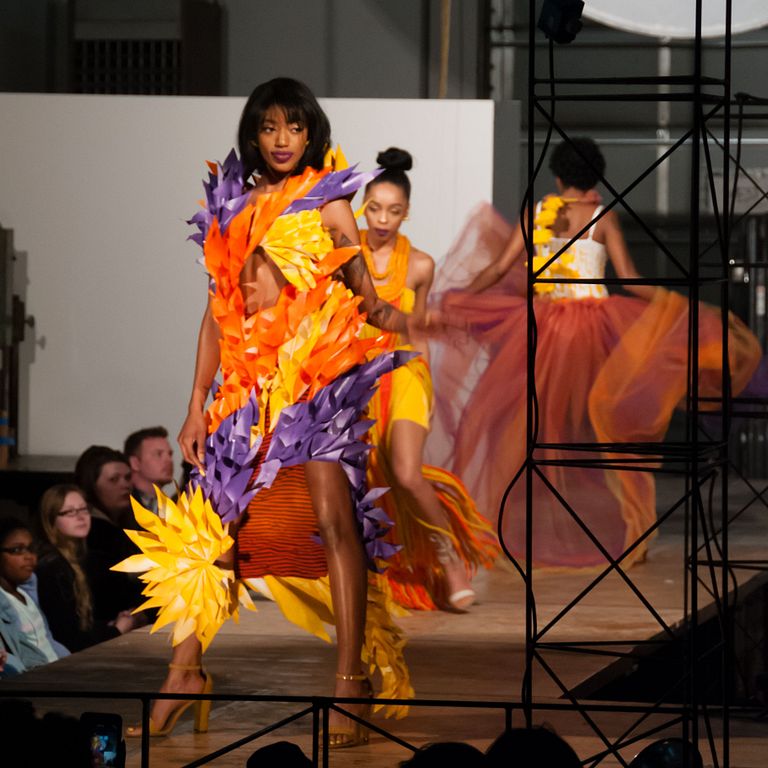 Students dress to the nines for Herron Wearable Art Show
The Herron School of Art and Design is gearing up for the annual Herron Wearable Art Show and Sculpture Exhibition, taking place this year from 6 to 10 p.m. Thursday, March 8.
The event, hosted by the Sculpture Club, is a creative, fashion-forward runway show highlighting student creations. The show is free and open to the public and will be hosted at the Eskenazi Fine Arts Center, 1410 Indiana Ave.
Celebrate International Women's Day at IUPUI
International Women's Day will be celebrated this year with an event taking place at University Library. The event, which will run from 6:30 to 8:45 p.m. Wednesday, March 7, will feature journalist Rafia Zakaria, poet and scholar Ania Spyra, author and professor Missy Dehn Kubitschek, and author Allyson Horton. The event is free and open to all, so don't miss this chance to support and celebrate women everywhere.
Honoring Women's History Month through film
IUPUI will be honoring Women's History Month with a two-day film festival put on by the IUPUI Office for Women and Women4Change Indiana. A free event open to all, the festival will take place March 7-8 in the IUPUI Campus Center Theater. The theme of this year's Women's History Month is "Nevertheless, She Persisted: Honoring Women Who Fight All Forms of Discrimination Against Women," and the films chosen reflect this emphasis on powerful women through history. A full schedule of films is available online.
Sports speaker series celebrates innovators in the field
The Sports Innovation Institute will be holding the first installment in its upcoming Speaker Series from noon to 1 p.m. March 6. The series focuses on bringing innovative leaders in the sports industry to campus. Its first pick is Jeremy Hochstedler, CEO and founder of Telemetry Sports, which uses advanced methods to analyze player-tracking data, helping coaches further their understanding of on-field play. Hochstedler will be speaking at the NIFS Auditorium. No advance registration is required.
2018 Assessment Institute to be hosted by IUPUI
IUPUI will be hosting the 2018 Assessment Institute in Indianapolis Oct. 21-23. The Institute is now the nation's oldest and largest event focused exclusively on outcomes assessment in higher education. Consider submitting a proposal on or before the priority deadline of March 9. Proposals may be submitted after that date and will be considered for acceptance based on capacity.